The Mask: Animated Series
Season 1
The Mask: Animated Series
Season 1
First Air Date: August 12, 1995

| | | |
| --- | --- | --- |
| First Aired on | : | 1995 |
| Episodes | : | 15 episodes |
Episodes
1x15 Split Personality (November 11, 1995)
---
The mask breaks in half during Walter's attempt to steal it, resulting in both Stanley and The Mask existing at the same time. When former bully Chet gets the other half, the two personalities must work together to piece the mask together.
---
1x14 Santa Mask (November 04, 1995)
---
The villains in Edge City (namely Kablamus, Walter, the Terrible Two, Don Julovit, and Dynamite Joe) disguise themselves as Santa Claus to commit crimes. The Mask must save Christmas by proving Santa's innocence even after a brief detour thwarting Pretorius's plans to capture Santa.
---
1x13 All Hallow's Eve (October 28, 1995)
---
On Halloween night, Skillit escapes from reform school to get revenge on The Mask, and reanimates the corpses of three of Stanley's predecessors: Atilla the Hun, Billie the Kid and an evil wizard called Nilrem.
---
1x12 How Much Is That Dog in the Tin Can? (October 21, 1995)
---
Milo puts on The Mask to battle an insane dogcatcher named Willamina Bubask who is capturing dogs for a (somewhat) sinister purpose. Meanwhile, Walter stalks Stanley at Cheap Chucky's Chili Cook-Off.
---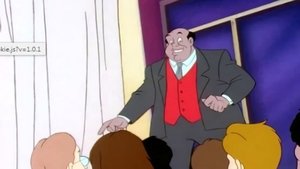 1x11 Martian Mask (October 14, 1995)
---
Mistakenly believing The Mask is an alien seeking to take over the planet, FBI agents try to capture him. Meanwhile, Putty Thing and Fish Guy go on a road trip.
---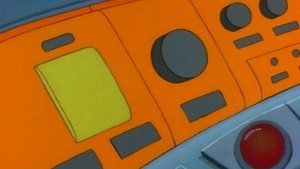 1x10 Mayor Mask (October 07, 1995)
---
Frustrated by the city's mismanagement, Stanley puts on the mask hoping to teach Mayor Tilton a lesson. Instead, The Mask announces his candidacy for Mayor of Edge City. Initially objecting, Stanley has to make sure his alter ego wins when he discovers that Pretorius has taken Tilton's place for a diabolical plan.
---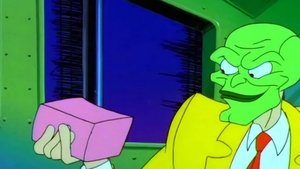 1x09 Shrink Rap (September 30, 1995)
---
Stanley gives the mask to Dr. Neuman, who puts it on and teams up with Pretorius, who wants to nuke the city in order to take a flash photograph of an alien race's planet.
---
1x08 Double Reverse (September 23, 1995)
---
A reverse therapy treatment helps Stanley deprive the mask of its power by acting uninhibited in his normal life, but must get the mask working again when the villain Kablamus threatens the city.
---
1x07 Bride of Pretorius (September 16, 1995)
---
Stanley dates a shy, quiet co-worker named Evelyn, who becomes a loud, man-hungry woman when she stumbles upon the mask. Meanwhile, Pretorious looks for a female companion.
---
1x06 Shadow of a Skillit (November 09, 1995)
---
The vitality-stealing Skillit comes to Edge City to steal the shadows of Charlie, Peggy, and Milo, and only The Mask can stop him.
---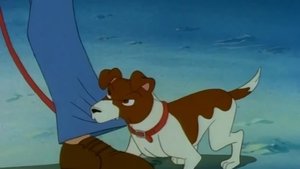 1x05 Sister Mask (November 02, 1995)
---
Pretorius creates a "sister mask" that turns The Mask into a living puppet, in order to use him to steal meteorite fragments with unusual properties.
---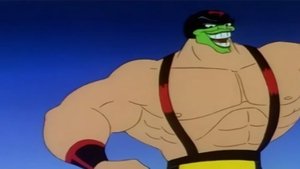 1x04 The Terrible Twos (August 26, 1995)
---
Lt. Kellaway handcuffs himself to Stanley to prove that he is The Mask, and Stanley must go to elaborate lengths to get away when mutants Putty Thing and Fish Guy go on a rampage.
---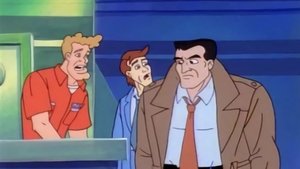 1x03 Baby's Wild Ride (August 19, 1995)
---
Baby-sitting turns difficult when the infant acquires the Mask and joins a biker gang, whose leader is posing as children's entertainer Barnaby the Dinosaur.
---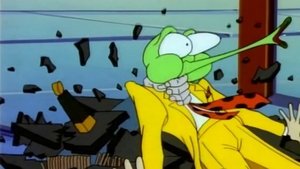 1x02 The Mask is Always Greener on the Other Side (2) (August 12, 1995)
---
Pretorius tricks Stanley's friend and co-worker, Charlie, into building a "house of tomorrow". The Mask must stop him and save Peggy, Charlie and Milo.
---
1x01 The Mask is Always Greener on the Other Side (1) (August 12, 1995)
---
After causing him nothing but trouble, Stanley Ipkiss gets rid of his mask by burying it in quick-drying cement, but must retrieve it to save Peggy and Milo from Pretorius.
---