Back at the Barnyard
Season 1
Back at the Barnyard
Season 1
First Air Date: September 29, 2007

| | | |
| --- | --- | --- |
| First Aired on | : | 2007 |
| Episodes | : | 49 episodes |
Episodes
1x49 Episode 49 (February 24, 2009)
---
---
1x48 Episode 48 (February 23, 2009)
---
---
1x47 Episode 47 (January 23, 2009)
---
---
1x46 Episode 46 (January 22, 2009)
---
---
1x45 Episode 45 (January 21, 2009)
---
---
1x44 Episode 44 (January 20, 2009)
---
---
1x43 Episode 43 (October 24, 2008)
---
---
1x42 Episode 42 (September 26, 2008)
---
---
1x41 Episode 41 (September 25, 2008)
---
---
1x40 Episode 40 (September 24, 2008)
---
---
1x39 Episode 39 (September 23, 2008)
---
---
1x38 Episode 38 (November 28, 2008)
---
---
1x37 Episode 37 (November 28, 2008)
---
---
1x36 Episode 36 (July 25, 2008)
---
---
1x35 Episode 35 (July 25, 2008)
---
---
1x34 Episode 34 (July 24, 2008)
---
---
1x33 Adventures in Snotty Sitting (February 24, 2009)
---
After Otis destroys Farmer's video game, the animals answer a babysitting ad in order to replace it. However, things don't go as planned when they realize they'll be watching Snotty Boy.
---
1x32 Cowdyshack (February 23, 2009)
---
After Otis builds a fun shack in a pet cemetery, Pig becomes possessed by the ghost of a mean-spirited bunny.
---
1x31 Save the Clams (January 23, 2009)
---
When the animals decide to eat at The Clam Hut, a Archie the clam pleads with Abby to save him and his fellow clams from becoming lunch.
---
1x30 Doggelganger (January 22, 2009)
---
After Duke get skunked, Duke is rushed to the vet. However, a stray dog decided he'll make a better Duke than the real Duke.
---
1x29 The Sun Cow (January 21, 2009)
---
Otis is confused by a neighboring farm as the reincarnated Sun Cow.
---
1x28 Pig Amok (January 20, 2009)
---
Pig's potential bride to be challenges Otis to a duel to the death.
---
1x27 Some Like It Snotty (October 24, 2008)
---
After a wager w/ Abby & Bessy, Otis, Pig, Freddy & Peck dress as teenage girls for a night of free bowling. They inadvertently run into Eugene and his friends who instantly find them attractive.
---
1x26 Dummy & Dummier (September 26, 2008)
---
After Freddy fails at the barnyard talent night, Otis and the others decide to make him a ventriloquist dummy. However things get strange when the dummy takes on a life of its own and terrorizes the barnyard, but no one believes Freddy when he claims his innocence.
---
1x25 Otis for Mayor (September 25, 2008)
---
Mrs. Beady decides to run for Mayor to eliminate the talking animals once and for all. However, Otis enters the race as Ned Bovine to stop her.
---
1x24 School of Otis (September 24, 2008)
---
After Otis injures Peck, Otis decides he will teach his barnyard class. Meanwhile, while Otis is occupied Duke decides he'll be barnyard leader.
---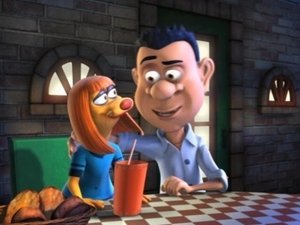 1x23 Top Cow (September 23, 2008)
---
After being taunted by Bessy, Otis decides to become a real pilot.
---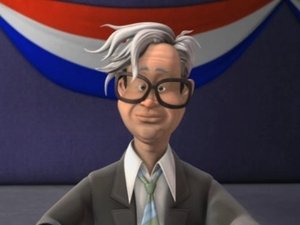 1x22 Pigmalion (April 12, 2008)
---
After the gang notices a distinctive birthmark on Pig's backside, Pig starts to believe that he is related to the royal Pampered Pigs. After training Pig, he becomes snobbish to his fellow companions.
---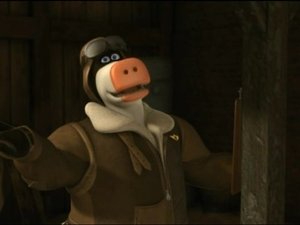 1x21 Otis vs Bigfoot (September 22, 2008)
---
After Otis and the others track down Bigfoot, they take him back to the barnyard where he becomes attached to Abby, much to Otis' annoyance.
---
1x20 Pecky Suave (July 25, 2008)
---
In order to help Peck achieve the confidence to speak to Hanna, Otis creates a fake tonic which causes friction between him & Root.
---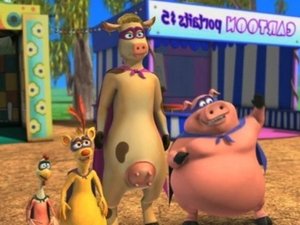 1x19 Otis' Eleven (July 24, 2008)
---
After losing the barnyard saloon to Chubs Malone the Gopher Kingpin, Otis devices a plan to retake the saloon after realizing Chubs cheated.
---
1x18 Brave Udders (July 23, 2008)
---
Otis receives a letter from a former bully saying he's coming to get him.
---
1x17 The Haunting (July 22, 2008)
---
The barnyard is beset by paranormal activity when Otis reveals he built his Fun Shack on top of a pet cemetery.
---
1x16 Barnyard Idol (July 21, 2008)
---
The barnyard convinces Pig to compete on the singing competition show, Do You Gots It, in order to win Farmer a solid gold tractor.
---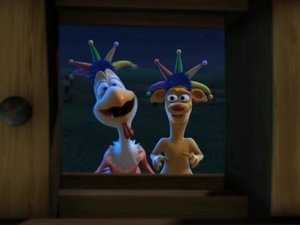 1x15 Club Otis / The Chronicles of Barnia (June 07, 2008)
---
---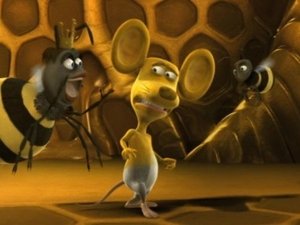 1x14 Home Sweet Hole / Otis' Mom (May 24, 2008)
---
---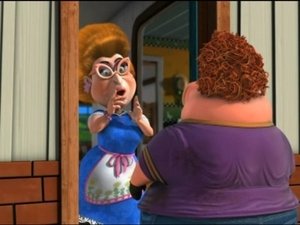 1x13 A Tale of Two Snottys / Snotty's New Pet (May 10, 2008)
---
---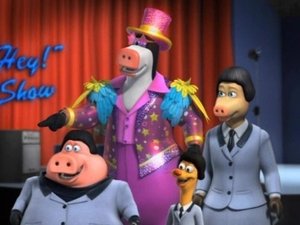 1x12 A Barn's Day Night / Meet the Ferrets (April 26, 2008)
---
---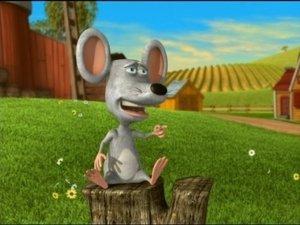 1x11 Big Top Barnyard / Pigmalion (April 12, 2008)
---
---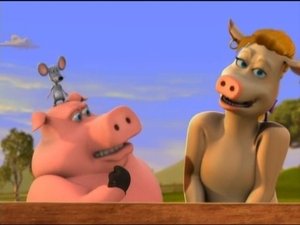 1x10 Otis Season / Cow's Night Out (March 29, 2008)
---
---
1x09 The Big Barnyard Broadcast / Dead Cow Walking (March 15, 2008)
---
---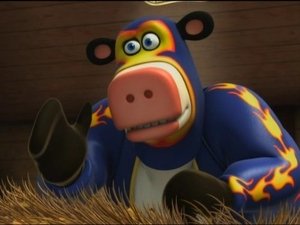 1x08 Raging Cow / The Great Sheep Escape (February 16, 2008)
---
---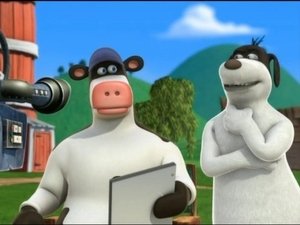 1x07 Lights! Camera! Moo! / Animal Farmers (February 02, 2008)
---
---
1x06 Barnyard Games / War of the Pranks (January 19, 2008)
---
After a misunderstanding, Otis starts to live life like he only has one week left!Source: Nick.com
---
1x05 Hypno a Go-Go / Fowl Play (November 24, 2007)
---
Hypno-A-Go-Go: Otis hypnotizes himself & attacks the farmer when he hears the sound of a bell. Fowl Play: When it looks like Freddy has eaten Peck, Otis investigates the disappearance.
---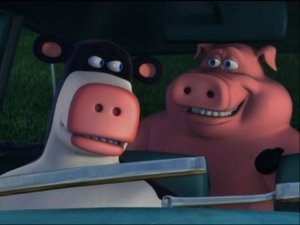 1x04 Saving Mrs. Beady / Farmer Takes a Woman (October 20, 2007)
---
Saving Mrs. Beady: After Mrs. Beady is committed to a mental institution because of her claims of talking animals, the barnyard hears stories about the conditions and hatches a plan to free her. The Farmer Takes a Woman: Otis sets farmer up with a women when he puts a damper on his late night parties.
---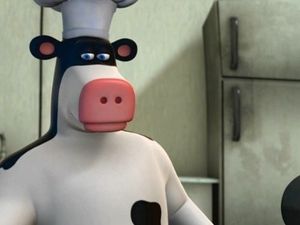 1x03 Chez Pig / The Right Cow (October 13, 2007)
---
Chez Pig: When the humans taste Pig's truffle pies, they become a huge hit. The Right Cow: A space faring chimp crash lands in the barnyard. The animals become enamored with him except for Otis.
---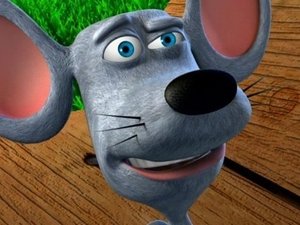 1x02 Cowman & Ratboy / Cow's Best Friend (October 06, 2007)
---
Cowman & Ratboy: Otis and Pip become superheroes ( Cowman and Ratboy ) but when Mrs. Beady capture them so the rest of the barnyard gang become The Justice Brood in order to save them. Cow's Best Friend: After Duke saves Otis' life, Duke pledges his undying devotion to Otis.
---
1x01 The Good, The Bad & The Snotty / Escape From The Barnyard (September 29, 2007)
---
The Good, the Bad, the Snotty: In order to celebrate Otis' birthday the animals trick Farmer into going to Turnip-Con for the weekend. However his plans hit a snag when that very same weekend the Beady's nephew, Eugene, comes for a visit. Escape From The Barnyard: When the animals think the farmer wants to eat them, they formulate a daring escape plan.
---