Saving Grace
Season 1
Saving Grace
Season 1
First Air Date: July 23, 2007

| | | |
| --- | --- | --- |
| First Aired on | : | 2007 |
| Episodes | : | 13 episodes |
Episodes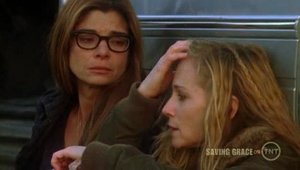 1x13 Taco, Tulips, Duck and Spices (December 24, 2007)
---
A photo of Grace's sister, Paige, is found in a burning car.
---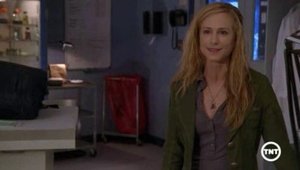 1x12 Is There A Scarlet Letter On My Breast? (December 17, 2007)
---
A defense attorney from Los Angeles comes to town for a murder trial and his presence may influence the team in professional and personal areas of their lives.
---
1x11 This Is Way Too Normal For You (December 10, 2007)
---
A home for the mentally challenged is the target area of investigation when a robbery occurs involving a man with Down Syndrome.
---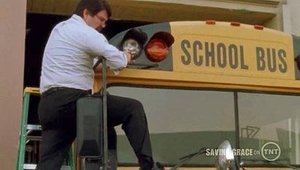 1x10 It's Better When I Can See You (December 03, 2007)
---
3 children are killed in a bus accident and Grace's investigation is interrupted by bad weather as tornadoes rip through the city.
---
1x09 A Language of Angels (September 17, 2007)
---
A crime from 11 years ago is on Grace's thoughts due to a new case.
---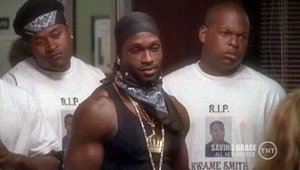 1x08 Everything's Got a Shelf Life (September 10, 2007)
---
During the raid on a killer's house, Grace gets shot and almost dies, while another policeman isn't as lucky as her and gets shot to death. Meanwhile, Leon Cooley has to deal with his ex-wife marrying another man, who might adopt his son.
---
1x07 Yeehaw, Geepaw (September 03, 2007)
---
Grace and the guys investigate the murder of a "crispy critter" in the Oklahoma countryside and Bobby soon discovers the deceased was one of his mentees. Grace enlists the help of her Native American grandfather, "Geepaw," to help with the case, but is shocked when she sees how quickly his health is deteriorating. Grace and her sister, Paige, fight over many things, including Geepaw's future in a nursing home. Earl tries to make Grace realize the importance of family… and Grace and Butch rekindle their passion.
---
1x06 And You Wonder Why I Lie (August 27, 2007)
---
The death of an alleged call girl in a flight attendant's uniform leads Grace and the guys to investigate a notorious Oklahoma crime family. Grace is finally confronted by Ham's wife about the affair. A financially-strapped Rhetta gets excited about making two grand as an expert witness. And Grace and Rhetta hatch a secret plan for Rhetta to meet Earl.
---
1x05 Would You Want Me To Tell You? (August 20, 2007)
---
Grace and Ham play cops and robbers with toy guns. Grace's favorite Aunt Cathy comes to town – has a run in with Earl, clashes with Betty – and reveals some shocking news. But first-- Rhetta, Grace, and Aunt Cathy get drunk and remember old times. Meanwhile, cattle tycoon Alvin Green's world begins to crumble after his lucky bull statue is stolen. He insists Major Crimes take the case. When Grace's father has a fire station named after him, Grace's family comes together for the dedication ceremony. Henry's cat dies and Grace comforts him the only way she knows how.
---
1x04 Keep Your Damn Wings Off My Nephew (August 13, 2007)
---
A 17-year-old devout Christian comes under attack just days before he's scheduled to testify in a murder trial. In order to ensure his safety, Grace allows him to move in with her. But Grace can only handle so much preaching, so she ropes the guys into helping her watch over him. Grace gets pissed when Earl uses Leon Cooley and her nephew, Clay, to get her attention.
---
1x03 Bless Me, Father, for I Have Sinned (August 06, 2007)
---
Grace and her team investigate the murder of a manager of a sleazy local motel. The investigation eventually leads to a maid, who claims the victim was trying to rape her. Complications arise when a local priest offers her the right of sanctuary. Meanwhile, Grace begins to accept Earl's presence in her life.
---
1x02 Bring It On, Earl (July 30, 2007)
---
Grace and her team investigate the murder of an oilman. Meanwhile, Ham discovers Grace's romantic past with Butch Stillwater, which puts a strain on their relationship. Grace sets out to prove her courage by challenging Earl to a wrestling match.
---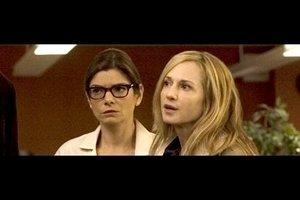 1x01 Pilot (July 23, 2007)
---
Grace Hanadarko is an Oklahoma City police detective with an alcohol problem and a self-destructive lifestyle. After she hits a man with her car while driving drunk, she asks God for help and an angel named Earl appears. Earl wants to help her find the right path of life again, but it is going to be a hard piece of work for both of them.
---