The Adventures of Paddington
Season 2
The Adventures of Paddington
Season 2
First Air Date: February 19, 2021

| | | |
| --- | --- | --- |
| First Aired on | : | 2021 |
| Episodes | : | 51 episodes |
Episodes
2x51 Paddington the Best Bear (April 05, 2022)
---
---
2x50 Paddington's Hatching Surprise (March 29, 2022)
---
---
2x49 Paddington's Birthday Treat (March 22, 2022)
---
---
2x48 Paddington Helps a Hedgehog (March 15, 2022)
---
---
2x47 Paddington Loves Windsor Gardens (March 08, 2022)
---
---
2x46 Paddington Plays Golf (March 01, 2022)
---
---
2x45 Paddington's Pet Hotel (February 22, 2022)
---
---
2x44 Paddington Keeps Up with The Kamalis (February 15, 2022)
---
---
2x43 Paddington Becomes a Talent Show Judge (February 08, 2022)
---
---
2x42 Paddington's Butler (February 01, 2022)
---
---
2x41 Paddington's Radio Show (January 25, 2022)
---
---
2x40 Paddington's Taste of Italy (January 14, 2022)
---
---
2x39 Paddington's Treasure Hunt (January 07, 2022)
---
---
2x38 Paddington's Not Himself (December 31, 2021)
---
---
2x37 Paddington's Nature Club (December 24, 2021)
---
---
2x36 Paddington Sells Bessie (December 17, 2021)
---
---
2x35 Paddington and the Egg Hunt (December 10, 2021)
---
---
2x34 Paddington Feels the Music (December 03, 2021)
---
---
2x33 Paddington Gets Locked Out on Christmas Day (December 03, 2021)
---
---
2x32 Paddington and the Sleep Over (November 26, 2021)
---
---
2x31 Paddington Visits the Doctor (November 19, 2021)
---
---
2x30 Paddington and the Heat Wave (November 12, 2021)
---
---
2x29 Paddington Saves the Bees (November 05, 2021)
---
---
2x28 Paddington Goes Green (October 29, 2021)
---
---
2x27 Paddington Shares a Good Deed (October 22, 2021)
---
---
2x26 Paddington Makes the News (October 15, 2021)
---
---
2x25 Paddington's New Neighbors (October 08, 2021)
---
---
2x24 Paddington Goes to Work (October 01, 2021)
---
Paddington becomes a work bear and helps Mr. Brown in the home office, but learns computers can be tricky things.
---
2x23 Paddington and the Tooth Fairy (September 24, 2021)
---
Judy loses a tooth, quite literally. Will it be found in time for bed and will the tooth fairy like marmalade?
---
2x22 Paddington the Pizza Chef (September 17, 2021)
---
Baaz's niece Simi is visiting & he wants to create the perfect pizza to surprise her with, but it's not easy with hungry animals around!
---
2x21 Paddington's Lucky Day (September 10, 2021)
---
Paddington Jonathan & Judy are worried they've used up all of Lucky the dog's luck—how will they tell Sofia?
---
2x20 Paddington the Upcycler (September 03, 2021)
---
Baaz teaches Jonathan & Paddington about upcycling but can the pair create something to earn a reward?
---
2x19 Paddington Opens the City Farm (August 27, 2021)
---
Paddington's excited about the grand opening of the city farm, but the animals escape when the gate is left open—will they find them in time?
---
2x18 Paddington's Blackberry Treasure (August 20, 2021)
---
Jonathan, Judy & Paddington pick all the blackberries in the garden, but Mr. Curry seems to think some are his- should they give them back?
---
2x17 Paddington's Space Adventure (August 13, 2021)
---
Join Paddington as he takes off & becomes the world's first Bearonaut thanks to the Brown family!
---
2x16 Paddington Takes to the Ice (July 09, 2021)
---
There's an ice rink in the Park & Mr. Gruber teaches Paddington how to skate for the ice disco but will be brave the ice himself again after a past fall?
---
2x15 Paddington and the Vegetable Thief (July 02, 2021)
---
Who's trying to steal Mr. Curry's prized Giant Pumpkin? PC Wells & Paddington are on the case.
---
2x14 Paddington Plays the Floor Is Lava (June 25, 2021)
---
The Browns take part in a very competitive game of The Floor is Lava, but who will win and will they make a good impression on an important visitor?
---
2x13 Paddington and the Caterpillar (June 18, 2021)
---
Paddington has a new caterpillar friend, and he and Judy learn that not all changes are bad!
---
2x12 Paddington's Beach Stowaway (June 11, 2021)
---
The Browns come back from a beach trip with more than sand in their hair—why is that shell moving on its own?
---
2x11 Paddington and the Big Decision (June 04, 2021)
---
On the last day of the school holidays Jonathan and Judy can't agree on what to do so Paddington has the casting vote.
---
2x10 Paddington's Rocking Chair Repair (May 28, 2021)
---
Jonathan, Judy and Paddington accidentally break Mrs. Bird's much-loved rocking chair! How will they fix it before she finds out?
---
2x09 Paddington Gets Fit (May 21, 2021)
---
It's the annual fun run in Windsor Gardens park, Paddington however is not very fit so Mrs. Bird decides to train him!
---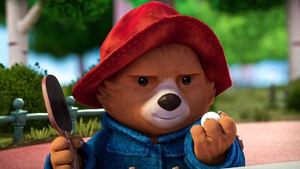 2x08 Paddington the Table Tennis Champ (April 02, 2021)
---
Paddington & Mateo form a table tennis team and the beat the table hogs so everyone can play!
---
2x07 Paddington Celebrates Mrs. Bird's Day (March 26, 2021)
---
It's Mrs. Bird Day & Paddington wants to make a cake with a Special jar of Marmalade but no one can open it – how will he show his appreciation?
---
2x06 Paddington and the Bad Swap (March 19, 2021)
---
Paddington accidentally gives away Jonathan's rare Tiny Robot card in a game of Imaginarium. How will he get it back?
---
2x05 Paddington Clowns Around (March 12, 2021)
---
Paddington throws a Birthday party for Mateo but things don't go to plan, will Mrs. Brown's clown act save the day?
---
2x04 Paddington Becomes a Secret Agent (March 05, 2021)
---
Judy gets a Toy Spy Kit, but why is Mrs. Bird being so secretive? There's only one way to find out let's follow her!
---
2x03 Paddington's Squirrel Surprise (February 26, 2021)
---
Paddington accidentally destroys a squirrel's nut store so invites him in to apologize, however he didn't expect him to bring friends.
---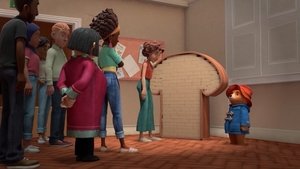 2x02 Paddington the Artist (February 19, 2021)
---
Paddington wants to take part in the CommunArty show, but what's he good at? Pottery, Painting or sculpture?
---
2x01 Paddington's Plant Problem (February 19, 2021)
---
Mr. Curry goes on holiday & gives Paddington the job of watering one plant, it looks almost dead, can he revive Ellie before Mr. Curry returns?
---