The Army Show
Season 1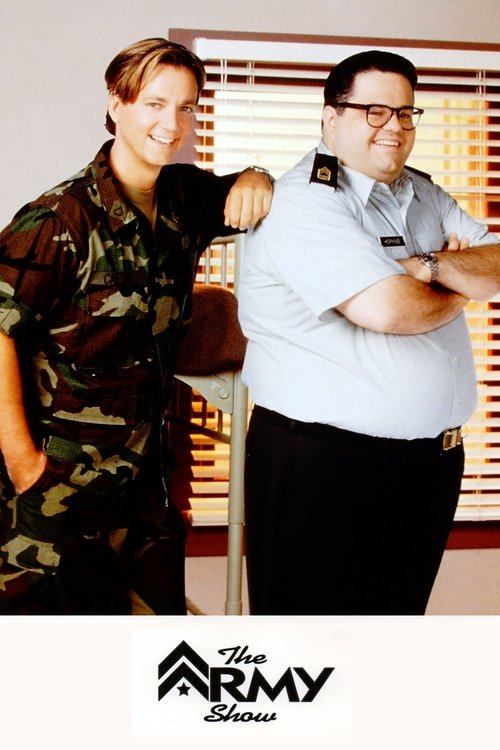 The Army Show
Season 1
First Air Date: September 13, 1998

| | | |
| --- | --- | --- |
| First Aired on | : | 1998 |
| Episodes | : | 13 episodes |
Episodes
1x13 Paymaster (December 13, 1998)
---
Dave uses his winnings from a lucky streak to enter a poker tournament. Meanwhile Lana reports that she's being overpaid. As a result, the Army decides to promote her, which will help her with her possible romance with Rusty.
---
1x12 The Visitor (December 06, 1998)
---
Missing equipment may cause problems for Dave when he learns that a tough Pentagon general is coming for a inventory inspection.
---
1x11 J. Paul Caesar (November 22, 1998)
---
When Dave discovers that John has a huge trust fund just waiting to be spent, Dave launches a campaign to convince John's father that his son is ready to handle the responsibility of wealth. Meanwhile, Colonel Henchy, furious that Ft. Bendix ranks near the bottom of all bases in the U.S. in efficiency, puts Lt. Handy on the warpath to streamline operations and with the help of Eddie's new scheme to align all motion with the Earth's rotation, things certainly start moving.
---
1x10 An Officer & A Gentleman (November 15, 1998)
---
Lana puts a curse on Lt. Handy and Col. Henchy recommends that Dave might make a good officer.
---
1x09 Eddie Goes to College (November 08, 1998)
---
An Army recruiting trip to the local college leaves the guys in a school daze. Dave and Rusty pursue future dates rather than soldiers; Eddie signs up for a college class with a eye towards meeting co-eds; and John is hailed as the second coming when he pledges a fraternity. Back at the base, a love-struck Eddie risks a court martial when he leads a group of campus demonstrators protesting the Army's careless polluting of the Bendix swamp who chain themselves to Colonel Henchy's desk.
---
1x08 Area 52 (November 01, 1998)
---
When a misfired rocket is mistaken for a U.F.O., Dave and John seize upon the opportunity to make money off of the curious townspeople, but Rusty's acting debut as an extraterrestrial gets him more attention than he bargained for. Meanwhile, Lieutenant Handy's super-secret mission to recover the rocket backfires.
---
1x07 Have I Got a Deal for You (October 25, 1998)
---
When Ozzie gets stuck with a lemon of used car, Colonel Henchy gives an unofficial order for Dave and Lieutenant Handy to team up and avenge every soldier who has been ripped off by a fast talking shyster. While Dave schemes to lure the crook with a car that's too good of a deal to pass up--the Colonel's classic Chassis--John leads the battalion charges with keeping Henchy well diverted.
---
1x06 I'll See Your Five and Raise You an Eddie (October 18, 1998)
---
It's time for the annual war games against Fort Arnold, and Colonel Henchy threatens to start training the men every morning at dawn if they don't win this year. When Lana gambles away Eddie, their secret weapon, in a poker game, Dave, John and Rusty resort to desperate measures to win him back and insure their victory.
---
1x05 The Military Ball (October 11, 1998)
---
Rusty falls for the daughter of the town's wealthiest family, but their first date results in a bar brawl involving half the town. Dave decides to smooth things over by holding a formal military ball, and John provides a crash course in social graces to prepare Rusty and the troops for their big night.
---
1x04 Shipping Out (October 04, 1998)
---
When civil war breaks out on the Caribbean island of Maricado, the troops learn that they may actually face combat, despite John's attempts to alter Fort Bendix's status in the Pentagon's computer system. Fears are put to rest when everyone is declared unfit to fight, except Eddie who seeks comfort from Chaplain Flaherty.
---
1x03 Fantasy Camp (September 27, 1998)
---
Dave's money-making scheme of turning white-collar civilians into weekend warriors at "Sergeant Dave's Military Fantasy Camp" hits a snag when a belt-tightening Congressman pays a surprise inspection visit to Fort Bendix. When the Congressman's teenage son joins in the fantasy and takes a tank for an unscheduled test drive, Dave, John, Lt. Handy and Rusty give chase across town.
---
1x02 The New Captain (September 20, 1998)
---
With the impending arrival of a new commanding officer, Colonel John Henchy, Lieutenant Handy aims to swiftly clean house, ordering Master Sergeant Dave Hopkins to requality all the troops. Meanwhile, in a more serious crisis, the gang's annual Septemberfest celebration is eminent and the sausage truckers in Germany are on strike.
---
1x01 Pilot (September 13, 1998)
---
Newly arrived Private John Caesar, a convicted computer hacker forced to enlist rather than serve hard time, discovers a Club Med existence at the forgotten Army base of Ft. Bendix, complete with monogrammed bathrobes, saunas and boat races. Led by ringleader Master Sergeant Dave Hopkins, this band of misfits, including Corporal Rusty Link and Private ""Smart Eddie"" Mitterand have Army life wired and play every angle to their advantage. That is, until Pentagon brass catch wind of the less-than-regulation activities and send a by-the-book officer, Lieutenant Branford Handy, to restore military protocol.
---