French & Saunders
Season 3
French & Saunders
Season 3
First Air Date: March 15, 1990

| | | |
| --- | --- | --- |
| First Aired on | : | 1990 |
| Episodes | : | 7 episodes |
Episodes
3x07 Episode 7 (April 26, 1990)
---
Dawn French and Jennifer Saunders round off their series with more comedy sketches and special guest Jane Asher.
---
3x06 Gentlemen Prefer Blondes (April 19, 1990)
---
Jennifer's Marilyn Monroe and Dawn's Jane Russell spell it out with an outrageous rendition of Diamonds Are A Girl's Best Friend.
---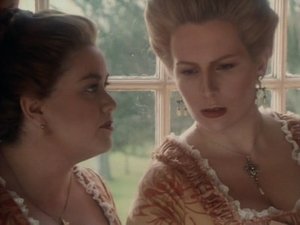 3x05 Dangerous Liaisons (April 12, 1990)
---
It's whispering rumours-'n'-deceit-beind-fans time as Dawn and Jen 'do' Dangerous Liaisons. Star Test interviews Tanita Tikaram and asks that burning question - ""What does 'Twist in my Sobriety' mean?"". ""I'm in the studio with Dr Eleanor Wood"" who's being interviewed for 'Record Choice', although the host is more amused by the Doctors 'ample,chunky,tubby,piggy' size than anything she has to say. 'Back with Dawn' on TV-am who today is, apparently an expert on 'space' (although the wrong kind of space!), and we hear 'A Wedding Day' on the Poetry Spot... arrr! The 'thinking mans crumpet' Joan Bakewell hosts an Arts programme dedicated to Andy Warholes work. There's been a mix-up in make-up when Sharon and Tracey from 'Birds of A Fea-ver' arrive in Jens living room.
---
3x04 Gone with the Wind (April 05, 1990)
---
Jen is Scarlet O'Hara - 'Fiddle-de-dee'! We see how they pass the time on a prison visit, 'Countdown' and 'Name That Tune' go down well! This weeks Star Test Guest is lead singer from Transvision Vamp, Wendy James. Ken from Raw Sex duets with his girlfriend via cassette as she's under the weather, while Kirsty MacColl sings the wonderful 'Don't Come The Cowboy With Me Sonny Jim'. We go out to a Country Cottage and watch the house-keepers discuss the laundry - '50 quid for a T-shirt? Couldn't believe it', the freaky-health-conscious boss 'poison?- white bread, apparently' and how to make a few quid!
---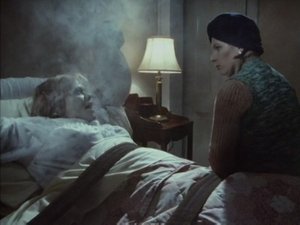 3x03 The Exorcist (March 29, 1990)
---
Poor Dawnie is posessed this week, as we see in the French and Saunders' take on 'The Exorcist'. We see into the pitfalls of being a 'lookie-likie' on 'Watch-Out', the consumer affairs programme, and how Maggie Philbins 'lookie-likie' is such a perfectionist she had to marry a Cheggers look-a-like! The 'She-Rappers' make their debut in front of 'a friend of Africa Bambaata', while errr... Hollywood 'expert' Dawn joins Jen on the TV-am sofa and discusses 'a day in the life of...Joan Collins. Kirsty MacColl sings 'I Ride' while Dawn and Jen don their leathers and ride their bikes in the video. Jo and Judith have a working lunch regarding 'Stars and their toilet seats' and come up with the innovative idea of a 'plop-up' book.
---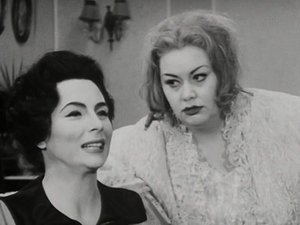 3x02 Whatever Happened to Baby Dawn? (March 22, 1990)
---
As the title suggests, this weeks film is a parody of 'Whatever Happened to Baby Jane?', with Jen isolated upstairs in a wheelchair, as Dawn gets up to some 'serupticious, drunken, bawdy mischief'. Guests on 'Star Test' this week are Matt and Luke Goss - 'Bros' (short for brothers). It's 'Dawns Dosh Spot' on TV-am and Kirsty MacColl duets with Ken Bishop on 'Somethin' Stupid'. The 2 Fat Ladies get home and discuss the wedding they've just attended and we join Jilly and Fiona, editors of 'Womanly World' magazine arranging the next issue.
---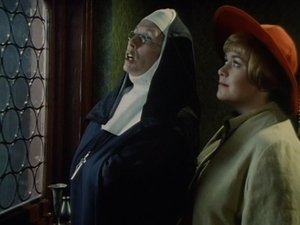 3x01 The Sound of Music (March 15, 1990)
---
Season 3 kicks off with a great 'Sound of Music' send up - Dawn as Maria and Jen as Mother Superior fight it out to sing 'Climb ev'ry Mountain'. Jerry Hall and Marie Helvin stand in for Dawn and Jen while their off on the 'catwalks of Milan'. They use a Channel 4 programme layout, 'Star Test' to interview pop-stars of the moment, throughout season 3 - this week it's 'sophisticated, scouse' Sonia. One of the 2 fat ladies cuts off a finger - 'blood and sand', then later we see the land-rover driven through the kitchen wall in order to catch the game-birds. Dawn is 'A Right Royal Guest' on a TV-am spoof. The fantastic Abba show us their new video for 'C'est Vie, c'est vie!'. Kirsty MacColl sings the excellent '15 minutes' and we meet Dot and May, who run 'Star Pets' and train animals (and vegetables) for television.
---