Dwight in Shining Armor
Season 2
Dwight in Shining Armor
Season 2
First Air Date: September 22, 2019

| | | |
| --- | --- | --- |
| First Aired on | : | 2019 |
| Episodes | : | 10 episodes |
Want to see ?
Trailer: Dwight in Shining Armor Season 2 Trailer
Episodes
2x10 Wishy Washy Pt. I (November 24, 2019)
---
A member of Hexela's coven, Ragana, surprises her in Woodside; Baldric, Gretta, and Dwight are roped into the escalating rivalry between the two witches.
---
2x09 Agnet (November 17, 2019)
---
Chlodwig's stalker arrives in Woodside with the intention of winning his undying love; Gretta and Dwight get roped into helping Chlodwig avoid his persistent follower.
---
2x08 Invincible (November 10, 2019)
---
A thief with an invincibility cloak comes back to finish a job he started 1000 years ago; Gretta, Baldric, and Dwight set out to find the Quiet Friars to discover the identity of the thief . . . and his target.
---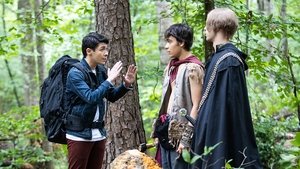 2x07 The Queen Tree (November 03, 2019)
---
When a rogue woodcutter starts chopping down trees in the forest, Gretta and her knights must track him down before he takes his axe to the Queen Tree. But stopping the killer isn't the only thing on Chlodwig's mind, and things only get worse for the team when he takes on the role of matchmaker.
---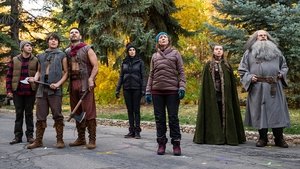 2x06 Truthberry Cobbler (October 27, 2019)
---
While on a camping trip together, Dwight, Gretta, Baldric, Hexela, and Chlodwig eat magical berries that compel them to tell the truth; Two handsome woodcutters are introduced to the candid group.
---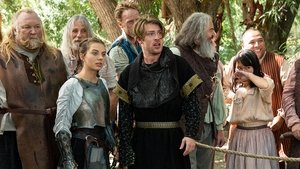 2x05 Switcheroo (October 20, 2019)
---
Due to a magical birthday tradition, Chlodwig and Dwight switch bodies for the day; Gretta and Baldric try to aide the body swapped heroes as they venture through their days as one another.
---
2x04 Alban Elfed Day (October 13, 2019)
---
Dwight agrees to help Gretta host an ancient version of Thanksgiving; an infinity spell causes them to live the same day over and over until they accomplish everything correctly.
---
2x03 All Hail the Woodchuck (October 06, 2019)
---
The Woodside basketball team inadvertently summons an ancient Highlander warrior; Gretta and Baldric must come to Dwight's aid as he has fallen ill and cannot perform his duties as Woody the Woodchuck.
---
2x02 Unlucky in Love (September 29, 2019)
---
Dwight unknowingly moves a Kofewalt, unleashing a string of bad luck on himself; Gretta and Baldric try to help Dwight avoid his bad luck-induced disasters so that he can reconnect with a former crush.
---
2x01 Champion Do-Over Pt. II (September 22, 2019)
---
Sir Aldred, Baldric, and Gretta set off into the woods to uncover something lost in Gretta's castle; Dwight, Chlodwig, and Hexela discover that the group in Gretta's castle may be in mortal peril.
---