Dwight in Shining Armor
Season 1
Dwight in Shining Armor
Season 1
First Air Date: March 18, 2019

| | | |
| --- | --- | --- |
| First Aired on | : | 2019 |
| Episodes | : | 10 episodes |
Episodes
1x10 Champion Do-Over Pt. 1 (May 20, 2019)
---
A dashing and charismatic knight, Sir Aldred, enters the life of Gretta and Dwight with a plan to release Dwight from the bonds of the Champion Spell and take his place as Gretta's Champion.
---
1x09 Todd (May 13, 2019)
---
An unfortunate love spell makes the seventh-grade paperboy, Todd, the object of Gretta's affection. Dwight and Baldric do what they can to help Gretta avoid embarrassment...and a restraining order.
---
1x08 Dragon (May 06, 2019)
---
In an effort to fix Baldric's broken staff, Gretta and Dwight come face-to-face with the dragon guarding Gretta's castle and uncover a family secret in the process.
---
1x07 Winnie the Wyvern (April 29, 2019)
---
Winnie, a nuisance from Gretta's past, reemerges. Dwight is immediately taken with the beautiful, but uncommunicative, woman and vows to help right the wrong from Winnie's past.
---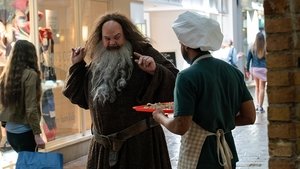 1x06 Lessons One Through Four (April 22, 2019)
---
Baldric becomes possessed by an evil fairy with an aim to find four specific items needed to open a portal to the fairy realm. Dwight and Gretta must track down and stop Fairy Baldric before he executes the devious plan.
---
1x05 Shackled (April 15, 2019)
---
While trying to coordinate the annual Woodside Carnival, Dwight and Gretta are kidnapped by a group of bandits who shackle the two together. Literally inseparable, Dwight and Gretta must navigate their way through the carnival together.
---
1x04 Lotions and Potions (April 08, 2019)
---
A mysterious elderly woman has arrived in Woodside and kidnapped Gretta. Dwight, Baldric, and Chlodwig must discover the identity of the woman and figure out what she's plotting.
---
1x03 Peanut (April 01, 2019)
---
Dwight's community service project follows him home in the shape of an adorable puppy named Peanut. But Gretta and Baldric swear that the harmless puppy is something much more menacing.
---
1x02 Flip (March 25, 2019)
---
Jacopo the Troubadour demands that Gretta relinquish her throne. Using his magical lute, he entrances the citizens of Woodside to do his bidding in his quest.
---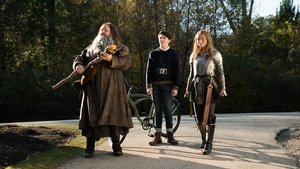 1x01 Pilot (March 18, 2019)
---
While exploring the woods outside his suburban town, Dwight, a 21st-century teen, accidentally awakens Gothic princess Gretta, along with her court magician, Baldric, and scores of medieval villains.
---