Flint: The Time Detective
Season 1
Flint: The Time Detective
Season 1
First Air Date: October 01, 1998

| | | |
| --- | --- | --- |
| First Aired on | : | 1998 |
| Episodes | : | 39 episodes |
Flint the Time Detective, known in Japan as Jikū Tantei Genshi-kun (時空探偵ゲンシクン, Space-Time Detective Genshi-kun), is an animated Japanese television series directed by Hiroshi Fukutomi. It was based on a manga by Hideki Sonoda and Akira Yamauchi and was published by Bros. Comics in Japan. A second manga by Bom Bom Comics was also produced and was released as a special promo for the anime. The anime aired from 1998 to 1999 in Japan and ran for 39 episodes.
Episodes
1x39 Cavemen's Christmas (December 17, 2000)
---
---
1x38 The Rescue (June 17, 1999)
---
---
1x37 Game Master (June 10, 1999)
---
---
1x36 Land of Dread (June 03, 1999)
---
---
1x35 The Land of Dread (October 15, 2000)
---
---
1x34 Shadow (October 06, 2000)
---
---
1x33 Knuckles (May 13, 1999)
---
---
1x32 Knuckle (September 22, 2000)
---
---
1x31 Uglinator (September 15, 2000)
---
---
1x30 Dipper (September 08, 2000)
---
---
1x29 Snug as a Bug (September 01, 2000)
---
---
1x28 Change (August 25, 2000)
---
---
1x27 Musey (August 06, 2000)
---
---
1x26 Nightcap (August 06, 2000)
---
---
1x25 Monk (July 29, 2000)
---
---
1x24 Leafy (July 22, 2000)
---
---
1x23 Enter the Unicorn (March 04, 1999)
---
---
1x22 Talen (July 08, 2000)
---
---
1x21 Rocky in Love (July 01, 2000)
---
---
1x20 Elekin (February 11, 1999)
---
---
1x19 Eleckin (June 17, 2000)
---
---
1x18 Moah (June 10, 2000)
---
---
1x17 Bindi-Master (May 12, 2000)
---
---
1x16 Wing (May 20, 2000)
---
---
1x15 Plumella (May 13, 2000)
---
---
1x14 Miss Iknow Makes a Housecall (December 31, 1998)
---
---
1x13 Caveman's Christmas (December 24, 1998)
---
This is the only episode that Flint and the team travelled back in time not just one, but two. It started on Christmas Day where they will also meet a lonely young girl named Maria in ancient France in hopes of finding her missing mother and that is with the help of her own-believed angel which is the Time Shifter named Elfin (which he has an ability to turn anything into a toy). As Flint works to prevent the death of Maria's mother, they also must deal with Petra Fina even when she transforms Elfin to Elfin-Con. They defeat him with the help of Batterball-Master. Afterwards, Jillian Grey stated that tampering with history is illegal. Though she will overlook it.
---
1x12 Bindi (April 22, 2000)
---
The Time Detectives had to go back to 15th century in Transylvania to retrieve another Time Shifter named "Bindi" which she is in the possession of Count Vlad Dracula or just simply Count Dracula which his fellow people in his villagers believed that he is actually a vampire. Upon meeting with Vlad Dracula, the mysterious guy who helped Sara in some episodes, revealed his identity as Merlock Holmes of the Time Bureau and assigned as undercover detective to observe Flint Hammerhead in his missions. In the end of this episode, Bindi choose to side with Merlock because of her faith to him and also because Flint already sees that she wants to go with Merlock rather than their team.
---
1x11 Batterball (April 15, 2000)
---
The time detective team travelled back in the year 1956, where they encounter the Time Shifter Batterball and the young, rude, and cunning baseball player name Babe Ruth wherein he always uses Batterball for his prank plan on his bullies much to Tony's disappointment and confronts him to challenge to a real baseball game together with the troublemakers (which is Petra Fina and his henchmen).
---
1x10 Go Getalong (April 08, 2000)
---
Plotting to capture Getalong from the Time Detectives and use her power to be married to the Dark Lord, Petra Fina and her henchman set up a trap for Flint, Sarah and Tony in Baghdad in the year 1539, misleading them into searching for a Time Shifter. There they are caught, but end up engaging in battle with the cat form of Petra Fina's Catamaran, which is defeated with the help of Getalong.
---
1x09 Artie (April 01, 2000)
---
The team is sent back to mid 19th century Paris in France to search for the Time Shifter Artie. At the same time, Petra Fina receives a portrait of the Dark Lord. On arriving they find Artie in the company of a young Auguste Rodin, who has been using Artie's powers to animate his drawings. When Petra Fina and her gang arrive and brainwash Artie, Flint (with the peculiar "help" of Lynx) takes on Artie-Con.
---
1x08 Lynx (March 26, 2000)
---
The team is sent back to Ancient Egypt (323 B.C.) to search for the Time Shifter Lynx. On arriving, the group find Lynx under the command of Petra Fina who styles herself as a Queen. When Flint is brainwashed by Lynx, Tony and Sarah engage Lynx in a game of riddles and beat him by using the Riddle of the Sphinx, breaking Petra Fina's spell. With the aid of Bubblegum-Master, Flint confronts Lynx-Con.
---
1x07 Bubblegum (March 26, 2000)
---
Travelling back to Japan in 1582 (during the Azuchi-Momoyama Period) in search of the Time Shifter Bubblegum, the team arrives at Azuchi Castle, where they find Bubblegum in the companionship of Oda Nobunaga and his attendant Mori Ranmaru (who is portrayed as being female in the series). When Petra Fina and her gang attack the castle and brainwash Bubblegum, the heroes and Nobunaga are subdued in battle, only to be rescued by Ranmaru and Coconaut-Master. Together the group fights Bubblegum-Con to thwart Petra Fina's plan.
---
1x06 Coconaut (March 19, 2000)
---
The team goes back to the year 1492 to look for the Time Shifter Coconaut, where they find themselves pressed into service for the famous explorer Christopher Columbus upon being fished out of the ocean by his crew. Coconaut is revealed to be assisting Columbus in his navigation. Petra Fina uses this fact to inspire distrust for Columbus amongst the crew and also to steal Coconaut and take command of the fleet where she plans to rename America as Petra-Merica. After escaping from abandonment on a desert island, Flint and his friends rush to set things straight and free Coconaut.
---
1x05 Mosbee (March 19, 2000)
---
The team is sent back to Russia in 1812 to search for the Time Shifter Mosbee. There they encounter the invading forces of the First French Empire under Napoleon Bonaparte, as well as Mosbee who ends up being brainwashed by Petra Fina. Petra Fina secures the loyalty of Napoleon and his forces after using Mosbee-Con to freeze their Russian opponents. Flint must fight Mosbee-Con and restore order. A mysterious character also makes a first appearance to help Flint. Upon Mosbee being free, Napoleon decides that Russia is too cold to invade and has his forces retreat back to France.
---
1x04 Talen (March 12, 2000)
---
The team is sent back to the Heian Period of Japan (794 A.D.) in search of the Time Shifter Talen. After confronting the villains, Petra Fina and Flint are dragged into the tale of Princess Kaguya as Talen attempts to escape. Within the story, Flint befriends Talen (who disguises herself as the titular Princess Kaguya) and all three eventually escape the story. Petra Fina subsequently captures Talen and Flint must fight to rescue his new friend.
---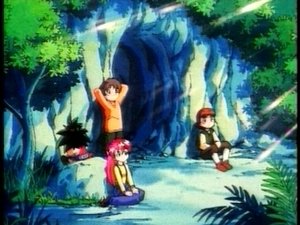 1x03 Eldora (March 12, 2000)
---
The team heads back to 16th century South America in order to rescue the Time Shifter Eldora. Upon arriving, they are captured by Spanish Conquistadors and end up as prisoners where they try to extract the location of the Golden Condor from them. In help of the leader's only son named Lucas, they escape and aim to help a group of ancient Incas to return to their village and to prevent further attacks from the Conquistador who are revealed to be acting under Petra Fina's orders.
---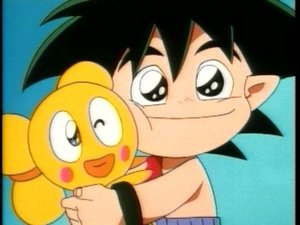 1x02 Jitterbug (March 05, 2000)
---
This is the first mission of Flint, Sarah and Tony as time detectives. The team are sent back to the 2nd century A.D. Japan to retrieve and rescue the Time Shifter Jitterbug. On arrival, the group help Queen Himiko of Yamatai and her sister Nashimi to restore order after Petra Fina and her gang overthrew them and took them as prisoners.
---
1x01 Hammerhead Rock (October 01, 1998)
---
The first episode of the series where Petra Fina and the gang arrived from the Stone Age year and tries to capture the first Time Shifter named Getalong, and there they meet the prehistoric caveboy named Flint Hammerhead and his father Rocky Hammerhead (in human form).
---