Crimes of Passion
Season 1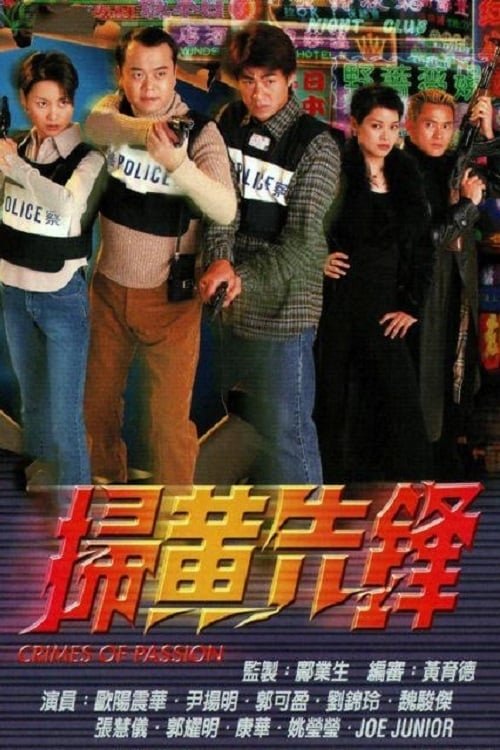 Crimes of Passion
Season 1
First Air Date: May 11, 1998

| | | |
| --- | --- | --- |
| First Aired on | : | 1998 |
| Episodes | : | 22 episodes |
Episodes
1x22 Episode 22 (June 09, 1998)
---
FAN wants to tell MAY that he loves FUNG. MAY knows his act in advance and pretends that she is sick. FAN has mercy on her. As FAN`s works are in vain from time to time, he lays a trap and discovers that CHEUNG has betrayed him. CHEUNG wants to run away. He keeps two policemen as hostages. Luckily WONG convinces him to surrender. LUNG runs away with KWAN when he knows that CHEUNG has been arrested. In the jetty, he has a gun fight with the police. He is shot and falls down. KWAN decides to return to Mainland China with her family. FAN leaves FUNG and goes to Canada with MAY to lead a new life. The aeroplane meets a jet stream and this accident lets FAN realize that MAY does not have cancer…
---
1x21 Episode 21 (June 08, 1998)
---
FAN provides MAY with temporary accommodation in his house. FUNG pretends that she does not mind. In order to win over KWAN`s heart, LUNG buys a large house for her family. However KWAN cannot drive away TIT`s image in her heart. LUNG complaints that he has been treated unfairly by the police in front of the member of the district board. LI orders FAN to stop his investigation on LUNG`s nightclub. MAY tells FAN that she has cancer and she urges FAN to reunite with her. FAN is a kind-hearted man and he is willing to look after MAY. LUNG frames TIT being a corrupted policeman when he knows that KWAN misses TIT. TIT is suspended from his duty.
---
1x20 Episode 20 (June 05, 1998)
---
LUNG seeks advice from KWAN on the opening of new massage saloons. She cannot meet TIT in time. FUNG arrests TYSON but he refuses to admit the murder. LUNG drives a car to pick up KWAN`s family. TIT is angry and questions her. LUNG grasps the chance to court KWAN. CHEUNG borrows money from the company run by LUNG. As he cannot pay the debt, LUNG forces him to work for him in his dirty business. MAY arrives at FAN`s home with her luggage when FAN is there.
---
1x19 Episode 19 (June 04, 1998)
---
TIT goes to interrupt LUNG`s business. He is angry to see KWAN serving LUNG and scolds her. Listening to WONG`s advice, TIT sends flowers to flatter KWAN. KWAN is excited. FUNG has to receive surgery treatment and it is dangerous. Luckily she manages to overcome the problem with FAN`s encouragement. She gradually recovers. MAY is deceived by DAVID who takes away her money. In the police station, MAY tells FAN her unpleasant experience. FAN is touched and has mercy on her.
---
1x18 Episode 18 (June 03, 1998)
---
NGAN changes his statements in the court and LUNG is set free immediately. LUNG claims that his massage saloon will not be changed into a brothel, KWAN`s colleagues suggest her to stay. KWAN cannot make up her mind. KUEN does not support LUNG`s plan of lowering service charges together. LUNG is unhappy and hires TAISON to kill KUEN by knocking him down. FUNG witnesses the murder and wants to stop TAISON. She is also hurt. As her backbone is hurt seriously, she may be paralyzed.
---
1x17 Episode 17 (June 02, 1998)
---
FAN has the courage to disclose his love in front of FUNG. FUNG accepts his love. FAN is afraid that his plan will be leaked again. He changes the lighting system and asks his colleagues to park their cars irregularly. He is aware that NGAN shows much concern of their work. He changes his route and manages to find some young girls working in LUNG`s nightclub. The police accuse LUNG. On her birthday, LUI is drunken and has one night stand with CHEUNG. After the first trial in court, LUNG gives NGAN several million dollars to bribe NGAN.
---
1x16 Episode 16 (June 01, 1998)
---
SIN leads FUNG to meet her customer in a hotel. FAN follows them. However FAN loses their trail at a road junction. Luckily he finds the hairpin left by FUNG intentionally. FAN saves her just in time. At last the gang of prostitutes is broken up. FAN is urged by his supervisor to collect evidences so as to accuse LUNG. NGAN secretly informs LUNG before FAN takes action. FAN`s efforts are fruitless. FAN wants to invite FUNG to be his partner in the police annual dinner. However PAUL takes a faster step and he has to go alone.
---
1x15 Episode 15 (May 29, 1998)
---
TIT checks the sauna house in which KWAN works. He realises that KWAN does not sell her body. FAN and FUNG practise mahjong playing. KAM suspects that they are tricksters. In order to win SUM`s trust, He invites her to dine in his house. He pretends that he has a quarrel with FUNG. Their neighbours think that FAN loves hiring prostitutes and FUNG likes mahjong playing. FUNG tells SUM that she needs money. SUM introduces her to BIU and FUNG borrows money from him.
---
1x14 Episode 14 (May 28, 1998)
---
TIT urges KWAN to return his money. One day KWAN and PIK go to the supermarket. She is knocked down by LUNG. She is angry and argues with LUNG. She even claims that she knows LUNG. YIN leaves home with her son. KI is depressed. His friend bring him to hire prostitutes. He is angry that YIN is there. KI fights with the pimp. YIN refuses to accuse SUM and BIU for the police. FAN and FUNG are instructed to approach SUM by claiming to be a married couple.
---
1x13 Episode 13 (May 27, 1998)
---
FAN and his colleagues check BIU`s brothel. PIK is kidnapped by a loan shark and threatens KWAN to pay the debt. TIT saves PIK and promises to pay the debt for KWAN. KI suspects that he has AIDS. However he dares not tell his wife YIN. However YIN knows his problem at last. YIN is depressed so she goes playing mahjong in Po Kee Store. She even goes to gamble in Macau with SUM. She loses a lot and has to shoulder a large debt. SUM leads her to borrow money from BIU. As she cannot pay the debt, YIN has to be a part-time prostitute.
---
1x12 Episode 12 (May 26, 1998)
---
FAN drives FUNG home and on the way they see a young woman kill herself by jumping down a flyover. The newspaper headline draws the public attention. It states that the young woman was a part-time prostitute. LEE orders FAN to investigate the case. KI hires a prostitute but he refuses to pay as he is not satisfied with her service. Being blackmailed by SE, KI seeks help from FAN. SUM goes to play mahjong in Po Kee Store. She seems to be a kind woman but in fact she is looking for new part-time prostitutes to work for her. FUNG is transferred to the CID.
---
1x11 Episode 11 (May 25, 1998)
---
KEN has HUNG`s permission to marry her. When he knows that she was a prostitute, he changes his mind. FAN tells FUNG that HUNG`s being raped has been recorded. FUNG convinces HUNG to be the witness. FAN admires FUNG`s character and attitude. After HUNG has given the statement in the court, she receives a fax and she is shocked to see her naked photograph being disclosed in the Internet,. HUNG cannot tolerate the stress and tries to terminate her life. FAN urges KEN to visit HUNG. At last ANITA is sentenced 24-month imprisonment.
---
1x10 Episode 10 (May 22, 1998)
---
KITTY brings PIK to meet clients. The client gives PIK a few thousand dollars and this flatters her. FUNG witnesses HUNG being entangled in the karaoke. She brings HUNG to the peak to talk. HUNG promises to correct her fault. FAN and his subordinates follow KITTY and her colleagues to collect information of ANITA`s group. TIT is angry as PIK is among the girls. He is going to attack the man entangling PIK. FAN stops him. KITTY and ANITA are brought to the police station. They are soon released as there is insufficient evidence. As FAN gets a tape recording how HUNG was raped, they hope that HUNG will assist them.
---
1x09 Episode 9 (May 21, 1998)
---
LUI stays in the training course and is arranged to take photographs in swimming suite. KWAN loses money in the stock money and owes loan sharks a lot of money. She seeks help from TIT. FAN takes a long holiday so as to follow MAY to Canada. However MAY states that they do not suit each other and suggests to divorce him. FAN returns. Though he misses MAY, he pretends that he is not affected by the case. With FUNG`s encouragement, FAN at last is able to focus on his work again. ERIC`s mother and sister allow ERIC to marry FUNG as they believe that FUNG is bearing ERIC`s baby.
---
1x08 Episode 8 (May 20, 1998)
---
PIK is invited by ANITA to take the model training course organized by her model agent company. KWAN gets the permit to stay in Hong Kong. She works in a sauna centre. As she wants to be rich, she invests in the stock market. TIT is unhappy as he thinks that KWAN is a materialistic girl. KWAN is depressed. PIK takes the model training course without telling her family. After trying wedding gowns with FUNG, HUNG is kidnapped by several men. Later pornographic VCD recording her appears in the market. HUNG cannot take strain and at last promises to be PAUL`s secret lover. LUI is sent to study in ANITA`s model training course.
---
1x07 Episode 7 (May 19, 1998)
---
KAM finds PIK`s statement and learns that she has a bill of tens of thousands. She scolds PIK. PAUL complaints that he is annoyed with TIT and FAN`s investigation work. FUNG just follows the routine work to question FAN. MAY argues with FAN for business matter. She leaves home angrily. FAN repents. TIT and WONG claim themselves to be rich men from Malaysia so as to bait ANITA. As ANITA knows little about them, she refuses to arrange extra services for them. FAN is instructed by the senior authority to abandon the investigation work. On the Valentine`s Day, ERIC manages to have FUNG`s approval to marry him.
---
1x06 Episode 6 (May 18, 1998)
---
Through ANITA, PAUL wants to hire HUNG as his secret lover. However HUNG refuses to accept the arrangement. She does not want to be involved in the filthy business. FUNG finds that LUI is investigating HUNG. She questions FAN and FAN admits that they are suspecting HUNG. FUNG is surprised. ANITA spreads fake news to frame HUNG. HUNG is frustrated and at last she promises to accompany PAUL. PAUL invites HUNG to go launching with him. On board he tortures HUNG and in chaos, HUNG falls into the sea. HUNG is saved but she refuses to accuse PAUL. TIT and FAN have to find another one to help them.
---
1x05 Episode 5 (May 15, 1998)
---
KWAN grasps a chance and runs away. TIT finds her and gives her protection. TAK changes his mind and accuses FAY for the police. He asks KWAN to get the account book for him but KWAN is discovered by FAY. FAN and TIT follow FAY to a used car lot. After a fight, they arrest FAY. As KWAN`s visa has expired, she has to be sent back to Mainland China. HUNG misses her. FAN is instructed to investigate a case related to actresses as prostitutes.
---
1x04 Episode 4 (May 14, 1998)
---
Though TAK is arrested, he refuses to admit the accusation. FAN goes to MAY`s boutique, hoping she can forgive him. There he meets a prostitute who asks him to give her discounts. MAY is angry. FAN is tricked by his subordinates. He decides to work hard. FAY forces KWAN to work for him but KWAN refuses. On the other hand FAN persuades TAK to be cooperative. TAK is in the dilemma. AS KWAN cannot be found, the police question FAY. FAY meets TIT in the police station and teases him.
---
1x03 Episode 3 (May 13, 1998)
---
KWAN leads FAN to a hotel. There KWAN changes her mind and does not want to serve FAN. In chaos, FAN`s colleagues arrive and bring KWAN to the police station. She accuses FAN having inordinate ambitions on her. ERIC brings FUNG to meet his family. FUNG is not accepted by ERIC`s mother and sister as she is an orphan and now she is a police woman. FUNG is depressed. As PUI betrays FAY and has her own customers, FAY wants to kill her. Luckily TIT saves her. For her own sake, PUI decides to be the witness to accuse FAY. TIT searchs the club.
---
1x02 Episode 2 (May 12, 1998)
---
TIT and FAN go to the club but TIT is recognized by a prostitute. FAN has to make a new plan. TAK, the owner of the club, finds PING to check FAN`s identity. Knowing that FAN is not introduced by his customer, TAK instructs KING to play table-tennis with FAN. He even sends people trounce FAN so as to see whether he is a policeman or not. KWAN`s mother call her and tells her that her father is in trouble. He needs fifty thousand dollars. KWAN has no way but seeks assistance from FAY. She promises FAY to work in TAK`s club. With the help of KI, FAN passes TAK`s tests and is allowed to stay in the club.
---
1x01 Episode 1 (May 11, 1998)
---
HUNG TIT leads his colleagues to trash the sign-boards of brothels in Shanghai Street. SUN is in the crowd and he nags at TIT. TIT is angry and argues with SUN. To protect the image of the police force, FAN stops TIT. FAN`s talent is appreciated by FONG and he is transferred to the special team fighting filthy business. He becomes TIT`s supervisor. In the first task, FAN causes troubles as he is not acquainted with the job. FAN is instructed to investigate whether a dialect club is running filthy business or not. As the club only serves those from Fujian, FAN has to be the spy himself.
---