Zone Stad
Season 7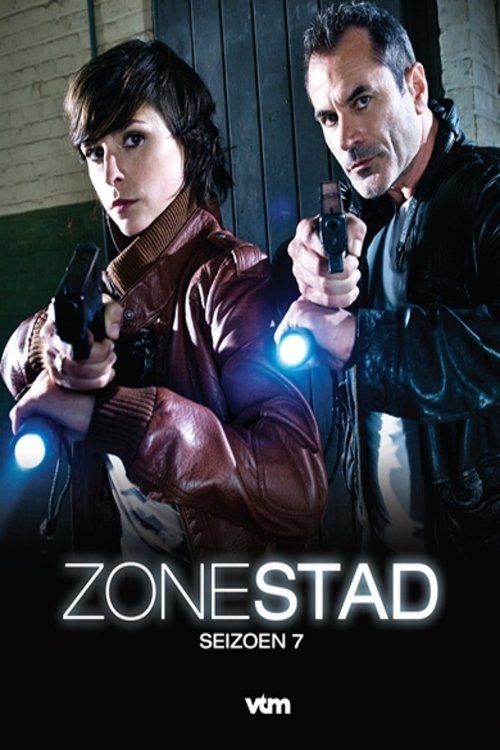 Zone Stad
Season 7
First Air Date: February 27, 2012

| | | |
| --- | --- | --- |
| First Aired on | : | 2012 |
| Episodes | : | 13 episodes |
Episodes
7x13 Supervolle Maan II (May 21, 2012)
---
---
7x12 Supervolle Maan I (May 14, 2012)
---
---
7x11 Kermis (May 07, 2012)
---
After a fairground entertainer gets murdered, the team heads to the local fair to start an investigation. Already during the first interrogations, the murderer makes a second victim. Meanwhile Inez has a relationship with Tom as well as Lucas. Tom gets desperate and tells Inez he knows about her secret. Lucas also has made a discovery and plans to get rid of Tom.
---
7x10 Wiedergutmachung (April 30, 2012)
---
When the night guard of a museum gets murdered, Tom and Fien start an investigation. They soon discover that they are not only looking for a murderer, but also an art thief. Tom and Inez get back together while Fien continues her private investigation on her partner's girlfriend. Meanwhile Lucas notices weird things are going on.
---
7x09 Bruiloftsklokken (April 23, 2012)
---
A night watchman of the Antwerp port is shot to death. His boss Herman Arco tells Tom and Fien that his daughter Stephanie and her fiancé live in the neighborhood. However, the couple declares to have heard nothing. When Tom and Fien catch longshoreman Ruud Deckers taking a load of cocaine outside a container, they think they have solved the case. But after taking the man in custody, a second murder takes place.
---
7x08 Parkour (April 16, 2012)
---
Jimmy witnesses an accident, when two street jumpers cause a car crash, leaving a single mother to die. Tom and Fien visit Stef Vertongen, the Sports Council, in order to get the names of the local street jumpers. Just when he is about to talk, Vertongen gets blackmailed and decides not to cooperate. Dani takes a decision about her relationship with Maxime. Today is the big day for Mike and Els, but at their wedding they get an unexpected visit.
---
7x07 Smeergeld (April 09, 2012)
---
A man is firmly gagged in a car which gets deliberately pulverized. Tom and Fien discover the car was stolen one week ago in Kiev, but have no idea on the identity of the victim and the reason to kill him. Jimmy has a date with a beautiful girl he met on Facebook. Tom gets extremely angry towards Lucas.
---
7x06 Game Over (April 02, 2012)
---
While Marijke Wijnant is taking a shower, her boyfriend Kris Vervecken gets brutally killed in their living room. Both worked as officers in the army and so Tom and Fien go to the barracks to look for a starting point. They soon find one in person of Dieter Landuyt, a newcomer who felt humiliated after his baptism by "the fantastic four", a group of close friends consisting of Kris and his colleagues Steven, Rudy and Bruno. Meanwhile Seppe tells Inez that the Alva-clan needs a new leader after the death of Rodrigo and Dimitri.
---
7x05 Gouden Handschoen (March 26, 2012)
---
Soccer trainer Franky De Maeyer gets beaten into coma in the locker room. Fien stands alone when she is called to the scene, because Tom prefers spending his free time with Inez. Fien discovers Franky must have felt himself threatened, as he had recently requested a gun permission. But who was after him and why? Lucas confronts Tom with his private investigation. Mike is once again doing shady businesses and fears that it will now only take hours for his colleagues to find out.
---
7x04 Myositis (March 19, 2012)
---
Dirk Van de Vijver is trapped blindfolded in a basement. When his business partner Carl Verswyfelt receives a envelop carrying one of Dirk's fingers and a letter which requests 200,000 euros ransom, Tom and Fien are put on the case. They soon discover that Van de Vijver embezzled money from different clients and think maybe one of them is now using this cruel way to get his or her money back. Meanwhile Lucas asks Jimmy to spy on Tom in order to find out more about his private investigation.
---
7x03 Old School (March 12, 2012)
---
The janitor of the local soccer stadium discovers a body which hands were amputated post mortem. Tom and Fien think about a ritual murder or a link with Mexican drug cartels, but Lucas thinks they are looking to far. He meanwhile asks pathologist Lathouwers why Tom wants him to secretly investigate a weapon. Fien notices Tom has a growing drinking problem and warns him for the possible consequences.
---
7x02 Toffe Pol (March 05, 2012)
---
In the middle of the night a young boy witnesses the murder of a prostitute. The next morning he is brought to the police station, after being found by a passerby. When little Lode makes a drawing of the murder, Tom and Fien start an investigation. Meanwhile Mike tells his colleague Jimmy that he is willing to get engaged. Jimmy also has big news: he will take part in the admission tests for the SWAT team. Tom thinks someone is planning to kill him.
---
7x01 Black Mambas (February 27, 2012)
---
Fien visits Tom and asks him to go back to work. He refuses, definitely now he remembers that he killed his own father. Meanwhile Fien and Lucas are called to a motel room for a cruel double murder.
---