Dororo
Season 1
Dororo
Season 1
First Air Date: January 07, 2019

| | | |
| --- | --- | --- |
| First Aired on | : | 2019 |
| Episodes | : | 24 episodes |
A father in pursuit of power gives parts of his new-born son to a host of demons. Years later, the son battles those demons to regain what is rightfully his.
Episodes
1x24 Dororo and Hyakkimaru (June 24, 2019)
---
Daigo's castle is engulfed in flames. Within, two brothers by blood are at the mercy of fate. Dororo, Jukai and Lady Nui also head for the castle, each with their own thoughts weighing down upon their hearts. For a life that began with a silenced cry, where will the path of destiny lead?
---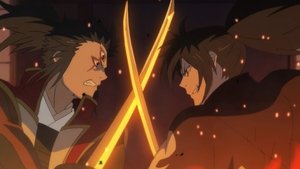 1x23 The Story of the Demons (June 17, 2019)
---
Hyakkimaru comes face to face with Tahomaru, Mutsu and Hyogo, who have been possessed by the power of demons. Dororo, Lady Nui and Biwamaru hurry to the scene, where they witness a ferocious battle that will determine the future of the land of Daigo.
---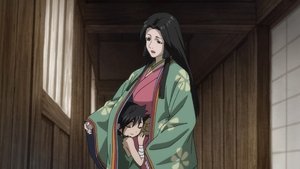 1x22 The Story of Nui (June 10, 2019)
---
Inside Daigo's castle, Lady Nui appears before the cell in which Dororo has been imprisoned. Meanwhile, Hyakkimaru is also approaching the castle as he tries to take back both his body and Dororo. Behind Hyakkimaru stands Midoro, who has transformed into a ghoul.
---
1x21 The Story of Breaking the Cycle of Suffering (June 03, 2019)
---
Daigo Kagemitsu continues to prepare for war with the neighboring land of Asakura. Upon receiving word that Hyakkimaru is approaching his domain, Kagemitsu sends Tahomaru to dispose of him.
---
1x20 The Story of Nue (May 27, 2019)
---
While traveling along a mountain path in search of a demon, Dororo and Hyakkimaru encounter a young man named Dice-spot Saburota. The man says that he too is hunting the demon, and they set off to exterminate it together.
---
1x19 The Story of the Amanojaku (May 20, 2019)
---
To fix Hyakkimaru's broken sword, he and Dororo travel to a village where a master swordmaker named Munetsuna lives. Upon arriving at Munetsuna's house, they are met by his daughter Okowa.
---
1x18 The Story of the Cape of Impermanence (May 13, 2019)
---
The shark demon lets out a roar and attacks Dororo, who is tied up and unable to move. Meanwhile, a troop of soldiers commanded by Tahomaru is also approaching the cape.
---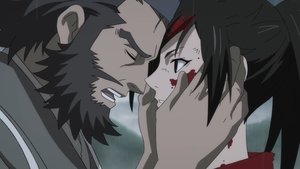 1x17 The Story of Questions and Answers (May 06, 2019)
---
Jukai is reunited with a bloodied Hyakkimaru at the site of a recent battle, and finds out the truth of how Hyakkimaru and the demons are connected. Hyakkimaru asks Jukai for a new prosthetic leg, but...
---
1x16 The Story of Shiranui (April 29, 2019)
---
Dororo has been captured by Itachi and is being taken to the cape where Hibukuro supposedly hid the money. As Itachi and his men look for boats to get across to the cape, they are approached by a one-armed boy named Shiranui.
---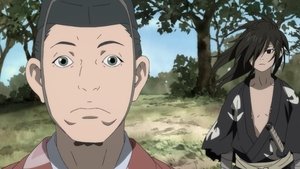 1x15 The Story of the Scene from Hell (April 22, 2019)
---
Sabame has been feeding people to the demons to protect the village over which he rules. As Hyakkimaru once again confronts the demon moths, Dororo gets trapped in a storehouse.
---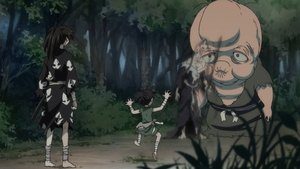 1x14 The Story of Sabame (April 15, 2019)
---
Dororo and Hyakkimaru come across an abandoned, burnt-out temple, where they meet a man named Sabame who rules the surrounding area. Sabame invites the two of them to his residence and tells them the story behind the burnt-out temple and the ghoul that haunts it. However, Dororo and Hyakkimaru suspect that he might not be telling the truth.
---
1x13 The Story of the Blank-faced Buddha (April 08, 2019)
---
Having left Daigo's domain, Dororo finds a statue of Fudo, one of the wisdom gods. But the statue is actually a demon that is harvesting humans' faces in an attempt to find one for itself.
---
1x12 The Story of Banmon, Part 2 (March 17, 2019)
---
Kagemitsu, who offered up his own son to the demons. Hyakkimaru, who is trying to get back the body parts that were taken from him. As if drawn together by fate, they face each other.
---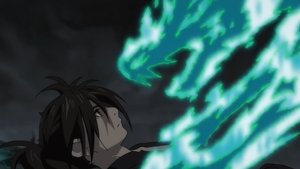 1x11 The Story of Banmon, Part 1 (March 17, 2019)
---
After entering Lord Daigo's domain, Dororo and Hyakkimaru hear tales of Banmon, the huge wall that is the last remnant of a fort that once stood on the border. Hyakkimaru squares off against the fox demon that haunts the wall.
---
1x10 The Story of Tahomaru (March 10, 2019)
---
A village within Daigo's domain is being terrorized by a ghoul that dwells in a nearby lake. Tahomaru, accompanied by his aides Hyogo and Mutsu, volunteers to exterminate the ghoul.
---
1x09 The Story of Mercilessness (March 04, 2019)
---
Dororo comes down with a high fever. While woozy from its effects, the youngster catches a glimpse of some red spider lilies, which stirs up memories of past days spent with parents Hibukuro and Ojiya.
---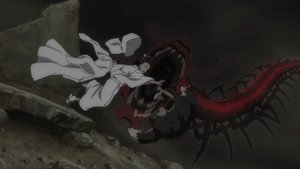 1x08 The Story of Saru (February 25, 2019)
---
At a certain village, young girls are offered up as ritual sacrifices to appease a giant centipede demon that appears shrouded in black clouds. Hyakkimaru and Dororo team up with Saru, a boy whose older sister has been offered as a sacrifice, and together they confront the demon.
---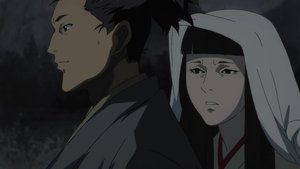 1x07 The Story of the Jorogumo Silk Spider (February 18, 2019)
---
The spider-like ghoul Jorogumo is wounded by Hyakkimaru. To heal itself, it transforms into a woman and takes advantage of the hospitality of a young man named Yajiro. Having let Jorogumo slip through their fingers, Dororo and Hyakkimaru stop at a village where they hear rumors of a kidnapper at large.
---
1x06 The Story of the Moriko Song: Part 2 (February 11, 2019)
---
Hyakkimaru has regained his voice from the devil god, but one leg was stolen from him. After returning to the deserted temple and having his wounds taken care of, he again goes into battle with the demon. Meanwhile, in the abandoned temple where Mio and the children are waiting ...
---
1x05 The Story of the Moriko Song: Part 1 (February 04, 2019)
---
Struggling to adapt to an unfamiliar world of "sound", Hyakkimaru is injured in a fight with a ghoul. He is taken in and nursed by a girl named Mio, who looks after children orphaned by war. However, after becoming aware of a demon nearby, Hyakkimaru heads out to fight it before he is fully recovered.
---
1x04 The Story of the Cursed Sword (January 28, 2019)
---
Dororo Onikimaru confronts Tanosuke, a manly slaughter. The sword he wields was a cursed decoy where the devil lives. Although barely dismissing Tanosuke, the military sword has passed over to the hands of the hands and the horsemans are manipulated by the weapon.
---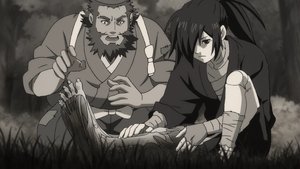 1x03 The Story of Jukai (January 21, 2019)
---
Jukai is a doctor who travels the land fitting prosthetic arms and legs to those who have lost their limbs in war. One day, on the riverbank he finds a baby missing most of its body parts. He decides to raise the child, who he names "Hyakkimaru". Jukai provides the child with prostheses, but the time comes when Hyakkimaru sets out on a journey to recover his own body parts.
---
1x02 The Story of Bandai (January 14, 2019)
---
Dororo and Hyakkimaru happen upon a village and are brought before its chief, Lady Bandai. However, Hyakkimaru inexplicably draws his sword in her presence, resulting in both him and Dororo being locked in a storehouse by the villagers. It turns out they are not the only ones confined there...
---
1x01 The Story of Daigo (January 07, 2019)
---
In Japan's Warring States period, Lord Daigo Kagemitsu makes a pact with 12 demons, offering them his unborn son in exchange for the prosperity of his lands. Years later, young thief Dororo is attacked by a ghoul but rescued by a mysterious boy, whose body parts turn out to be almost entirely prosthetic.
---