Idol Room
Season 1
Idol Room
Season 1
First Air Date: May 12, 2018

| | | |
| --- | --- | --- |
| First Aired on | : | 2018 |
| Episodes | : | 87 episodes |
Episodes
1x87 Sechs Kies (February 11, 2020)
---
---
1x86 GFriend (February 04, 2020)
---
---
1x85 THE BOYZ (January 28, 2020)
---
---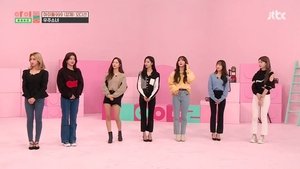 1x84 Cosmic Girls (WJSN) (January 21, 2020)
---
---
1x83 Momoland (January 14, 2020)
---
---
1x82 SF9 (January 07, 2020)
---
---
1x81 MAHEUN5 (December 24, 2019)
---
MAHEUN5 MAHEUN5 is a 5-member group under DBDBLAB. The members are KIM WON HYO, KIM JI HO, PARK SUNG KWANG, PARK YOUNG JIN, HEO KYUNG HWAN.
---
1x80 Rainbow (December 17, 2019)
---
Rainbow is a South Korean girl group formed in 2009 by DSP Media. The group is composed of seven members: Woori, Seungah, Jaekyung, Noeul, Yoonhye, Jisook and Hyunyoung. They released their debut mini album Gossip Girl on November 12, 2009. On October 27, 2016 the group was officially confirmed to disband after all members decided to not renew their contracts. In November 2019, the group was re-formed for their tenth anniversary.
---
1x79 CIX (December 10, 2019)
---
---
1x78 Soloists Special (December 03, 2019)
---
---
1x77 AOA (November 26, 2019)
---
---
1x76 TXT (November 12, 2019)
---
---
1x75 Winner (November 05, 2019)
---
---
1x74 Monsta X (October 29, 2019)
---
---
1x73 NU'EST (October 22, 2019)
---
---
1x72 Super Junior (October 15, 2019)
---
---
1x71 ONF (October 08, 2019)
---
---
1x70 TWICE / DREAMCATCHER & EVERGLOW (October 01, 2019)
---
---
1x69 TWICE (September 24, 2019)
---
---
1x68 Seventeen (September 17, 2019)
---
---
1x67 X1 (September 10, 2019)
---
---
1x66 Episode 66 (September 03, 2019)
---
---
1x65 Oh Hayoung (Apink) (August 27, 2019)
---
---
1x64 Pretty 95s (August 20, 2019)
---
Yook Sung-jae (BtoB), Ricky (Teen Top), Jo Young-min, Jo Kwang-min, Baek Kyung-do
---
1x63 Rocket Punch (August 13, 2019)
---
---
1x62 Oh My Girl (August 06, 2019)
---
---
1x61 ITZY (July 30, 2019)
---
---
1x60 NCT Dream (July 23, 2019)
---
---
1x59 Nature (July 16, 2019)
---
---
1x58 Eun Jiwon (Sechs Kies) (July 09, 2019)
---
---
1x57 GFriend (July 02, 2019)
---
---
1x56 Red Velvet (June 25, 2019)
---
---
1x55 Somi (June 18, 2019)
---
---
1x54 Lee Hi, Paul Kim, Jung Seung-hwan (June 11, 2019)
---
Ballad-dol Special
---
1x53 fromis_9 (June 04, 2019)
---
---
1x52 Winner (May 28, 2019)
---
---
1x51 GOT7 (May 21, 2019)
---
---
1x50 THE BOYZ (May 14, 2019)
---
---
1x49 Kim Jong-min (Koyote), Chungha, DreamNote, BVNDIT (May 07, 2019)
---
Please Take Care of My Junior-dols Special
---
1x48 TWICE (April 30, 2019)
---
---
1x47 TWICE (April 23, 2019)
---
---
1x46 Foreign Idols Special (April 16, 2019)
---
NCT (Renjun, Chenle), Pentagon (Yan An, Yuto), Samuel, (G)I-DLE (Minnie, Yuqi, Shuhua), Soso (GWSN), Kenta (JBJ95), Cherry Bullet (Kokoro, Linlin)
---
1x45 Henry, Bolbbalgan4 (April 09, 2019)
---
Musician Special
---
1x44 IZ*ONE (April 02, 2019)
---
---
1x43 Stray Kids (March 26, 2019)
---
---
1x42 N.Flying (March 19, 2019)
---
---
1x41 (G)I-DLE (March 12, 2019)
---
---
1x40 SF9 (March 05, 2019)
---
---
1x39 Monsta X (February 19, 2019)
---
---
1x38 Taemin (SHINee) (February 12, 2019)
---
---
1x37 Episode 37 (January 29, 2019)
---
---
1x36 Seventeen (January 22, 2019)
---
---
1x35 GFriend (January 15, 2019)
---
---
1x34 Episode 34 (January 08, 2019)
---
---
1x33 Seungri (Big Bang), Wanna One, (G)I-DLE (December 25, 2018)
---
Christmas Special: The 1st Thank You Awards
---
1x32 WINNER (December 18, 2018)
---
---
1x31 THE BOYZ (December 11, 2018)
---
---
1x30 NU'EST W (December 04, 2018)
---
---
1x29 Mino (WINNER) (November 27, 2018)
---
---
1x28 fromis_9 / LOONA (November 20, 2018)
---
---
1x27 Gugudan (November 13, 2018)
---
---
1x26 TWICE (November 06, 2018)
---
---
1x25 IZ*ONE (October 30, 2018)
---
---
1x24 Monsta X (October 23, 2018)
---
---
1x23 NCT 127 (October 16, 2018)
---
---
1x22 Weki Meki (October 09, 2018)
---
---
1x21 Cosmic Girls (WJSN) (October 02, 2018)
---
---
1x20 Got7 (September 18, 2018)
---
---
1x19 Oh My Girl (September 11, 2018)
---
---
1x18 Sunmi (September 04, 2018)
---
---
1x17 iKON (August 28, 2018)
---
---
1x16 Stray Kids (August 21, 2018)
---
---
1x15 Red Velvet (August 14, 2018)
---
---
1x14 MAMAMOO (August 07, 2018)
---
---
1x13 GFriend (July 31, 2018)
---
---
1x12 Seungri (Big Bang) (July 24, 2018)
---
---
1x11 SEVENTEEN (July 17, 2018)
---
---
1x10 TWICE (July 10, 2018)
---
---
1x09 Apink (July 03, 2018)
---
---
1x08 UNB / UNI.T (June 30, 2018)
---
---
1x07 BLACKPINK (June 23, 2018)
---
---
1x06 BtoB (June 16, 2018)
---
---
1x05 Pentagon / (G)I-DLE (June 09, 2018)
---
---
1x04 AOA (June 02, 2018)
---
---
1x03 Highlight (May 26, 2018)
---
---
1x02 Shinhwa (May 19, 2018)
---
---
1x01 Wanna One (May 12, 2018)
---
First guest of the new series: WANNA ONE
---