A Bear's Tail
Season 1
A Bear's Tail
Season 1
First Air Date: July 08, 2005

| | | |
| --- | --- | --- |
| First Aired on | : | 2005 |
| Episodes | : | 6 episodes |
A sitcom from the creators of Channel 4 comedy "Bo' Selecta!" written by and starring Leigh Francis. Everyone's favourite talking bear learns to live with his new sitcom family, The Hennersons. As well as cast and celebrity cameo appearances, Leigh Francis brings to life a host of new characters, including nosey neighbour Sue Dales - a Scottish transsexual living with fellow transsexual Dave McCall - Keith Lemon, entrepreneur and lady's man, and Asian film nerd Corey Haim.
Episodes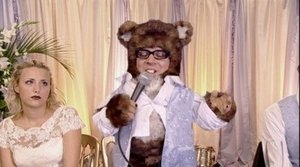 1x06 Two Weddings, A Bear and No Funeral (August 12, 2005)
---
In the most bizarre wedding in history Helena, Richard, Sue and Dave walk down the isle for a double wedding. The Bear is sent to stay with his celebrity cousin Kelly Osbourne, while the Hen and stag parties kick into action. Whilst the Hens are being entertained by a greased up Craig Philips (of Big Brother 'fame'). Meanwhile the lads are out on a stag do with the intention that Richard will never remember it!
---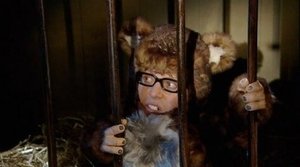 1x05 Blame It On The Bearboy (August 05, 2005)
---
After overhearing a conversation between The Bear and Stephen the Squirrel, Richard learns that Helena is not really pregnant - it was all just a ruse to encourage him to marry her. The Bear gets blamed by Patsy for causing Richard to leave and so runs away, he is soon captured by an evil circus ringmaster. The neighbourhood set about trying to rescue Bear.
---
1x04 Meet the Bearents (July 29, 2005)
---
After a trip to the cinema to watch Star Wars Richard decides that it's time to make an honest woman of Helena as he proposes in a lay by. He does this just as The Bear projectile vomits after eating too many sweets at the cinema.When the family arrive home they find two unexpected visitors, The Bear's real biological bear parents who have followed them home from the woods in which The Hennersons were camping in last weeks episode. The unscrupulous pair hold the Hennersons to ransom, demanding £9,500 for their son.
---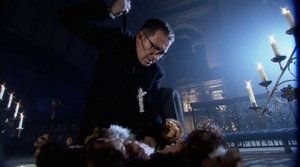 1x03 The Son of Bear-elzebub (July 22, 2005)
---
Richard awakes from a nightmare (a spoof of 'the Omen), convinced that The Bear is in fact the child of Satan. In an attempt to repair their relationship, Richard and The Bear attend a father/son counseling session hosted by counselor Mortimer. In a bid to 'bond' the Hennerson's are advised to spend quality time together in form of a camping trip which is often the best medicine to building bridges.
---
1x02 Adventures in Bearby Sitting (July 15, 2005)
---
Now settled into his new environment, and role as a sitcom star The Bear must learn to share his screen time with the other actors. The bear is worried about how will he control his sexual urges when faced by celebrity babysitter and glamour model Jordon. Jordon has bigger worries though as self proclaimed ladies man Keith Lemon sets out to woo her with his own innovative vocal stylings.
---
1x01 The Good, The Bear And The Ugly (July 08, 2005)
---
The Bear manages to locate his sitcom family working on various TV shows and returns with them to his new sitcom home (which is a set in Pinewood Studios).Now that the Bear and the Hennerson family are reunited they're welcomed home with a dinner invi
---