Welcome to Waikiki
Season 2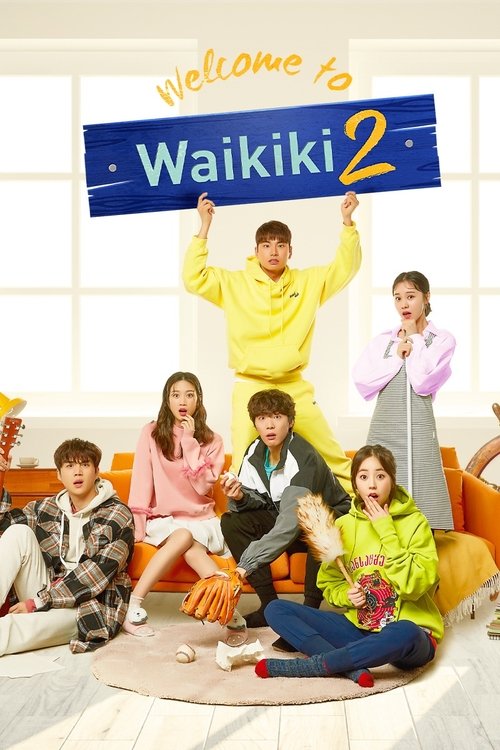 Welcome to Waikiki
Season 2
First Air Date: March 25, 2019

| | | |
| --- | --- | --- |
| First Aired on | : | 2019 |
| Episodes | : | 16 episodes |
Actor Lee Jun-ki ropes two longtime friends into investing in the Seoul guesthouse he runs on the side, where their old crush from school comes to stay.
Episodes
2x16 Episode 16 (May 14, 2019)
---
Terrible timing keeps Su-yeon from coming clean to her crush. U-sik discovers that there is more to Yu-ri and Ki-bong's relationship.
---
2x15 Episode 15 (May 13, 2019)
---
Jun-ki learns to develop feelings for an acting partner. Su-yeon prepares a pitch for a new show, while unsettling feelings of jealousy distract her.
---
2x14 Episode 14 (May 07, 2019)
---
In an effort to cheer up a friend, Jeong-eun spills her deepest, darkest secrets. Yu-ri and Ki-bong's first date gets off on the wrong foot.
---
2x13 Episode 13 (May 06, 2019)
---
An exciting opportunity comes knocking, but a moral dilemma keeps Jun-ki from taking the job. Ki-bong finds himself unable to get out of bed.
---
2x12 Episode 12 (April 30, 2019)
---
Ki-bong's search for employment continues in blissful ignorance. Jun-ki's inability to remember the name of a classmate takes him down a rabbit hole.
---
2x11 Episode 11 (April 29, 2019)
---
Jun-ki seeks the help of a professional to bring Rebecca back to life. U-sik jumps through impossible hoops to confess his feelings to a friend.
---
2x10 Episode 10 (April 23, 2019)
---
A quiz show awakens Yu-ri's competitive side. Jun-ki's sudden rise to stardom comes at a price as young fans keep a watchful eye on him.
---
2x09 Episode 9 (April 22, 2019)
---
Kim Jeong-eun finds it hard to admit her feelings for a longtime friend. Su-yeon meets a speech coach with an unfortunate habit.
---
2x08 Episode 8 (April 16, 2019)
---
An invitation to a birthday party puts U-sik's life in jeopardy. Ki-bong seeks comfort in a box of chocolates.
---
2x07 Episode 7 (April 15, 2019)
---
Jun-ki immerses himself in the world of his character. U-sik's attempt to help Su-yeon keep her job gets slightly out of hand.
---
2x06 Episode 6 (April 09, 2019)
---
In an effort to protect their friends' feelings, U-sik and Jun-ki hide the truth and bear the heavy burden of silence.
---
2x05 Episode 5 (April 08, 2019)
---
Su-yeon sets U-sik up for a blind date. But could this be a trap? Jun-ki and Ki-bong battle for the ownership rights to ... a blanket.
---
2x04 Episode 4 (April 02, 2019)
---
Ki-bong suffers the consequences of letting Cha Yu-ri in the house, while poor U-sik spirals out of control as old feelings creep back into his heart.
---
2x03 Episode 3 (April 01, 2019)
---
Han Su-yeon jumps into the job market. Kook Ki-bong and Jun-ki try to promote their guesthouse by appearing on TV.
---
2x02 Episode 2 (March 26, 2019)
---
Caught between two women, Cha U-sik comes up with a rather sloppy plan to impress one and avoid the other. Lee Jun-ki faces a major acting challenge.
---
2x01 Episode 1 (March 25, 2019)
---
A struggling actor, an aspiring singer and a baseball hopeful scramble to keep their guesthouse afloat after an unlucky blow from Mother Nature.
---