Midsomer Murders
Season 6
Midsomer Murders
Season 6
First Air Date: January 03, 2003

| | | |
| --- | --- | --- |
| First Aired on | : | 2003 |
| Episodes | : | 5 episodes |
Episodes
6x05 Birds of Prey (January 31, 2003)
---
Julian Shepherd, who has most of his money invested in Charles Edmonton's new invention, is found drowned, and there is every appearance that he killed himself due to money problems. Then a villager who has been stealing peregrine falcon eggs from Charles's widow is also found dead, and Barnaby and Troy investigate.
---
6x04 A Tale of Two Hamlets (January 24, 2003)
---
Someone is decimating the ancient Smythe-Webster family of Upper Walden, and the bad blood between the villages of Upper and Lower Walden is renewed with a vengeance. First, young heart-throb actor Larry Smith (alias Laurence Smythe-Webster) dies in an explosion at a publicity event for a new film. House of Satan is based on a book by a local writer, the late Ellis Bell of Lower Walden - a village whose inhabitants are referred to by its Vicar, the Reverend Simon Smythe-Webster, as ""the weasels of the wild wood"".The next to die is Larry's uncle, House of Satan producer Frank Webster (Francis Smythe-Webster), electrocuted to death on his exercise bike. Finally, Barnaby's principal suspect, Danny Pinchel, the family's cook, is drowned in a large bowl of tomato soup...Barnaby realizes he is dealing with an historic grudge, and he enquires into the family's antecedents.
---
6x03 Painted in Blood (January 17, 2003)
---
Barnaby's wife, Joyce, finds a dead body on the Midsomer Florey village green while taking part in a watercolour painting class, and she recognizes it as the elderly Miss Fairfax.Barnaby is given the case, then finds himself taken off it and replaced by a team from the National Intelligence Squad, while he is assigned to deal with a missing handbag. However, he continues his investigation into the murder, finding deceit and double-dealing. It appears that 'Miss Fairfax' was not an elderly spinster at all, but a young detective sergeant from the National Intelligence Squad working under cover, and that her colleagues are busy fitting up the village handyman for the murder of an old lady who never was. He discovers that someone is busy hunting for some five million pounds still missing from an old robbery. In the closing moments, Barnaby has to lock two of the National Intelligence Squad's officers in a bank strong-room, where they are trying to snatch the missing cash, and to arrest the
---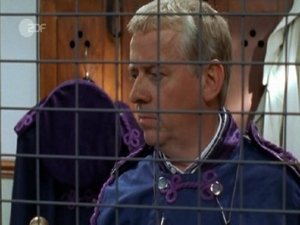 6x02 Death and Dreams (January 10, 2003)
---
Barnaby investigates a death which looks very much like suicide. The dead man was a troubed and depressed gambler on a losing streak, but Barnaby's nose tells him to look for a murderer. During the investigation he recognizes someone from his past, in the shape of Dr Jane Moore.
---
6x01 A Talent for Life (January 03, 2003)
---
Accusations of unsportsmanlike conduct on the river are bedevilling the Midsomer game fishermen, and Barnaby has to interview elegant widow Isobel Hewitt, a spendthrift, fast-living, Jaguar-driving 75-year-old, when another lady fly-fisher accuses her of a violent assault. Then first Isobel and later her fellow villager Dr Duncan Goff are found on the river-bank with their skulls smashed in, and there is no shortage of suspects - including an antique dealer who apparently specializes in befriending elderly widows. The picture is confused when one of the suspects, chef-restaurateur Keith Scholey, is found frozen to death in his walk-in deep freeze, with the lock of the door jammed by a nail. Troy has a theory that Scholey was the killer and has made his suicide look like murder, but will that be the end of the affair?
---