Rome: The World's First Superpower
Miniseries
Rome: The World's First Superpower
Miniseries
First Air Date: October 24, 2014

| | | |
| --- | --- | --- |
| First Aired on | : | 2014 |
| Episodes | : | 4 episodes |
Episodes
1x04 Part 4: Caesar (November 14, 2014)
---
Larry Lamb concludes his exploration of the Roman Empire by looking at the life and career of Julius Caesar. The actor traces the story of the great man's extraordinary transformation from a bankrupt junior public official to the seemingly invincible general who conquered Gaul, through to his infamous assassination in a debating chamber. Along the way, Larry discovers that money was often at the heart of the decisions Caesar made.
---
1x03 Part 3: Death of a Hero (November 07, 2014)
---
During the mid-second century BC, Rome was enjoying the spoils after defeating Carthage in the Third Punic War, with slaves, treasure and art pouring into the republic. Larry Lamb examines how not everyone was reaping the benefit and reveals that resentment was mounting as the gap widened between the poor and the privileged. The actor traces the journey of Tiberius Gracchus, a man from the elite ruling classes who eventually came to champion the cause of the common citizen farmer, and learns about the development of the hypocaust, Rome's famous central-heating system.
---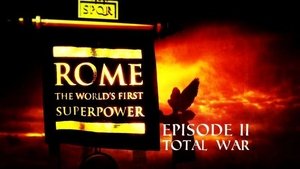 1x02 Part 2: Total War (October 31, 2014)
---
Larry Lamb reveals how the Roman Empire became the dominant power in the Mediterranean. Beginning his quest at the Roma Termini train station in central Rome, he learns how the city was attacked by the Gauls in the Battle of the Allia, fought roughly 400 years BC. This three-year conflict inflicted great losses and damage, and left the Romans believing that attack was the best form of defence.
---
1x01 Part 1: City of Blood (October 24, 2014)
---
Actor Larry Lamb explores the 3,000-year-old story of the rise of the Roman Empire and how it shaped the way we live today, uncovering the intrigue, conflict, greed and violence that surrounded not only Rome, but Pompeii, Sicily, France and Tunisia as the Romans set out to conquer the world. With the help of historians and CGI representations, Larry begins his journey by focusing on the Italian capital of Rome. He takes a look at the role of legendary characters including the city's mythical Iron Age founders Romulus and Remus, and learns how thousands of labourers turned mud huts into a city of stone.
---