Two Guys and a Girl
Season 4
Two Guys and a Girl
Season 4
First Air Date: October 06, 2000

| | | |
| --- | --- | --- |
| First Aired on | : | 2000 |
| Episodes | : | 22 episodes |
Episodes
4x22 The Internet Show (May 16, 2001)
---
When Sharon is late she thinks she may be pregnant so she makes Ashley take a pregnancy test with her, Berg tries to get a urine sample from Irene because he thinks she may be pregnant too when he finds out the glow in the dark condom they used was defective.
---
4x21 Should I Stay Or Should I Go? (May 16, 2001)
---
A jealous Berg tries to get Irene back but ends up screwing it up again, as he won't leave her alone and keeps on having conflicts with Roger, her new mailman-boyfriend. Pete tries to convince Ashley to stay by spending more time with her and making her a picnic in the park, but he gets stood up becuse Ashley doesn't want to get involved with pete as she's moving, and it will end in heartache when she does leave. Johnny wants to spend more time with Sharon, so he helps Sharon serve a subpoena to a man who has a scary dog, and they spend the day together trying to get through the garden to his letter box
---
4x20 The Icewoman Cometh (May 09, 2001)
---
Pete has a near death experience and he believes that he and Ashley are meant to be together. Ashley has a dream about Pete so she goes to talk to him and they end up sleeping together. Berg wants to see if there can be anything between him and Katie and he discovers that she's been stalking him for eight years. Irene won't take Berg back because now she's seeing her mailman.
---
4x19 The Love Boat (May 02, 2001)
---
Berg tries to woo Irene so she'll take him back, Pete agrees to be Ashley's date at a hospital mixer where she wins a residency at Stanford in California, Sharon and Johnny spend their anniversary at the fire house when Johnny has to work.
---
4x18 Make Mine Tea (March 07, 2001)
---
Berg sets up a secret romantic rendezvous.
---
4x17 Adventures of Captain Karma (February 23, 2001)
---
Berg tells Irene that he loves her and she doesn't say it back. Berg takes this to mean that she is no longer intrested in him and ends up going to a comic book convention, where he meets a girl from his high school who was fat and ugly and was also obsessed with him. She believes that it was their destiny to meet, especialy after they meet again at the hospital. Berg starts to think that this girl is better for him than Irene. Pete and Ashley go to the movies, both pretending that they are waiting for dates, but end up having a great time with each other
---
4x16 A Few Good Firemen (February 16, 2001)
---
Johhny wants to become a fireman.
---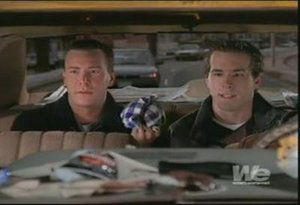 4x15 An Eye for a Finger (February 09, 2001)
---
Pete accidentally cuts the tip of his finger whilst making a salad and trying to apologise to Berg for sleeping with his mother. Berg takes him to hospital via taxi, as he says it will be quicker than ambulance or bus. But when they get out of the taxi, Berg leaves the finger behind and spends most of the day trying to find it. But it turns out that Pete is playing a trick on him, as he wants Berg to accept his apology. Berg accepts the apology thinking that Pete's finger is long gone but Pete had it the whole time. Ashley gives a reluctant Johnny a psychlogical test for a project, and ends up getting some very intresting insights. Meanwhile, Sharon gets a job as the assistant of a crooked lawyer, and only realises when they claim $30,000 for a man who ""lost the use of his legs"". But she keeps the job in attempt to clean his illegal ways
---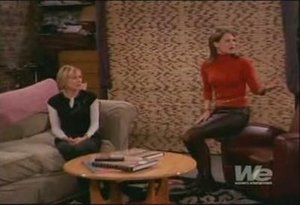 4x14 The Aftermath (February 02, 2001)
---
Pete's affair with Berg's mum affects the two guys friendship.
---
4x13 I've Got a Secret (January 19, 2001)
---
Pete finds out about Berg and Irene; Berg finds out about Pete and his mother and Sharon find out the money that Johnny made in stock market.
---
4x12 Give Mommy a Kiss (January 12, 2001)
---
Berg's mother falls for Pete but they keep it from Berg.
---
4x11 Burning Down the House (January 05, 2001)
---
Johnny and Sharon's new house burns down.
---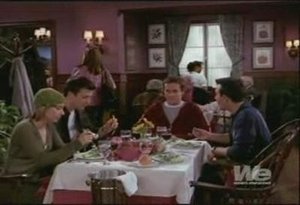 4x10 Rescue Me (December 15, 2000)
---
Sharon is caught on tape saving a man's life, so Berg and Pete try to save someone's life.
---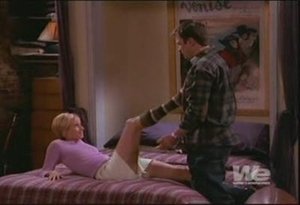 4x09 Drip (December 08, 2000)
---
There's water coming into Berg and Pete's apartment because of a broken valve in Ashley's bathroom so Berg goes to sleep at Sharon and Johnny's and Johnny realizes he's not ready to be a father. Pete asks Irene if he can stay at her place but she takes that as meaning that he's obsessed with her.
---
4x08 My Dinner with Irene (November 24, 2000)
---
Berg and Irene decide to go on a date to see if they could an actual couple and not just sex buddies but when Iren sees Pete sad she asks him out instead. They go to dinner and Berg tags along but Irene dumps Pete. Johnny doesn't like all the time that Sharon is spending with Ashley.
---
4x07 Disco Nights (November 10, 2000)
---
Pete, Berg and Johnny try to get into a club but end up drinking beer outside a convenience store, after Jonny complains about the price of the beer in there. When they return later to the club with Germ none of them are allowed in, except for Germ. They then go back to to the convenience store but end up getting arrested for drinking in the street. Sharon finds out that Johnny doesn't wear his wedding ring and goes out with Ashley to the club to try and help Ashley find a man, and for Sharon to find Jonny so she can kill him. But they end up having a great time and get piles of phone numbers from single guys.
---
4x06 The One Without Dialogue (November 10, 2000)
---
Pete tries to locate a woman he saw on the subway, Johnny tries to fix Ashley's bathroom plumbing and he has to turn off the building's water supply, which leaves Berg with a head full of shampoo. A dog follows Sharon home and she has him lick the dishes clean but he accidentally eats her wedding ring. Ashley refuses to give up her seat on the subway to a pregnant woman so four pregnant women hound her.
---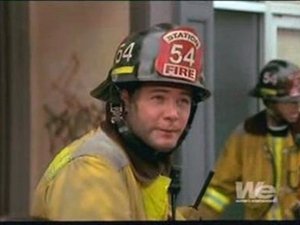 4x05 A Germ Runs Through It (November 03, 2000)
---
Germ acts as a marriage counselor for Johnny and Sharon. Sharon wants Johnny to hurry up and finish the house so she hires a carpenter to help him but he wants to do it himself. Marti breaks up with Pete and leaves him for Nomar.
---
4x04 The Satanic Curses (October 27, 2000)
---
When Pete, Berg and Sharon won't let Irene watch scary movies with them she puts a curse on them. The next day Pete has Ashley's head grow out of his shoulder, Berg becomes ugly and Sharon wakes up with up with a penis.
---
4x03 15 Minutes of Shame (October 20, 2000)
---
Johnny confronts Berg and Berg convinces him not to tell Sharon. Sharon finds out and she tries to use it against Johnny but he keeps his promise to Berg and tells her that it Pete and Ashley that are sleeping together. Nomar is thinking of leaving Boston because of Ashley so an unruly mob sets up outside their apartment building and harass her. Marti convinces Nomar to stay.
---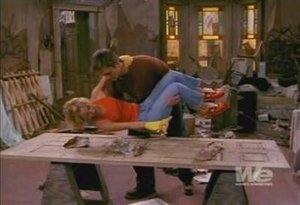 4x02 Meat (October 13, 2000)
---
Berg feels like he's treating Irene like a piece of meat. Pete gets his fireman's badge. Johnny plans to christen the new house but Sharon keeps finding an excuse. Nomar wants to get back together with Ashley but she doesn't want to. Johnny sees Berg and Irene doing it.
---
4x01 The Bear (October 06, 2000)
---
A bear mauls Pete and he thinks Marti doesn't care for him when she doesn't rush to go see him. Berg and Irene try to keep what they did after the wedding a secret but they end up sleeping together again. Johnny shows Sharon the house he bought for them and it's in serious need of repair. Nomar breaks up with Ashley because of something Pete told him.
---