Two Guys and a Girl
Season 3
Two Guys and a Girl
Season 3
First Air Date: September 22, 1999

| | | |
| --- | --- | --- |
| First Aired on | : | 1999 |
| Episodes | : | 24 episodes |
Episodes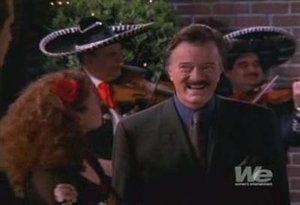 3x24 El Matrimonio Loco (April 26, 2000)
---
Irene throws Sharon and Johnny a wedding on the roof after Sharon cancels some of the plans, Pete and Marti go off to fireman boot camp and Berg and Irene hook-up.
---
3x23 The Undercard (April 19, 2000)
---
Sharon and Johnny get joint checking accounts but Sharon makes all the important choices, Pete is stressed when Marti gets into fireman boot camp before he does and they admit to each other that they like each other, Berg is depressed so he visits his parents only to discover that his mom threw his dad out because he cheated on her.
---
3x22 Another Moving Script (April 12, 2000)
---
Sharon gets jealous when Johnny helps his friend Shawn with her Lamaze class, Pete is mad at Berg when he goes out with Marti because Pete wanted to go out with her and Germ suspects Ashley of stealing hospital supplies.
---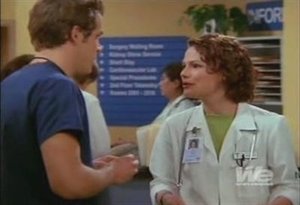 3x21 Love Shack (April 05, 2000)
---
The guys at the firehouse find Pete's make-up bag and the fire chief asks Pete to give his daughter a makeover. In hopes of getting off probation at the hospital Berg lends his apartment to his superior so she can take a nap but she has an affair instead. Sharon has a tea party and Pete and Berg's invites members of the hospital but the wrong ones show up first and they think that she's running a prostitution ring.
---
3x20 Two Guys, a Girl and a Bachelorette (March 29, 2000)
---
The guys at the firehouse make Pete believe that Marty has a thing for him. Pete, Berg and Sharon decide to hang out at O'Malley's, their old college hangout, just like old times since Johnny is having his bachelor party but Johnny shows up anyway and Berg gets mad at him for ruining their evening and punches Johnny right in the face.
---
3x19 War Stories (March 22, 2000)
---
Pete, Berg and Johnny share bad stories about women.
---
3x18 Once Again From the Beginning (March 08, 2000)
---
Pete and Ashley get mugged while waiting for the subway, Sharon and Johnny have trouble writing their wedding vows, Berg is afraid he might screw up at the hospital again when he's called in to replace a sick doctor and Irene's dad visits.
---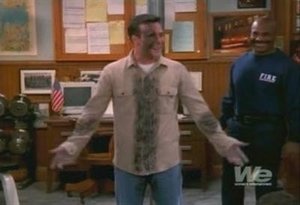 3x17 Feast or Fireman (February 16, 2000)
---
Everyone at the hospital is making fun of Berg for his actions at the bachelor auction so he tries to regain their respect by working nonstop until he almost kills a patient accidentally. He's suspended from the hospital for that. Sharon volunteers to read to children at the hospital and Pete becomes a volunteer fireman.
---
3x16 A Rookie Script (February 09, 2000)
---
Pete gets angry with Johnny for selling him a broken toaster. Berg gets jealous when Ashley starts dating baseball superstar Nomar Garciaparra so he enters a bachelor auction to compete with him.
---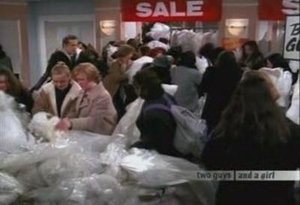 3x15 The Wedding Dress (January 26, 2000)
---
Pete searches for a woman he slept with only to find out she's getting married and he was her last one night stand. Ashley gets her arm stuck in the garbage disposal while trying to fix it herself and Sharon goes shopping for wedding dress on sale.
---
3x14 The Monitor Story (January 19, 2000)
---
Sharon and Johnny discover a hidden room in their apartment, which contains a TV monitor that is hooked up to every apartment in the building. Berg and Ashley get back in the dating swing. Pete discovers that Irene has been taking his stuff and making a dummy of Pete.
---
3x13 Bridesmaid Revisited (January 05, 2000)
---
Sharon and Ashley get drunk and in her drunken stupor Sharon asks Ashley to be one of her bridesmaid's, but regrets it when sober. Pete, Johnny and Berg go to a laundromat/bar and Pete tries to meet a woman but blows it by Johnny's slugs (fake quarters), Johnny uses fake quarters and gets caught and Berg gets his clothes stolen.
---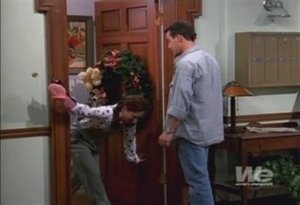 3x12 Out With the Old (December 15, 1999)
---
Ashley has a New Year's Eve party, and Berg manages to get Robert Goulet to sing at her party after treating him for an ear infection. When Goulet learns that he cannot fly to the destination where he is doing a gig, Berg siezes the opportunity. But he has to work that night, so he swaps with another doctor who Ashley has a crush on, and she thinks he did it intentionally. Johnny tries to get out of a romantic evening with Sharon to hear Robert sing, he says that his dead grandfather used to sit him on his lap when he was a kid and play some of Goulet's songs. Pete invites Irene to the party and she surprises him by acting normal. He even starts to fancy her, but Goulet moves in on his gal before he can get anywhere with her. To be a nice guy, Berg goes back to the hospital and swaps back his shift with the English doctor that Ashley likes. Ashley goes to the hospital to thank him and they end up having sex on a hospital bed.
---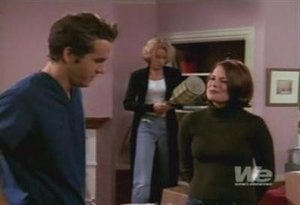 3x11 A Moving Script (December 08, 1999)
---
Sharon and Johnny move to the basement because it's cheaper but when Sharon discovers that Johnny has over 23 thousand dollars in the bank she wants to stay. Johnny refuses to go back up because he says that that's his life savings and that he wants to buy a house. Ashley gets a new roommate but Berg scares him away to get even at her for scaring away a nurse he was trying to get a phone number from. Pete is afraid to pick up a package that came in the mail for him because Irene is holding it for him.
---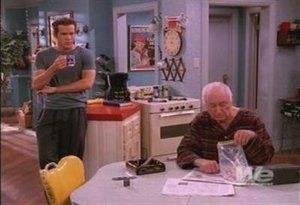 3x10 Liver and Learn (December 01, 1999)
---
Ashley moves in with Johnny and Sharon and Johnny keeps walking in on her in various stages of undress. Pete learns that his grandfather only has six months to live.
---
3x09 Talking Turkey (November 17, 1999)
---
Ashley invites a hobo over for Thanksgiving dinner and he gets the whole gang fighting with made up stories. Ashley moves in with Sharon and Johnny.
---
3x08 Foul Play (November 10, 1999)
---
Berg and Ashley spend the weekend at his parents place to try and spice up their relationship. Pete introduces Sharon and Johnny to the Kama Sutra.
---
3x07 Berg's New Roommate (November 03, 1999)
---
Sharon and Johnny compete with another couple to get an opening date for their wedding. Ashley bribes Pete so she can move in.
---
3x06 Halloween 2: Mind Over Body (October 27, 1999)
---
A mad scientist switches Pete's brain with Ashley's brain and Berg's brain with Sharon's brain and the only who can help them is Johnny.
---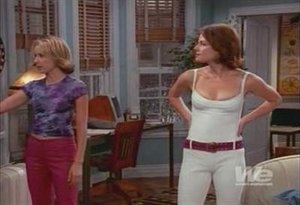 3x05 Sunday in the Apartment (October 20, 1999)
---
Sharon and Johnny fight over wedding plans, Berg and Ashley also fight and Pete runs into a crazy ex-girlfriend.
---
3x04 Career Day (October 13, 1999)
---
Ashley's ex-husband plays a prank on Berg by making him believe that Ashley used to beat him. Pete tries to get Sharon a new job and in anticipation she quits her old job before finding out she didn't get the job.
---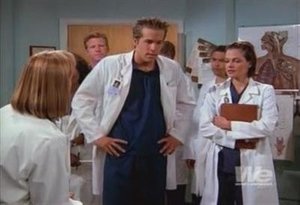 3x03 Teacher's Pet Peeve (October 06, 1999)
---
Pete fears Johnny is trying to kill him. Berg and Ashley start their residency and Berg feels one of the doctors is riding him too hard.
---
3x02 Au Revoir Pizza Place (September 29, 1999)
---
Pete returns from France with a new girlfriend, the woman who ran him over. He thinks he's in love with her until he finds out she a racist. Berg feels old when a new employee calls him sir. He quits his job at the pizza place. Sharon realizes she really wants to marry Johnny.
---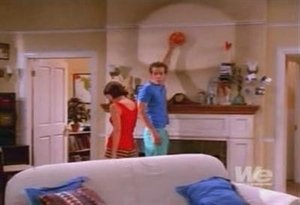 3x01 A New Hope (2) (September 22, 1999)
---
Sharon can't seem to give Johnny an answer at first but eventually comes out with ""Yes, in theory"" as it's obvious she's not sure about marrying him but doesn't want to hurt his feelings. Pete flies to Paris to get away from everything and gets hit by a car driven by a beautiful French woman that he later starts dating, even though she can't speak a word of English.
---