Burnt Face Man
Season 1
Burnt Face Man
Season 1
First Air Date: July 06, 2004

| | | |
| --- | --- | --- |
| First Aired on | : | 2004 |
| Episodes | : | 9 episodes |
Episodes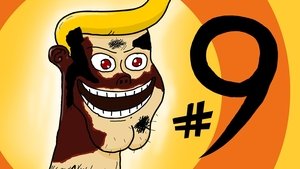 1x09 BFM vs. A Giant Snail (January 21, 2010)
---
Since our last episode Burnt Face Man formed a folk duo with Captain Minstrel and toured Portugal. All was going well until a pigeon attended one of the gigs and found the melodies to be uninspiring. In his rage he pecked Burnt Face Man leaving a small red mark on his arm, but more importantly: infecting him with AIDS. Luckily Burnt Face Man had a box of matches and was able to set his bloodstream on fire and burn the AIDS. He also gained the power of having really hot blood for a few minutes but it wasn't put to much use.
---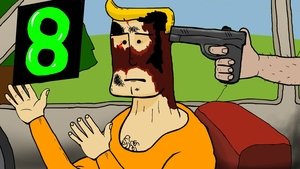 1x08 BFM vs. God (April 20, 2008)
---
Burnt Face Man receives direct orders from God to help a man with one hand slightly pinker than the other.
---
1x07 Washing Machine Special (November 23, 2006)
---
This is the obligatory Washing Machine Special that all series have to do at some point. Burnt Face Man now fed up of being a superhero joins the dark side.
---
1x06 BFM Writes His Own Episode (March 04, 2006)
---
After getting tired of being made to look like an idiot, Burnt Face Man decides to write his own episode full of explosions and slap bass solos.
---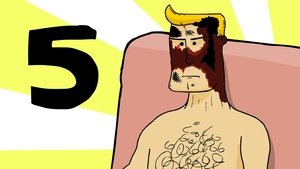 1x05 BFM Has Quit (October 24, 2005)
---
Burnt Face Man quits being a superhero and sits watching TV and playing video games. Meanwhile Dr Eyebrows latest supervillain creations are no use to anyone.
---
1x04 BFM vs. Slightly Bruised Man (June 29, 2005)
---
Burnt Face Man gets cyber bullied on the Internet by Bastard Man but manages to block him. Afterwards Burnt Face Man makes a check on the Crime Monitor to see if there is a crime in progress, a crime is being committed but has already been prevented and is being upstaged by a new superhero, Slightly Bruised Man.
---
1x03 BFM Gets A Golden Shower (May 13, 2005)
---
Frying Pan City is in crisis when a really bad obnoxious smell is all over the city and Burnt Face Man goes to investigate to find out where the smell came from.
---
1x02 BFM vs. Bastard Man and Man-Spider (January 25, 2005)
---
Burnt Face Man's sense is tingling. A man tells that his girlfriend is trapped in a building that is on fire (which it isn't) but Burnt Face Man foolishly goes in it anyway, only to discover that it was a trap set by Burnt Face Man's arch-enemies, Bastard Man and Man-Spider.
---
1x01 Crime Needs Wiping Up (July 06, 2004)
---
Crime is a shit that needs wiping up. This is the first slice of Burnt Face Man. In this episode he kicks a crime box, wipes up some shit and meets Bastard Man, his biggest super villain foe.
---