Raven's Home
Season 1
Raven's Home
Season 1
First Air Date: July 21, 2017

| | | |
| --- | --- | --- |
| First Aired on | : | 2017 |
| Episodes | : | 13 episodes |
Episodes
1x13 Vest in Show (October 20, 2017)
---
When Booker has a vision of Raven getting fired from her job during Doggy Fashion Week, he tries to help his mom with her designs.
---
1x12 Dream Moms (October 13, 2017)
---
When Booker and Levi get into some trouble backstage at a concert, Raven and Chelsea try to seize the moment to perform with their all-time favorite group La Dee Da.
---
1x11 The Baxtercism of Levi Grayson (October 06, 2017)
---
Booker and Levi try to prank a classmate into thinking their apartment building is haunted. Meanwhile, Nia gets chickenpox and Tess comes up with a plan to make sure her BFF doesn't miss out on Halloween.
---
1x10 Fears of a Clown (September 29, 2017)
---
A cool new kid arrives in the building, causing Booker and Levi to fight Nia and Tess for his attention.
---
1x09 In-Vision of Privacy (September 22, 2017)
---
When Booker has a vision of Tess getting her heart broken, he and Levi try to prevent it from happening.
---
1x08 Vending the Rules (September 15, 2017)
---
When Booker and Levi want expensive virtual reality goggles, the boys come up with a plan to make money by selling snacks at school.
---
1x07 Dancing Tween (September 08, 2017)
---
While Booker and Tess team up to plan their 6th grade dance, Nia worries her dancing skills aren't good enough for the big event. Meanwhile, Raven starts to question if she's being a good mom and goes overboard trying to volunteer for the kids' school.
---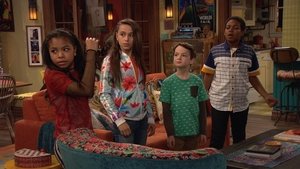 1x06 Adventures in Mommy-Sitting (August 25, 2017)
---
Booker, Nia, and Levi convince Raven and Chelsea they are responsible enough to watch themselves while the moms celebrate a "moms' night out."
---
1x05 You're Gonna Get It (August 18, 2017)
---
When Nia sneaks to school wearing makeup against Raven's wishes, she draws the attention of the 8th grade girls who invite her to hang out.
---
1x04 The Bearer of Dad News (August 11, 2017)
---
When Raven has a vision of Booker and Nia being upset over their dad's move, she goes overboard trying to do all of the fun activities Devon normally did with the kids.
---
1x03 The Baxters Get Bounced (August 04, 2017)
---
When the landlord Mr. Jablonski raises Raven's rent after learning Chelsea and Levi have moved in, Nia and Booker try to hold a yard sale to help their mom.
---
1x02 Big Trouble in Little Apartment (July 28, 2017)
---
Unbeknownst to Raven, Nia is starting to feel like their apartment isn't big enough for everyone and turns to her dad Devon for help.
---
1x01 Baxter's Back (July 21, 2017)
---
Booker enlists Levi and Tess to help him convince Nia of his newfound abilities to see into the future. Meanwhile, Raven's latest vision involves a family disagreement that leads her to meddle in her kids' life at school.
---