Eromanga Sensei
Specials
Eromanga Sensei
Specials
First Air Date: January 16, 2019

| | | |
| --- | --- | --- |
| First Aired on | : | 2019 |
| Episodes | : | 2 episodes |
Episodes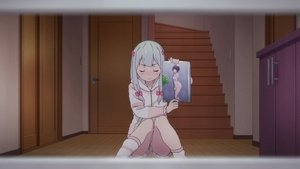 0x02 Sagiri Izumi's First Kiss (January 16, 2019)
---
"It's up to me to take care of my brother!" On a snowy day, I was worried about the authentic cold on the deadline of the outline. Gauze pushed the high fever authentic into her room and began to get used to her care. On the other hand, the authentic sleeping in the bed of gauze can not calm down. At this time, noisy friends also came to visit their fake ... In this winter day, in the face of the little memories that linger in my heart, the actions taken by Saiwu are-.
---
0x01 Elf Yamada's Love Song (January 16, 2019)
---
"You, break up with my daughter"-. Authenticly participated in the celebratory celebration of Yamada Fairy's novel "Bloody Dark Fairy", and the fairy's mother suddenly said so to him. She claimed to be here to bring the goblin back to her hometown. The mother asked the goblin to pack up her clothes within today, and her marriage partner will also decide. The goblin expressed her resistance. In order to express her true thoughts to her mother, the bold method she chose was "Music, start ♪" ——! ?
---