NPR Tiny Desk Concerts
Season 2015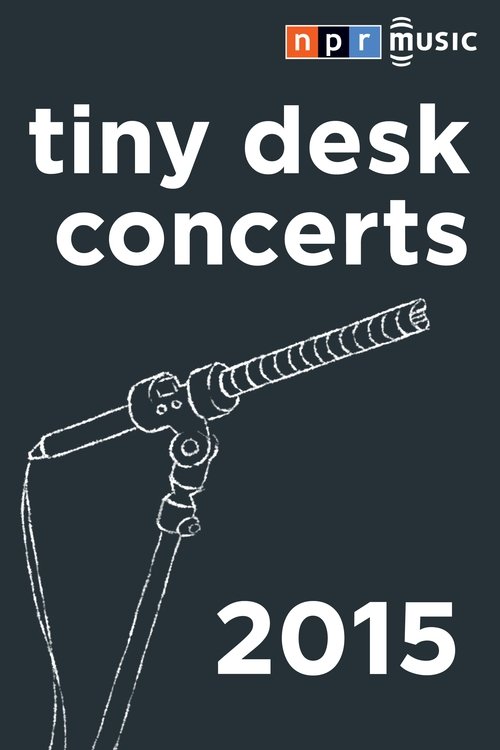 NPR Tiny Desk Concerts
Season 2015
First Air Date: January 05, 2015

| | | |
| --- | --- | --- |
| First Aired on | : | 2015 |
| Episodes | : | 84 episodes |
Episodes
8x84 Sharon Jones & The Dap-Kings (December 21, 2015)
---
Watch the soul star perform "Silent Night" and two originals — one for Christmas, one for Hanukkah.
---
8x83 Son Little (December 18, 2015)
---
A modernistic bluesman with a taste for electronics appears with just his acoustic guitar.
---
8x82 Shakey Graves (December 14, 2015)
---
When the singer breaks out his guitar and suitcase drum, a rush of adrenaline hits the room.
---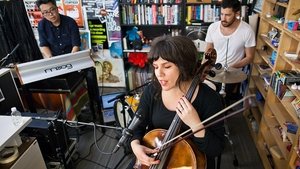 8x81 Land Lines (December 11, 2015)
---
The Denver band's mysteriously swirling music is singular, new and adventurous.
---
8x80 The Oh Hellos (December 08, 2015)
---
The nine-piece band bursts with anthemic joy, even as its songs convey darkness and loneliness.
---
8x79 Protomartyr (December 04, 2015)
---
The Detroit band's loud, screeching, grousing rock can be profound, poetic and bewildering.
---
8x78 Teddy Abrams (November 30, 2015)
---
Hear a young conductor, composer and pianist play Beethoven and his own jazzy pieces.
---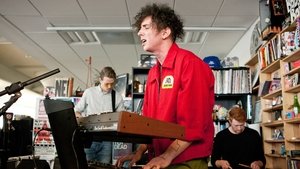 8x77 Youth Lagoon (November 23, 2015)
---
Trevor Powers' new songs are expansive and self-assured, a transition reflected in this performance.
---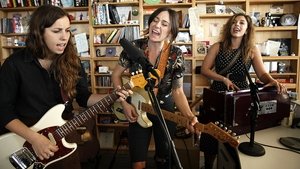 8x76 The Wild Reeds (November 20, 2015)
---
Great singers aren't easy to come by, so finding three in one band is something special.
---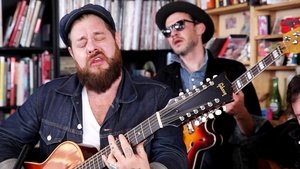 8x75 Nathaniel Rateliff & The Night Sweats (November 17, 2015)
---
At the Tiny Desk, Rateliff's body-shaking Southern-style soul takes on a more laid-back sound.
---
8x74 Rahim AlHaj (November 13, 2015)
---
The oud player's wordless music tells powerful stories about life's blessedness and fragility.
---
8x73 Aurora (November 09, 2015)
---
At 19 and on the cusp of her first album, the Norwegian singer performs with a sense of discovery.
---
8x72 My bubba (November 06, 2015)
---
My bubba is a duo of women whose quirky, delicate, sweetly sung folk songs are a delight.
---
8x71 Chris Stapleton (November 05, 2015)
---
With his wife Morgane, the country singer-songwriter sings patient, detailed songs of devotion.
---
8x70 Diane Coffee (November 02, 2015)
---
Conjuring David Bowie, Diane Coffee's Shaun Fleming swaggered and shimmied behind the Tiny Desk.
---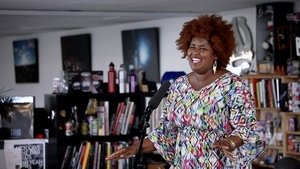 8x69 The Suffers (October 27, 2015)
---
The 10-piece band can barely fit all its horns, guitars, percussion and energy behind one desk.
---
8x68 Beauty Pill (October 23, 2015)
---
In Beauty Pill, life whirs with plunderphonic glee and riffs are funky from the inside out.
---
8x67 Paolo Angeli (October 19, 2015)
---
The Sardinian guitarist has a whole toy shop aboard his instrument.
---
8x66 Oh Pep! (October 16, 2015)
---
The band's clever, thoughtful music fits in everywhere from Nashville to its hometown of Melbourne.
---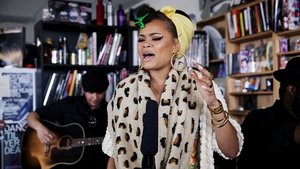 8x65 Andra Day (October 13, 2015)
---
Day's songs feel candid and vulnerable, but not understated.
---
8x64 Christian Scott aTunde Adjuah (October 09, 2015)
---
The trumpeter presents his emotionally charged, jazz-hybridized "stretch music" in performance.
---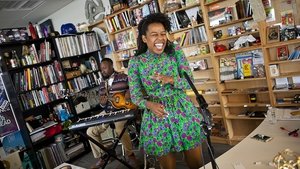 8x63 Deqn Sue (October 05, 2015)
---
She came so close to winning NPR Music's Tiny Desk Concert Contest, we just had to see her play.
---
8x62 Lianne La Havas (October 02, 2015)
---
The singer is soulful yet playful, raw and vulnerable in a commanding kind of way.
---
8x61 The Internet (September 29, 2015)
---
The R&B band might just be the oddest thing to come from the hip-hop collective Odd Future.
---
8x60 Joan Shelley (September 25, 2015)
---
As technology rules the day, here's a reminder that a single voice can carry deep emotion.
---
8x59 Gina Chavez (September 22, 2015)
---
The Austin singer-songwriter performs with intense openness, directness and warmth.
---
8x58 Watkins Family Hour (September 18, 2015)
---
With help from Fiona Apple, two Nickel Creek alums gather a band to perform old and new songs.
---
8x57 Sam Lee (September 11, 2015)
---
The singer found his voice by finding and preserving old British, Irish and Scottish folk songs.
---
8x56 Leon Bridges (September 08, 2015)
---
Bridges is easy to love and hard to resist, with purity in his voice that's untouched by modern pop.
---
8x55 Happyness (September 04, 2015)
---
If you're a fan of dark, incredibly dry, wry humor, you've just found Happyness.
---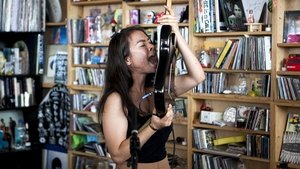 8x54 Mitski (August 31, 2015)
---
Mitski's music is dark and even scary, but glimmers of beauty peek through.
---
8x53 Eskimeaux (August 28, 2015)
---
There's lighthearted, almost childlike beauty in the way Gabrielle Smith puts words to song.
---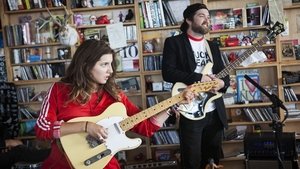 8x52 Caroline Rose (August 24, 2015)
---
Rose plays music as if she's just met her new best friend: It's fresh, fun and enthusiastic.
---
8x51 Son Lux (August 21, 2015)
---
The trio blows up its sound by adding off-duty, civilian horn players from the U.S. Marine Band.
---
8x50 Kacey Musgraves (August 17, 2015)
---
The country singer plays four songs from Pageant Material, plus the set-closing "Follow Your Arrow."
---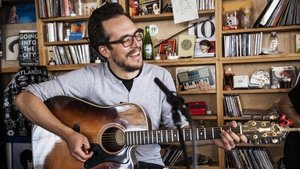 8x49 Restorations (August 14, 2015)
---
The Philly rock band's big-hearted songs are stripped down to a few guitars and a MiniKorg.
---
8x48 Torres (August 10, 2015)
---
Mackenzie Scott's music channels Patti Smith and PJ Harvey while hinting at further growth.
---
8x47 Terence Blanchard Feat. The E-Collective (August 05, 2015)
---
The New Orleans trumpeter's funky new band creates dance music to ward off despair.
---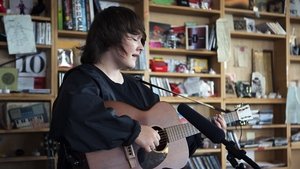 8x46 SOAK (August 03, 2015)
---
Irish singer-songwriter Bridie Monds-Watson makes the most of a single voice and an acoustic guitar.
---
8x45 Shamir (July 31, 2015)
---
The singer's disco-infused funk and soul gets stripped down to a lone voice with a guitar.
---
8x44 Paul Weller (July 28, 2015)
---
See the beloved Britpop veteran perform songs from his new album, Saturns Pattern.
---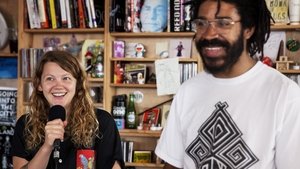 8x43 Kate Tempest (July 21, 2015)
---
A celebrated English playwright and rapper deploys storytelling and poetry.
---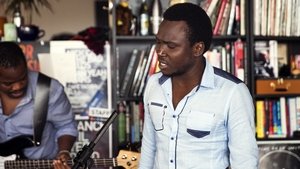 8x42 Songhoy Blues (July 17, 2015)
---
See a Malian band that fuses African music with Western rock.
---
8x41 Girlpool (July 10, 2015)
---
The charming duo performs three of the simple, direct songs from Before The World Was Big.
---
8x40 Christopher Paul Stelling (July 06, 2015)
---
Best witnessed live, Stelling's music is steeped in tradition yet filled with vitality and soul.
---
8x39 And The Kids (June 30, 2015)
---
The trio's music is full of life, with dissonant sounds that still feel suited for singalongs.
---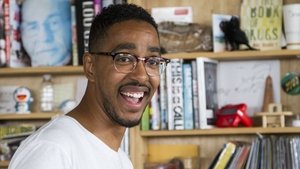 8x38 Oddisee (June 26, 2015)
---
The charismatic Brooklyn-via-D.C.-area rapper creates just the right amount of space in his music.
---
8x37 Hop Along (June 22, 2015)
---
Frances Quinlan's raspy voice whispers one moment, then lets loose a gut-punching howl the next.
---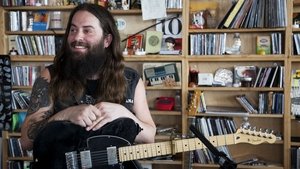 8x36 Strand Of Oaks (June 19, 2015)
---
Timothy Showalter's music is filled with bite and sometimes regret, but also a good deal of warmth.
---
8x35 The Prettiots (June 15, 2015)
---
The clever trio shares its love of everything from Law & Order to old-school girl groups.
---
8x34 Anna & Elizabeth (June 08, 2015)
---
If you've never thought your tastes would lean to mountain music, breathe deep and soak it all in.
---
8x33 Genevieve (June 01, 2015)
---
See a singer with a powerful voice and extremely encouraging message.
---
8x32 Frank Fairfield (May 29, 2015)
---
A young man with an old musical soul has a spellbinding voice and fluid fiddle playing.
---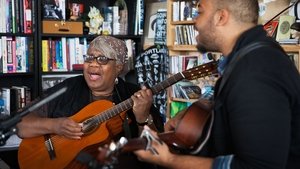 8x31 Madisen Ward And The Mama Bear (May 26, 2015)
---
The mother-son duo's songs are memorable and singable even days after you hear them.
---
8x30 Jason Vieaux And Yolanda Kondonassis (May 22, 2015)
---
Watch the Grammy-winning guitarist and acclaimed harpist play music influenced by Africa and Asia.
---
8x29 Young Fathers (May 19, 2015)
---
Intense, hip-hop-infused poetry is reduced to just the essentials in this two-song, four-minute set.
---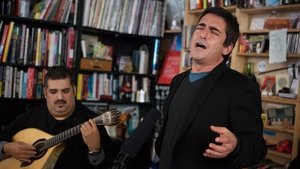 8x28 Camané (May 15, 2015)
---
A star in his native Portugal, Camané evokes melancholy with a silky baritone and elegant phrasing.
---
8x27 Bellows (May 11, 2015)
---
These are enchanting songs, with the power to drift in your head for days.
---
8x26 Eskmo (May 08, 2015)
---
Found objects are percussion instruments in the hands of a man who's part musician, part magician.
---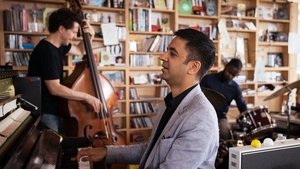 8x25 Vijay Iyer Trio (May 04, 2015)
---
Iyer's working band transforms selections from throughout the pianist's deep and varied catalog.
---
8x24 Diego El Cigala (May 01, 2015)
---
The singer has been called "the Sinatra of flamenco." His expressive style draws on jazz.
---
8x23 José González (April 29, 2015)
---
This soft-spoken Swedish singer left an imprint at the Tiny Desk that was gentle and long lasting.
---
8x22 DakhaBrakha (April 25, 2015)
---
The Ukrainian acoustic quartet's music encompasses sounds and rhythms from around the world.
---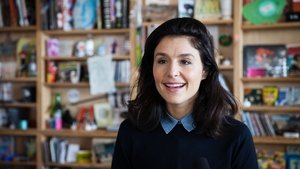 8x21 Jessie Ware (April 20, 2015)
---
The young English singer brings warmth to electronic music and a swooning quality to her own pop.
---
8x20 Rosa Díaz (April 17, 2015)
---
The singer's lyrics reflect deeply felt emotions in this performance with cellist Daniel de Jesus.
---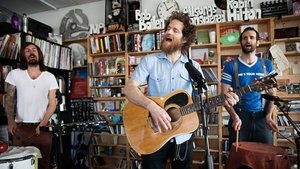 8x19 Chadwick Stokes (April 13, 2015)
---
Stokes' songs feel familiar; they're old friends before you're done hearing them for the first time.
---
8x18 Beach Slang (April 10, 2015)
---
James Snyder's euphoric punk anthems become raw and uplifting confessionals in this acoustic set.
---
8x17 Death Cab For Cutie (April 06, 2015)
---
In a beautifully stark performance, the band plays two songs from Kintsugi and two older favorites.
---
8x16 Sylvan Esso (March 20, 2015)
---
Performed softly in the light of day, these three songs feel fresh and lovable.
---
8x15 Anonymous 4 With Bruce Molsky (March 28, 2015)
---
The a cappella quartet, with banjo and fiddle, offers popular songs from the Civil War era.
---
8x14 Punch Brothers (March 16, 2015)
---
Before the wide-ranging band plays, the audience sings "Happy Birthday" to mandolinist Chris Thile.
---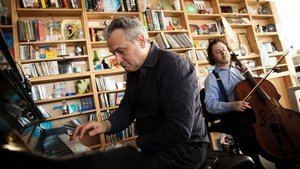 8x13 Matt Haimovitz & Christopher O'Riley (March 14, 2015)
---
The duo plays visionary Beethoven, heartbreaking Janáček and Glass that unfolds like a lullaby.
---
8x12 Fantastic Negrito (March 09, 2015)
---
The singer beat out nearly 7,000 other submissions to win NPR Music's Tiny Desk Concert Contest.
---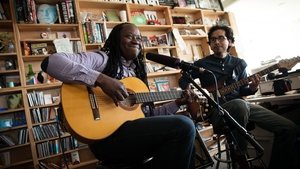 8x11 Aurelio (March 07, 2015)
---
Aurelio weaves intricate layers of acoustic guitar to capture the feel of African and the Caribbean.
---
8x10 Phox (March 02, 2015)
---
The Wisconsin band performs three of its warm, accessible songs in the NPR Music offices.
---
8x09 Dan Deacon (February 25, 2015)
---
The Tiny Desk becomes a DJ booth for an office space dance party.
---
8x08 Zola Jesus (February 23, 2015)
---
With her huge voice and an assist on trombone, Nika Roza Danilova offers up a curious combination.
---
8x07 Until The Ribbon Breaks (February 17, 2015)
---
The band strips down its electronic sound with the aid of a spaghetti strainer and a paint bucket.
---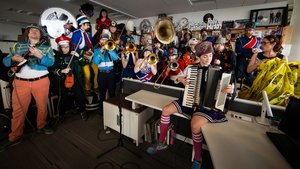 8x06 Mucca Pazza (February 10, 2015)
---
With 23 members, the performance-art marching band is the biggest ever to play the Tiny Desk.
---
8x05 John Reilly & Friends (February 03, 2015)
---
Reilly sings and plays guitar alongside Tom Brosseau and Lavender Diamond's Becky Stark.
---
8x04 Bobby Bare Jr. (January 27, 2015)
---
The Nashville singer writes with acidic wit in lines worthy of his old mentor, Shel Silverstein.
---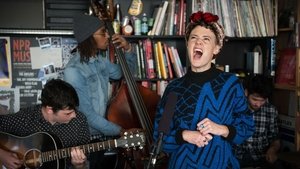 8x03 Rubblebucket (January 20, 2015)
---
Even without its confetti cannon, the band brings a fun mix of brass and brash to the NPR offices.
---
8x02 Daniel Lanois (January 03, 2015)
---
The producer presides over an all-instrumental, free-form trio with Brian Blade and Jim Wilson.
---
8x01 Trey Anastasio (January 05, 2015)
---
The Phish star was in town to put on a huge show, but the songs here feel more personal than that.
---