NPR Tiny Desk Concerts
Season 2019
NPR Tiny Desk Concerts
Season 2019
First Air Date: January 04, 2019

| | | |
| --- | --- | --- |
| First Aired on | : | 2019 |
| Episodes | : | 111 episodes |
Episodes
12x111 Spanglish Fly (December 31, 2019)
---
Spanglish Fly is one of the pioneers of the boogaloo revival scene happening on the East Coast. For about sixteen minutes, they turned the NPR Music offices into the hottest Latin dance club in D.C.
---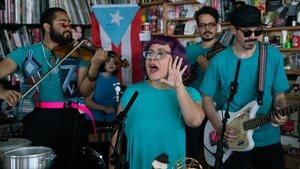 12x110 Balún (December 20, 2019)
---
It's impossible to not be drawn in by the visual specter of Balún as the band mixes traditional instruments and electronics, set against a rich tapestry of voices.
---
12x109 Los Lobos (December 18, 2019)
---
When Los Lobos gathered behind the Tiny Desk, it felt like they were cramped in the back room of a family Christmas party, calling up tunes from the Latin holiday song book.
---
12x108 Moonchild (December 16, 2019)
---
The LA-based trio makes an intricate blend of jazz, R&B and hip-hop. For their Tiny Desk set, they pulled out all the stops: flutes, flugelhorns, saxophones, keyboards, ukuleles and more.
---
12x107 The Comet Is Coming (December 13, 2019)
---
The Comet is Coming is a force of nature. The British trio makes the kind of instrumental jazz that takes music lovers out of their comfort zone and into a musical realm they may never have explored.
---
12x106 Weyes Blood (December 11, 2019)
---
Watch the band perform a blissed-out, gently sweeping set featuring three songs from its latest album, Titanic Rising.
---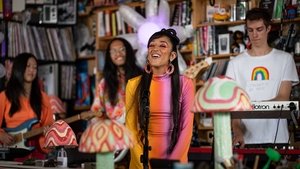 12x105 Raveena (December 09, 2019)
---
"I just want you to know," Raveena told the NPR office, "that in this space that we're in, you're extremely, extremely loved."
---
12x104 Freddie Gibbs And Madlib (December 06, 2019)
---
The enigmatic and reclusive producer Madlib joins hard-hitting emcee Freddie Gibbs for one of the most memorable Tiny Desks of the year.
---
12x103 Black Uhuru (November 29, 2019)
---
The influential reggae group, whose name means "black freedom," brought songs of solidarity and love to the Tiny Desk.
---
12x102 Mereba (November 27, 2019)
---
A nomadic storyteller with a cross-genre style ranging from folk to rap, Mereba slays the devil in her solo set behind the Desk.
---
12x101 Carly Rae Jepsen (November 25, 2019)
---
The singer brought a sparkling pop-disco vibe and a lot of swagger to the sun-filled Tiny Desk.
---
12x100 Igor Levit (November 22, 2019)
---
The insightful pianist offers a Beethoven bonanza, ranging from the mesmerizing pulse of the popular "Moonlight" Sonata to flashes of wry humor and tender beauty.
---
12x99 Snarky Puppy (November 20, 2019)
---
The jazz, funk and gospel improv group brought jams and joy to the Tiny Desk.
---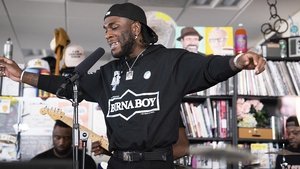 12x98 Burna Boy (November 18, 2019)
---
The Nigerian singer and songwriter is one of the biggest African artists in the world and a pioneer of Afro-fusion, an inescapable sound this year.
---
12x97 KOKOKO! (November 15, 2019)
---
KOKOKO! are sonic warriors. They seized control of the Tiny Desk, shouting their arrival through a megaphone, while electronic sirens begin to blare.
---
12x96 Sunny War (November 13, 2019)
---
Sunny War has been homeless, busked on city streets and Venice Beach, left home feeling she was a burden to her mother, battled addiction and still found a way to bring joy to others thru her music.
---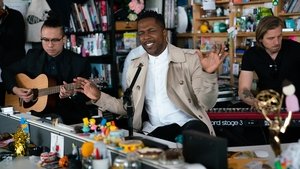 12x95 Leslie Odom Jr. (November 12, 2019)
---
The Tony- and Grammy-winning singer, actor, author and Hamilton star performs three songs from Mr, his genre-bending new solo album.
---
12x94 Dave (November 08, 2019)
---
The British rapper made a trip all the way from the UK just for this Tiny Desk performance and powered through a set that made the personal political.
---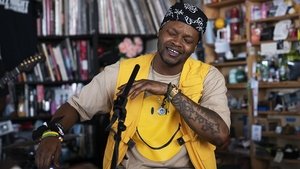 12x93 BJ The Chicago Kid (November 06, 2019)
---
The 34-year old R&B mainstay used his moment at the desk to fit in as many of his most cherished songs as possible — Nine songs in 17 minutes to be exact.
---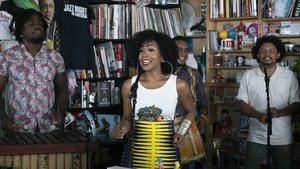 12x92 Rio Mira (October 25, 2019)
---
Rio Mira's music celebrates life along the river that separates Ecuador and Colombia: soft breezes, loving friends, the embrace of Africa and lots of festejando!
---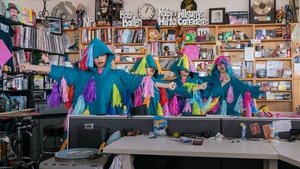 12x91 CHAI (October 23, 2019)
---
The group from Japan is on a mission to expand the conventional meaning of "cute." Their performance included synchronized dancing, pom-poms and matching pink uniforms, with a heavy, angular sound.
---
12x90 Jovino Santos Neto Trio (October 21, 2019)
---
Along with his trio, the pianist, multi-instrumentalist and composer cast a spell over the NPR Music offices in this joyful turn behind the Tiny Desk.
---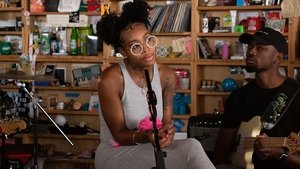 12x89 Summer Walker (October 18, 2019)
---
One week after releasing a record-shattering studio debut, the Atlanta native brings a glowing R&B set to the Tiny Desk.
---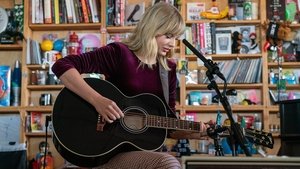 12x88 Taylor Swift (October 16, 2019)
---
As she settled in for this stripped-down set, Taylor Swift looked out over the office. "I just decided to take this as an opportunity to show you guys how the songs sounded when I first wrote them."
---
12x87 Brittany Howard (October 15, 2019)
---
The Alabama Shakes singer and guitarist brought an eight-piece backing band to the Tiny Desk for a set of deeply personal and affecting songs.
---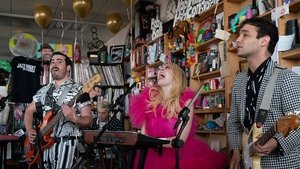 12x86 Charly Bliss (October 09, 2019)
---
The vibrancy of the band can feel childlike and candy-coated. But the group's songs are more about the pain of entering adulthood and leaving some of that sweetness behind.
---
12x85 Sharon Van Etten (October 07, 2019)
---
Nearly a decade after her first appearance at the Tiny Desk, Sharon Van Etten returns with a full band and a bigger, bolder sound.
---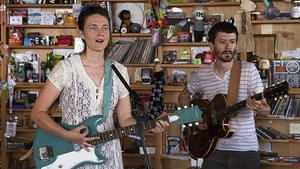 12x84 Molly Sarlé (October 04, 2019)
---
After performing at the Tiny Desk as one third of the group Mountain Man, Molly Sarlé returns for a soul-stirring solo performance.
---
12x83 Jonas Brothers (September 30, 2019)
---
The brothers and their backing band gave a playful performance of three tracks from their latest album, Happiness Begins.
---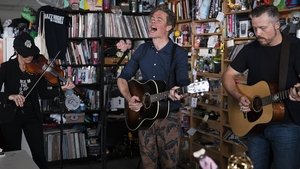 12x82 Josh Ritter With Amanda Shires And Jason Isbell (September 27, 2019)
---
In his second visit to the Tiny Desk, Josh Ritter had America on his mind. "We all have to fight against this notion that we're not all human beings."
---
12x81 Ari Lennox (September 25, 2019)
---
The R&B singer performed songs from her debut full-length, Shea Butter Baby.
---
12x80 Rosanne Cash (September 23, 2019)
---
Roseanne Cash has been making great records for forty years, but she's never played or written better music than she's doing right now.
---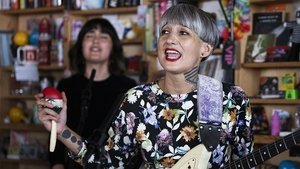 12x79 Y La Bamba (September 20, 2019)
---
Y La Bamba returns for its second Tiny Desk performance with a revised musical vision.
---
12x78 Nilüfer Yanya (September 18, 2019)
---
There's a hush to the music of Nilüfer Yanya that made the Tiny Desk the perfect stage for her sound.
---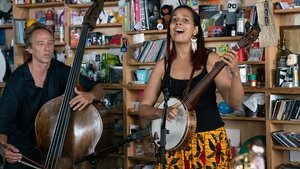 12x77 Rhiannon Giddens (September 16, 2019)
---
Giddens shares songs from her latest album, There is No Other, in an emotional and transfixing performance at the Tiny Desk.
---
12x76 Come From Away (September 11, 2019)
---
Sixteen performers from the Broadway cast crammed behind the Tiny Desk to sing songs and share stories about thousands of airline passengers who were stranded in Newfoundland after 9/11.
---
12x75 Damian 'Jr. Gong' Marley (September 09, 2019)
---
With eyes shut, Marley dug deep into the healing power of music with songs from his 2017 album Stony Hill.
---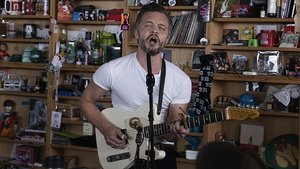 12x74 The Tallest Man On Earth (2019) (September 06, 2019)
---
The Tallest Man On Earth's second appearance at the Tiny Desk comes almost 10 years to the day after his first. He returns with a touch of grey and a beard, but no less intense or moving.
---
12x73 A-WA (September 03, 2019)
---
The three Israeli sisters in A-WA mix Yemenite and Arabic traditions with splashes of reggae and hip-hop.
---
12x72 The-Dream (August 30, 2019)
---
The singer and mega-hit songwriter showcases three of his own tracks, including "I Luv Your Girl" and two songs from Ménage à Trois: Sextape Vol. 1, 2, 3.
---
12x71 Dan Tepfer (August 29, 2019)
---
The pianist and programmer has transformed the acoustic piano into his duet partner.
---
12x70 47SOUL (August 26, 2019)
---
47SOUL's message of equality is meant for the world. It's music without borders, mixing old and new, acoustic and electronic from a band formed in Amman Jordan, singing in Arabic and English.
---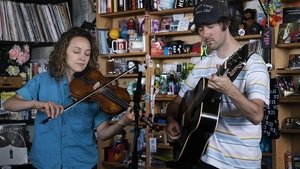 12x69 Mandolin Orange (August 23, 2019)
---
Andrew Marlin and Emily Frantz made everything seem so easy, with just a few acoustic instruments and a single microphone behind the Tiny Desk, performing songs full of joy and thoughtfulness.
---
12x68 Nicole Bus (August 21, 2019)
---
Nicole Bus' sound is reminiscent of vintage R&B, yet still feels current and capable of transcending age and demographics.
---
12x67 Tobe Nwigwe (August 19, 2019)
---
The Houston-based rapper's mindful words are like a life hack for anyone seeking guidance, with pleas to look past inherent hardships and evil and to stay focused on life's ultimate prizes.
---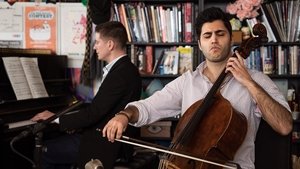 12x66 Kian Soltani (August 16, 2019)
---
Watch a young cellist on the rise, offering music of virtuosity, sweet lyricism and a little fire from his Persian roots.
---
12x65 half•alive (August 12, 2019)
---
How does half•alive, known for funky earworms and synchronized dancing, translate to such a cozy space? Have the dancers sit.
---
12x64 Among Authors (August 09, 2019)
---
Among Authors' music isn't casual; there are songs within these songs, and they're not always catchy. They'll take you on a journey worth following.
---
12x63 David Crosby & The Lighthouse Band (August 07, 2019)
---
David Crosby, Becca Stevens, Michelle Willis and Michael League are The Lighthouse Band, and together they harmonized the heck out of the Tiny Desk.
---
12x62 Bas (August 05, 2019)
---
Bas came to the Tiny Desk to get it, and — in a breathless four-song set — he did exactly that.
---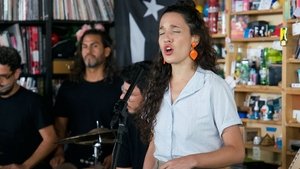 12x61 iLe (August 03, 2019)
---
The Calle 13 veteran, fresh off her appearance at demonstrations in Puerto Rico, performs three songs that rage with revolutionary intensity.
---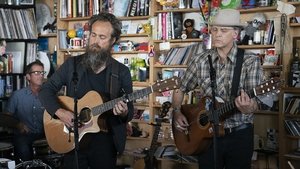 12x60 Calexico And Iron & Wine (August 01, 2019)
---
The two bands just released Years to Burn, their first album together since 2005. Now, they've performed three songs — two new, one old — for Calexico's Tiny Desk debut.
---
12x59 Lizzo (July 29, 2019)
---
Backed by a band assembled just for this occasion, the breakthrough pop icon performs three joyfully showy songs from Cuz I Love You.
---
12x58 Tamino (July 26, 2019)
---
Tamino possesses one of the most remarkable and memorable voices to ever grace the Tiny Desk.
---
12x57 Masego (July 24, 2019)
---
The spirit of Cab Calloway lives on in Masego, the singer, producer and multi-instrumentalist who surprised NPR's Tiny Desk audience with a zany sense of showmanship.
---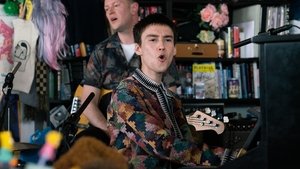 12x56 Jacob Collier (July 22, 2019)
---
As the NPR staff gathered to watch his performance, Jacob Collier sprinted full bore down the hallway for his set, hardly able to contain his creative energy or enthusiasm.
---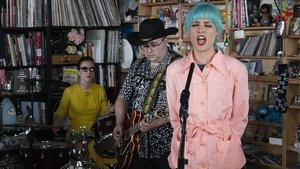 12x55 Priests (July 19, 2019)
---
The punk-infused art band from Washington, D.C. brings a kinder, gentler and sparer version of the group's music to the Tiny Desk.
---
12x54 Erin Rae (July 12, 2019)
---
Every time she performs live, Erin Rae transforms her quiet storms into different hues of squalling introspection.
---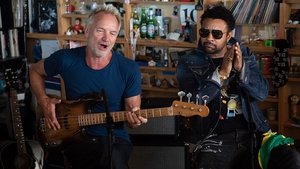 12x53 Sting And Shaggy (July 10, 2019)
---
The two musical legends brought plenty of joy to the Tiny Desk, with an unexpected collaboration that works surprisingly well.
---
12x52 American Football (July 08, 2019)
---
Who would've thought that American Football's fruitful reunion would not only include some of the emo band's best songs, but also a children's choir at the Tiny Desk?
---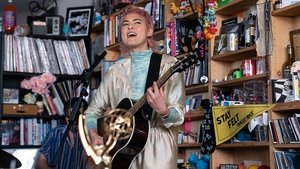 12x51 Miya Folick (July 05, 2019)
---
Miya Folick was raised a Buddhist in Santa Ana, Calif., and is of Ukrainian and Japanese descent. She sings of conviction, not fiction.
---
12x50 Saint Sister (July 03, 2019)
---
The group from Ireland makes music that mixes the organic with the electronic, starting with a large, 34-string lever harp.
---
12x49 Be More Chill (July 01, 2019)
---
On Broadway, Be More Chill is a playful burst of frenetic energy and silly, stealthy sweetness. At the Tiny Desk, it holds onto that rowdy, generous spirit while stripping down the arrangements.
---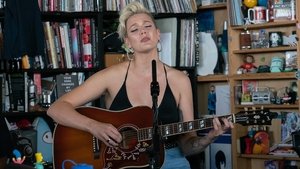 12x48 Betty Who (June 26, 2019)
---
Betty Who brings Roséwave, sun's-out pop to the Tiny Desk with all the usual studio production stripped away.
---
12x47 Tasha Cobbs Leonard (June 24, 2019)
---
Tasha Cobbs Leonard is widely regarded as one of the best gospel singers performing today. Her set at the Tiny Desk moved many at the NPR offices to tears.
---
12x46 Imogen Heap (June 20, 2019)
---
Imogen Heap takes us through her many musical talents, from her Frou Frou musical partner, Guy Sigsworth — and their first new song in 17 years — to an extraordinary performance with musical gloves.
---
12x45 IDLES (June 18, 2019)
---
The British madmen brought fury, cathartic rage and deep thoughts to the Tiny Desk for one of the loudest, most raucous performances in memory.
---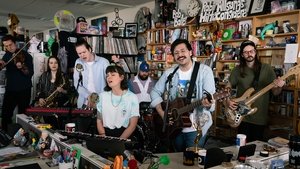 12x44 Foxing (June 12, 2019)
---
Foxing is at the forefront of an emo revival, heavily influenced by late-'90s and early 2000s groups like Sunny Day Real Estate and American Football.
---
12x43 Sesame Street (June 10, 2019)
---
Big Bird, Bert and Ernie, Elmo, Grover, Rosita, Count von Count, Abby Cadabby, Cookie Monster and other surprise guests gather at NPR's headquarters to celebrate 50 years of love, learning and joy.
---
12x42 Tomberlin (June 06, 2019)
---
Tomberlin is the daughter of a Baptist pastor, grew up singing in the church and, since her teens, has questioned her own beliefs in God and faith. Her songs are delicate and vulnerable.
---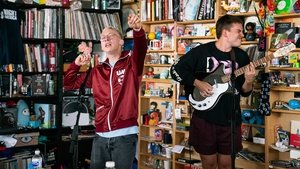 12x41 Quinn Christopherson (June 03, 2019)
---
Quinn and his musical partner, guitarist and singer Nick Carpenter, arrived from the cool of Anchorage to the swelter of D.C. and performed with remarkable confidence and grace.
---
12x40 LADAMA (May 30, 2019)
---
The group unites sounds from Brazil, Colombia and Venezuela, with a dash of New York City thrown in.
---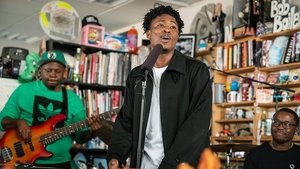 12x39 Lucky Daye (May 28, 2019)
---
Hailing from New Orleans with a love of sticky, bass-bumping funk, Lucky brought along a 10-person band, including a quartet of horns, to capture the full flavor of his debut album Painted.
---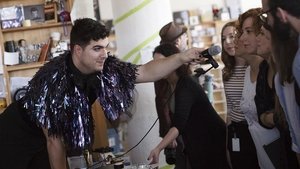 12x38 Jeremy Dutcher (May 22, 2019)
---
There is no one making music like this 27-year-old, classically trained opera tenor and pianist. Watch and see why.
---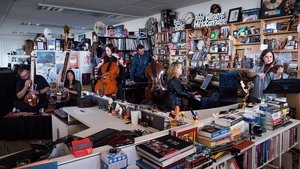 12x37 Ensemble Signal Plays Jonny Greenwood (May 20, 2019)
---
Watch members of the New York-based group give the world premiere video performances of two recent pieces by Radiohead guitarist and composer Jonny Greenwood.
---
12x36 Magos Herrera and Brooklyn Rider (May 15, 2019)
---
Watch what happens when the smoky-voiced jazz singer from Mexico conspires with an adventuresome string quartet for songs steeped in Latin American traditions.
---
12x35 Ohmme (May 09, 2019)
---
These classically trained artists fill the NPR Music offices with shrieking, rhythmic noise that redefines what an electric guitar can do.
---
12x34 Thou (May 06, 2019)
---
This is probably the quietest you'll ever hear the first metal band to play the Tiny Desk.
---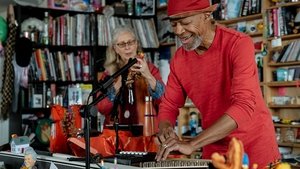 12x33 Laraaji (May 02, 2019)
---
Laraaji is best known to some for his ambient work with Brian Eno in the late '70s. He brings his meditative calm to the Tiny Desk in this hypnotic performance.
---
12x32 Toro Y Moi (April 29, 2019)
---
Toro y Moi loses the voice processing, synths and other heavy effects for a stripped-down acoustic set at the Tiny Desk.
---
12x31 Better Oblivion Community Center (April 24, 2019)
---
Tiny Desk alums Conor Oberst and Phoebe Bridgers surprised us all with their stunning collaboration this year as Better Oblivion Community Center. Together they radiate joy at the desk.
---
12x30 The Calidore String Quartet (April 22, 2019)
---
The Calidore String Quartet confirms that the centuries-old formula — two violins, a viola and a cello — is still very much alive and evolving.
---
12x29 Theodore (April 17, 2019)
---
The music of Theodore is dark and transformative, with the kind of spare elegance you can hear in Sigur Rós or Pink Floyd.
---
12x28 Gary Clark Jr. (April 16, 2019)
---
These three songs, from Clark's incendiary new album This Land, roar with the assurance and force of a showman at the top of his game.
---
12x27 Karine Polwart Trio (April 10, 2019)
---
Scottish singer, songwriter and essayist Karine Polwart seldom comes stateside, eschewing air travel to reduce her carbon footprint. But on a rare, recent visit, she stopped in D.C. for a Tiny Desk.
---
12x26 Georgia Anne Muldrow (April 08, 2019)
---
The R&B singer from Los Angeles is all about showing and spreading love.
---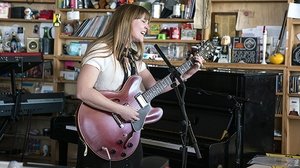 12x25 Courtney Marie Andrews (April 03, 2019)
---
It was a day when sunlight drenched the office and the songs of heart from Courtney Marie Andrews felt right at home.
---
12x24 Weezer (April 01, 2019)
---
Performing unplugged, the band forgoes its usual meticulousness in favor of a shaggy, entirely acoustic mix of new songs and '90s-era deep cuts.
---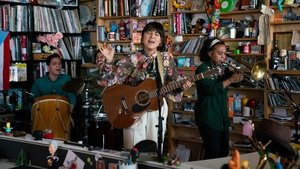 12x23 Andrea Cruz (March 27, 2019)
---
The singer from Puerto Rico is part of a movement on the island that emphasizes largely acoustic instruments and a folk-based approach to interpreting life before and after the hurricane of 2017.
---
12x22 &More (Chill Moody & Donn T) (March 25, 2019)
---
Philadelphia Rapper Chill Moody and singer Donn T, along with their crew known as &More, were one of the standout entrants in last year's Tiny Desk Contest. They bring a message of hope and love.
---
12x21 Alejandro Escovedo (March 20, 2019)
---
The veteran rocker and a backup band from Italy play songs from their album The Crossing, chronicling an American Dream of rock and roll and Beat poetry.
---
12x20 Nao (March 18, 2019)
---
The U.K.-based singer-songwriter takes the Tiny Desk on a cosmic journey through her Saturn return.
---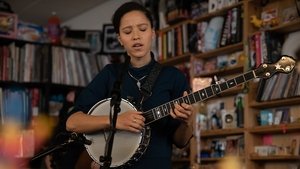 12x19 Kaia Kater (March 13, 2019)
---
Multi-hyphenate artist Kaia Kater uses the architecture of roots music, which she studied in West Virginia, to establish a simultaneous dialogue with both the present moment and her own past.
---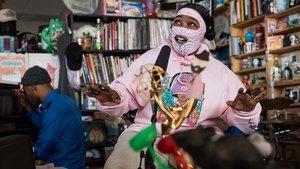 12x18 Leikeli47 (March 11, 2019)
---
The artist came to the Tiny Desk masked up, as always, the better to catch a glimpse of her soul.
---
12x17 Meg Myers (March 06, 2019)
---
Myers replaces her album's roaring electric guitars and electronics with a pulsing string quartet, piano and brushed drums — and uncorks a cover of Kate Bush's "Running Up That Hill."
---
12x16 Phony Ppl (March 04, 2019)
---
The Brooklynites stand out for their inventive and seamless blend of jazz, R&B and hip-hop.
---
12x15 Zaytoven (February 28, 2019)
---
The Atlanta trap super-producer and son of a preacher man saved the day with a soulful Tiny Desk.
---
12x14 Natalie Prass (February 25, 2019)
---
Decked out in matching, cobalt blue outfits, the singer and her band had a clear vision: If you want to overcome the times, find strength in numbers.
---
12x13 The Pedrito Martinez Group (February 20, 2019)
---
The Afro-Cuban percussionist mesmerizes with his almost otherworldly talent on congas.
---
12x12 Scott Mulvahill (February 18, 2019)
---
Scott Mulvahill has been trying to win the Tiny Desk Contest for each of its four years. And while he's never won, we all loved him so much we had to invite him to play.
---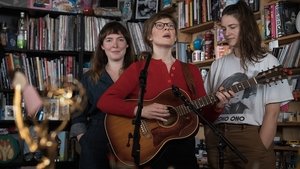 12x11 Mountain Man (February 13, 2019)
---
The voices of Amelia Meath, Molly Erin Sarlé and Alexandra Sauser-Monnig come together behind the Tiny Desk, with songs that conjure a simpler life: dogs, friends, moonlight or skinny dipping.
---
12x10 Lau Noah (February 11, 2019)
---
There's a magical aura that surrounds Lau Noah as she sits behind the Tiny Desk and unspools thought-provoking story-songs.
---
12x09 Kurt Vile (February 06, 2019)
---
Kurt Vile and his musical mate, Rob Laakso casually lose themselves in complex guitar lines that are effortlessly beautiful and lyrical.
---
12x08 Cat Power (February 04, 2019)
---
Chan Marshall and her band perform a brisk and beautifully orchestrated medley of Cat Power songs: "Wanderer," "Woman" and 2006's "The Moon."
---
12x07 Blood Orange (January 29, 2019)
---
This Blood Orange Tiny Desk is a beautifully conceived concert showing off the craft and care that has made Devonté Hynes a groundbreaking producer and songwriter.
---
12x06 Stella Donnelly (January 22, 2019)
---
Watch the Australian singer-songwriter perform three new songs from her upcoming full-length debut, Beware of the Dogs.
---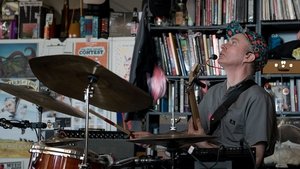 12x05 Nate Wood - fOUR (January 16, 2019)
---
The multi-instrumentalist says he only wishes he had more limbs; but Wood still manages to simultaneously play a bass guitar, keys and drums, all while singing into a wearable microphone.
---
12x04 Aaron Lee Tasjan (January 15, 2019)
---
Aaron Lee Tasjan arrived in an ascot and mustard-colored shirt, sporting red, round sunglasses and mutton chops. It was a fashionable nod to the psych-pop and rock sound he brought to the Tiny Desk.
---
12x03 Carolina Eyck and Clarice Jensen (January 11, 2019)
---
Carolina Eyck, the first artist to bring a theremin to the Tiny Desk, plays the air with the kind of lyrical phrasing and "fingered" articulation that takes a special kind of virtuosity.
---
12x02 Buddy (January 09, 2019)
---
The preacher's son from Compton brought his flair for the dramatic, and an air of rebellion, to the Tiny Desk.
---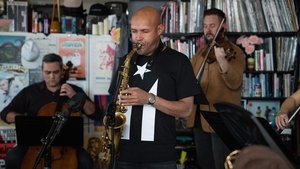 12x01 Miguel Zenón feat. Spektral Quartet (January 04, 2019)
---
The saxophonist is a big thinker whose mesmerizing compositions chronicle the music of his native Puerto Rico with the help of an adventurous jazz quartet.
---