NPR Tiny Desk Concerts
Season 2017
NPR Tiny Desk Concerts
Season 2017
First Air Date: January 03, 2017

| | | |
| --- | --- | --- |
| First Aired on | : | 2017 |
| Episodes | : | 98 episodes |
Episodes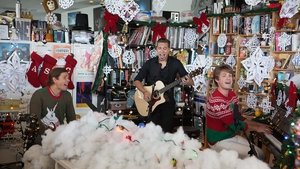 10x98 Hanson For The Holidays (December 18, 2017)
---
Frantic time-lapse set decoration. An intrusive snow machine. Ugly holiday sweaters. It's time to hunker down and soak up a raucous and reverent Christmas party, courtesy of Hanson.
---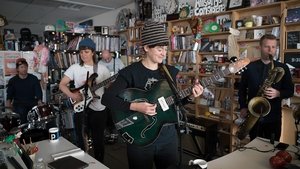 10x97 This Is The Kit (December 15, 2017)
---
Effortless storytelling is at the heart of This Is The Kit. And the stories the band's only permanent member, Kate Stables, weaves are profound but sweet with a tone that quietly reels you in.
---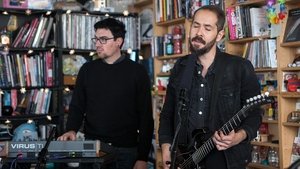 10x96 Cigarettes After Sex (December 13, 2017)
---
This comes close to the quietest Tiny Desk Concert we've ever had. The music Cigarettes After Sex makes is incredibly hushed. It's a sound so minimal it barely exists.
---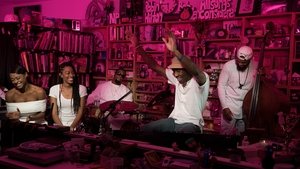 10x95 Tyler, The Creator (December 11, 2017)
---
Tyler, The Creator performs three songs from his latest album Flower Boy -- and pulls off (at least) two Tiny Desk firsts in the process, while maturing beyond his class-clown image (mostly).
---
10x94 Courtney Barnett and Kurt Vile (December 08, 2017)
---
The two singers, songwriters and guitarists bring out the adolescence in each other, poking jabs, goofing around and having fun at the Tiny Desk.
---
10x93 King Krule (December 06, 2017)
---
King Krule, the musical project of English singer, songwriter and rapper, Archy Marshall, brings its twisted, woozy tones to the Tiny Desk.
---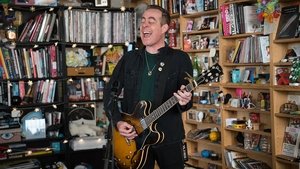 10x92 Ted Leo (December 04, 2017)
---
Leo's work has, more often than not through the decades, addressed an anxious world, growing and shifting with it and with its listeners. Seven years after his last solo album, he's turned inwards.
---
10x91 Walter Martin (December 01, 2017)
---
Best known for his role with The Walkmen, as a solo artist he makes unabashedly joyful, sweetly innocent and playful music. And only he would arrive with a barbershop quartet.
---
10x90 Moses Sumney (November 29, 2017)
---
The Los-Angeles-based force of nature, one of the most inspired talents of today, shows off a spontaneous side at (and around) the Tiny Desk.
---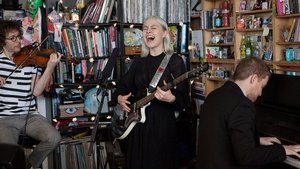 10x89 Phoebe Bridgers (November 27, 2017)
---
Her songs come laden with finely detailed observations about hypnotherapy, Jeffrey Dahmer and everything in between. They receive a languid, impeccably-phrased performance at the Tiny Desk.
---
10x88 David Greilsammer (November 24, 2017)
---
With a knack for cunning juxtapositions, the adventurous pianist stitches together a baroque sonata, a slice of French serenity and a quirky portrait of a mysterious barn owl.
---
10x87 Ledisi (November 21, 2017)
---
In person, the master R&B vocalist impresses not just with her exquisite artistry, but with her radiant spirit of contentment and grace. Just ask her makeup artist.
---
10x86 Billy Corgan (November 20, 2017)
---
Billy Corgan, complicated frontman of The Smashing Pumpkins, has had a tumultuous decade-and-a-half. His visit to the Tiny Desk, with a string quartet backing him, was anything but.
---
10x85 Benjamin Booker (November 17, 2017)
---
Benjamin Booker has a deeply tender voice that, at times, can feel like a whisper But it always cuts to the heart.
---
10x84 Now, Now (November 15, 2017)
---
The band has new tools in its arsenal, but even in a stripped-down Tiny Desk performance, its focus on tiny moments between people just outside of love is as sharp as ever.
---
10x83 Aminé (November 14, 2017)
---
The Portland artist with the most mispronounced name in hip-hop puts on an unforgettable performance.
---
10x82 The Mynabirds (November 10, 2017)
---
Singer Laura Burhenn is joined by Jessica Lea Mayfield and the Umoja Choir for songs inspired by the political and cultural upheaval of 2016.
---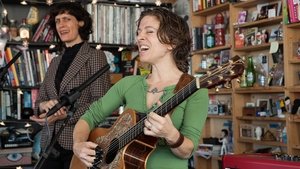 10x81 Ani DiFranco (November 08, 2017)
---
With the help of a backing band that includes Ivan Neville and Jenny Scheinman, the iconic singer-songwriter plays three songs from across her tough and uncompromising career.
---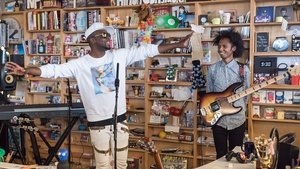 10x80 Wyclef Jean (November 06, 2017)
---
The hip-hop statesman walked through our doors greeting and charming anyone within arm's reach. Once in front of an audience, he was in attack mode, including a unique rendition of his signature hit.
---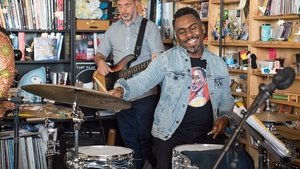 10x79 Nate Smith + KINFOLK (November 03, 2017)
---
The drums take center stage at this Tiny Desk. Watch veteran jazz percussionist Nate Smith dazzle the NPR audience in a transfixing performance.
---
10x78 Gracie and Rachel (November 01, 2017)
---
Gracie And Rachel mix piano pop with darker, classic violin arrangements to make songs full of mystery and tension. They're joined in this Tiny Desk performance by percussionist Richard Watts.
---
10x77 The Roots Feat. Bilal (October 30, 2017)
---
Yes, it happened. Black Thought, Questlove and the entire crew packed in behind the Tiny Desk to perform a new song called "It Ain't Fair."
---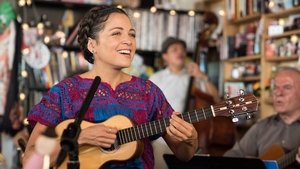 10x76 Natalia LaFourcade (October 27, 2017)
---
The Grammy-nominated singer's Tiny Desk is an ode to a magical time in Mexican popular music.
---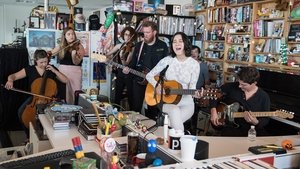 10x75 Japanese Breakfast (October 25, 2017)
---
For this Tiny Desk concert, Japanese Breakfast's Michelle Zauner replaced her gauzy synths with a string quartet. The result is something to behold.
---
10x74 Shabazz Palaces (October 23, 2017)
---
Hip-hop's otherworldly lot touches down on Bob Boilen's desk for some Afrofuturistic mind travel.
---
10x73 The Perceptionists (October 20, 2017)
---
Watch hip-hop veterans Mr. Lif and Akrobatik team up behind the Tiny Desk.
---
10x72 Thundercat (October 18, 2017)
---
Thundercat is willing and able to shape-shift to fit into just about any box you show him, but he won't stay in there for long.
---
10x71 Hanson (October 16, 2017)
---
Isaac, Taylor and Zac Hanson just celebrated their 25th anniversary as a band. To celebrate, watch them perform three of their post-"MMMBop" career highlights.
---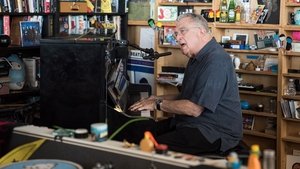 10x70 Randy Newman (October 10, 2017)
---
Watch the six-time Grammy winner go solo behind the Tiny Desk.
---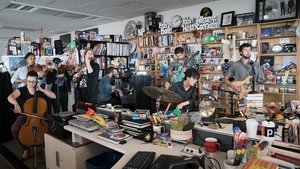 10x69 Landlady (October 06, 2017)
---
Landlady's music is more than sonic exploration, it's an adventure. The songs can feel a bit drugged-out – a bit high and full of curiosity – but never overly intoxicated or out-of-touch.
---
10x68 Paramore (October 02, 2017)
---
Paramore captures the moment between rapture and its comedown. Watch the band rearrange songs from its sparkling pop album After Laughter.
---
10x67 Dawg Yawp (September 29, 2017)
---
Welcome the world of Dawg Yawp, the musical concoction of Rob Keenan and Tyler Randall, where drones and toy pianos are likely to collide with heavy metal electronics and a well-placed melody.
---
10x66 Chronixx (September 27, 2017)
---
The Jamaican reggae star proudly carries the torch of his country's roots reggae legends.
---
10x65 Steve Martin And The Steep Canyon Rangers (September 25, 2017)
---
It's hard to think of an artist who's brought more joy to more people, across more generations — and in more ways — than Steve Martin.
---
10x64 Bomba Estereo (September 22, 2017)
---
Bomba Estereo is not known as a hushed band. Member Simon Mejia said this Tiny Desk performance was the group's quietest, a stripped-down treatment that illustrates the inherent quality of the music.
---
10x63 SsingSsing (September 21, 2017)
---
It's safe to say this Korean, cross-dressing rock band looks and sounds like no one who's ever performed at the Tiny Desk.
---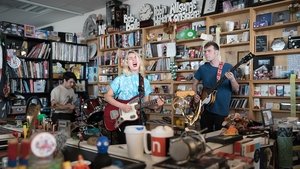 10x62 Snail Mail (September 15, 2017)
---
Snail Mail's sleepy songs have a way of waking you up. Watch the band perform music from its quietly stunning Habit EP, plus a new song played solo by Lindsey Jordan.
---
10x61 L.A. Salami (September 13, 2017)
---
The story songs and poetry of Lookman Adekunle Salami, who writes and records as L.A. Salami, recall the brilliant and epic ramblings of Bob Dylan.
---
10x60 Bleachers (September 12, 2017)
---
Jack Antonoff re-arranged three songs from his band's latest album, Gone Now, for the Tiny Desk.
---
10x59 Frances Cone (September 08, 2017)
---
The Brooklyn-based band crafts infectious pop music that builds dramatically before giving way to a quiet calm.
---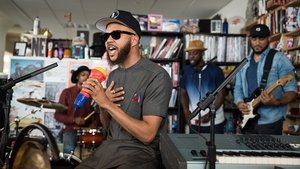 10x58 Jidenna (September 05, 2017)
---
The Nigerian-American MC and his band perform three reworked selections from Jidenna's impeccable debut album, The Chief.
---
10x57 Jason Isbell (August 28, 2017)
---
The Alabama singer-songwriter and his band perform three songs from The Nashville Sound, but their set includes a few surprises, too.
---
10x56 DJ Premier & The Badder Band (August 21, 2017)
---
One of hip-hop's most revered producers brings his songs to life behind the Tiny Desk, with the help of a four-piece band.
---
10x55 ALA.NI (August 14, 2017)
---
ALA.NI captures and conveys a reverent love of early-20th-century music, while injecting those sounds with charisma and charm well suited for any era.
---
10x54 Maggie Rogers (August 07, 2017)
---
The rising pop star performs three of her best-known songs, including a sweet solo take on her career-making "Alaska."
---
10x53 Diet Cig (August 02, 2017)
---
Diet Cig's songs crackle like Pop Rocks, but with a confrontational honesty and striking gravity — and on top of Bob Boilen's desk.
---
10x52 Aldous Harding (July 28, 2017)
---
Intensity in songs often expresses itself as volume – a loud guitar, a scream, a piercing synth line. But in the case of Aldous Harding it's in the spaces, the pauses, and her unique delivery.
---
10x51 The Shins (July 24, 2017)
---
James Mercer, the emotional and creative heart of The Shins, gives a moving performance at the Tiny Desk, with two new songs and a classic from the band's 2003 album Chutes Too Narrow.
---
10x50 Albin Lee Meldau (July 20, 2017)
---
Albin Lee Meldau possesses a thunderous, deeply affecting voice, which he uses to tell some utterly dark, but demonstrably cathartic, tales.
---
10x49 Rare Essence (July 19, 2017)
---
Rare Essence has been bringing go-go to the world since 1976 — the group brought that pedigree, and the genre's massive meld of funk, rhythm and blues and soul, to this raucous hometown Tiny Desk.
---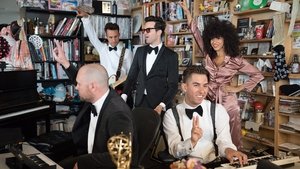 10x48 Tuxedo (July 17, 2017)
---
Tuxedo, the unlikely-on-paper funk-soul duo of Mayer Hawthorne and Jake One, brought a left-of-center sonic approach and a sharp sense of style to their Tiny Desk Concert.
---
10x47 Fragile Rock (July 14, 2017)
---
Fragile Rock is a band that relies on the boogie of The B-52s, the melancholy of The Smiths and the humor of Kermit the Frog. Oh, and they're all puppets.
---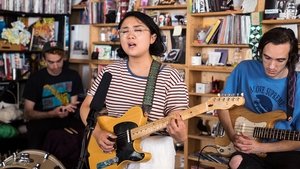 10x46 Jay Som (July 10, 2017)
---
Melina Duterte may have played all the instruments on Jay Som's newest record, Everybody Works, but her touring band brought a rougher edge to those silky recordings.
---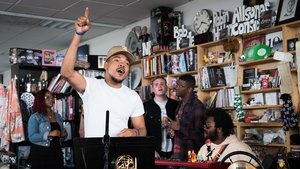 10x45 Chance The Rapper (July 05, 2017)
---
Chance The Rapper, fresh from a 23,000-strong, sold-out show the night before, brought a thoughtful and fresh take to his Tiny Desk concert.
---
10x44 Helado Negro (June 30, 2017)
---
Helado Negro ditches his bank of electronics for alto and tenor saxophones, bringing his utterly unique style to a intense, perfectly balanced Tiny Desk Concert.
---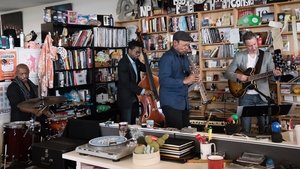 10x43 Ravi Coltrane Quartet (June 26, 2017)
---
Artistic legacy, evolution and studied ease coalesced at this Tiny Desk Concert, with Coltrane offering four interpretations of his and others' works.
---
10x42 Holly Macve (June 23, 2017)
---
Backed by a suitably low-key band, Macve would sound subtly radiant just about anywhere, from your nearest country bar to the most dreamily lit stage in Twin Peaks.
---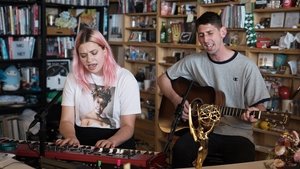 10x41 Tigers Jaw (June 19, 2017)
---
The duo strips down to acoustic guitar and keyboard for a strikingly intimate set, illuminating their close harmonies that tangle like garlands.
---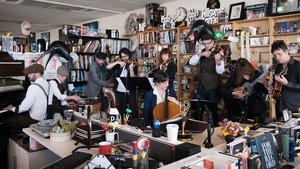 10x40 Penguin Cafe (June 16, 2017)
---
Penguin Cafe folds in sounds from around the world and throughout music history — Africa, Kraftwerk, Brazil and Franz Schubert.
---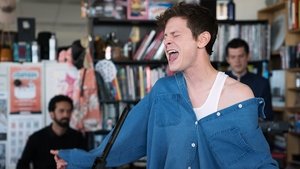 10x39 Perfume Genius (June 12, 2017)
---
The band's long-awaited performance at the Tiny Desk was both beautiful and, at times, intense, featuring three deeply personal songs by frontman Mike Hadreas.
---
10x38 Violents & Monica Martin (June 05, 2017)
---
While her band was on hiatus, Monica Martin joined Jeremy Larson's project Violents, yielding a lush record of electronic pop, translated into a quieted set at the Tiny Desk.
---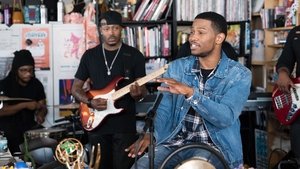 10x37 Nick Grant (June 02, 2017)
---
The Atlanta-based MC came through with the flu and coolly earned our praise. How sick is that?
---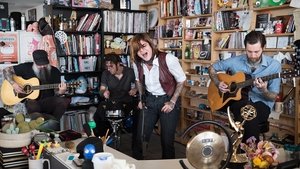 10x36 Royal Thunder (May 30, 2017)
---
What happens when you ask a hard-rock band to unplug its thunder? It draws power from a raw, desperate vulnerability.
---
10x35 Gabriel Garzón-Montano (May 26, 2017)
---
Gabriel Garzón-Montano spent three years writing and recording his beautiful, dense album Jardin -- but for his Tiny Desk visit, he stripped it all down to two elements, the piano and his voice.
---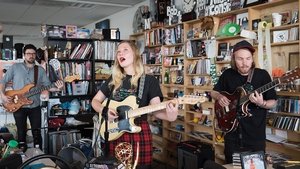 10x34 Julia Jacklin (May 22, 2017)
---
A restrained, whisper-soft Tiny Desk concert from Australian singer-songwriter Julia Jacklin with songs taken from her debut album Don't Let The Kids Win.
---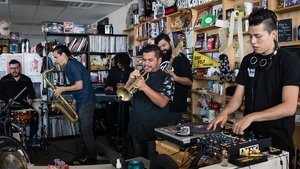 10x33 Troker (May 19, 2017)
---
Mexico may not be known for its jazz, but the young lions of Troker are a promising hope to make the country and its capital city a destination.
---
10x32 Tim Darcy (May 15, 2017)
---
Tim Darcy of Montreal band Ought brings his mysterious solo work, from the album Saturday Night, to the Tiny Desk. The record he says, was his chance to "get back to my roots, in my own voice."
---
10x31 Danilo Brito (May 12, 2017)
---
Danilo Brito and his band brought their dextrous expression of choro music to the Tiny Desk, a long-established musical style that has its roots in the streets and backyards of Brito's native Brazil.
---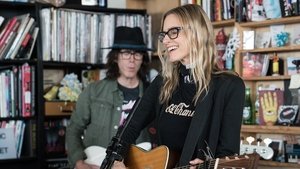 10x30 Aimee Mann (May 08, 2017)
---
"This song is called 'You Never Loved Me' — it's another cheery, optimistic number," says Aimee Mann, introducing the second of four songs in this Tiny Desk Concert.
---
10x29 Peter Silberman (May 05, 2017)
---
A strange condition hushed the life of Peter Silberman, resulting in what may be the quietest Tiny Desk Concert ever.
---
10x28 Avery*Sunshine (May 01, 2017)
---
The gospel-trained singer showcased why she counts Aretha Franklin and Smokey Robinson as fans.
---
10x27 Antonio Lizana (April 28, 2017)
---
The traditions of flamenco and jazz are disparate, but in the hands of a few Spanish jazz musicians, these two worlds commingle and find common ground.
---
10x26 alt-J (April 24, 2017)
---
There's a self-imposed rule for Tiny Desk Concerts: No artist can visit twice unless there's something wholly different about what they're doing. alt-J was happy to oblige.
---
10x25 Chicano Batman (April 17, 2017)
---
Chicano Batman comes with a sound that perfectly captures dark lounges, quinceñera dances, car shows and backyard parties.
---
10x24 Ljova And The Kontraband (April 14, 2017)
---
Composer, arranger and viola player Ljova lead his Kontraband to the Tiny Desk for an eclectic swirl of Western classical, jazz, tango and Eastern European and Balkan folk music.
---
10x23 Sinkane (April 10, 2017)
---
You can hear a great New York jazz band in the rhythms of Sinkane, but you can also hear the influence of Bob Marley and the hypnotic repetition of Sudanese desert sounds.
---
10x22 Tash Sultana (April 07, 2017)
---
It's astonishing to watch Sultana's fluidity on her instrument, like a natural extension of her body. She also plays bass, saxophone, trumpet, flute and more, but kept it "simple" for the Tiny Desk.
---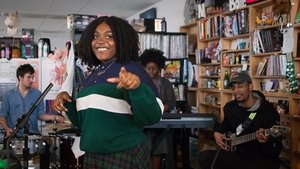 10x21 Noname (April 03, 2017)
---
The power of language to penetrate a difficult subject, and the power of performance to share that language, are the gifts Noname brought to the Tiny Desk.
---
10x20 Overcoats (March 27, 2017)
---
Hana Elion and JJ Mitchell's vibrant vocal harmonies are set against an electronic backdrop that feels spacious and refreshing.
---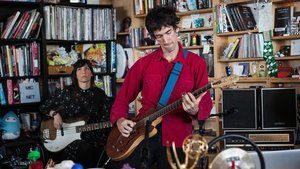 10x19 Delicate Steve (March 24, 2017)
---
This fierce and lyrical guitar player writes playful instrumental music led by hooky vocals — but there is no voice, just the human-like twang of a glass slide on a guitar.
---
10x18 Sampha (March 21, 2017)
---
A Tiny Desk Concert as intimate as it gets (that's saying something). Just Sampha, a piano and three heart-wrenching songs that seem to double as coping mechanisms.
---
10x17 Red Baraat's Holi Celebration (March 13, 2017)
---
The Brooklyn bhangra band come to the Tiny Desk in celebration of Holi, the Hindu festival of color that welcomes the coming of spring.
---
10x16 Tank And The Bangas (March 10, 2017)
---
Tank And The Bangas' victory lap around the Tiny Desk was momentous, celebratory and deeply touching, with a flair and alchemy of styles that could come from New Orleans.
---
10x15 Maren Morris (March 06, 2017)
---
One of the newest Grammy winners stops by the Tiny Desk to share her winking, sometimes tongue-in-cheek songs.
---
10x14 Ninet (March 03, 2017)
---
One of Israel's very popular artists may be walking a similar path to early-career Joan Jett — she brought that same intensity to the Tiny Desk.
---
10x13 Dirty Dozen Brass Band (February 28, 2017)
---
To celebrate Fat Tuesday, The Dirty Dozen Brass Band brought their euphoric horns to the Tiny Desk for a raucous, joyous set.
---
10x12 Little Simz (February 21, 2017)
---
Little Simz has been compared to Lauryn Hill for her self-reflective wordplay. And though the British lyricist is a relative new-comer, her Tiny Desk performance was poised and confident.
---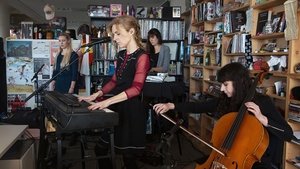 10x11 Agnes Obel (February 15, 2017)
---
Agnes Obel manipulated the Tiny Desk to better suit the deeply alluring and powerful music she brought to us.
---
10x10 Esmé Patterson (February 10, 2017)
---
Esmé Patterson has dropped the banjos and folk from her previous project Paper Bird, and in their place are electric guitars and a backing band worth getting behind.
---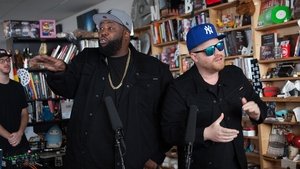 10x09 Run The Jewels (February 06, 2017)
---
Killer Mike and El-P continue to out-muse each other in a supergroup that somehow seems to get better, louder, and more pertinent since their start in 2013.
---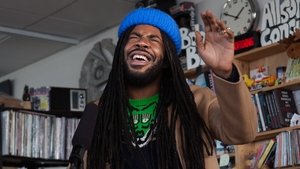 10x08 D.R.A.M. (February 01, 2017)
---
The rapper/singer storms the NPR Music offices, activating his signature smile and bouncing through five highlights from his catalog — including the smash single "Broccoli."
---
10x07 Gallant (January 30, 2017)
---
The rising R&B star performs three falsetto-drenched highlights from his 2016 debut, Ology — including "Bourbon," which features a guest rap from Chance The Rapper collaborator Saba.
---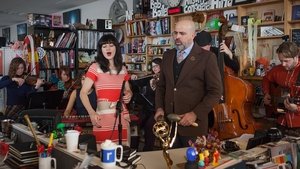 10x06 Miramar (January 27, 2017)
---
Watch the Virginia band sweep the NPR crowd off its feet with a collection of exquisite boleros by Puerto Rican composer Sylvia Rexach.
---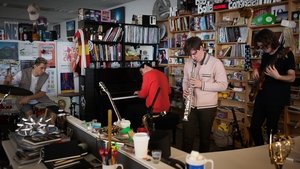 10x05 BADBADNOTGOOD (January 23, 2017)
---
The jazz band, known for its soulful interpretations of songs by Nas and Ol' Dirty Bastard, plays its own new material live in the NPR Music offices.
---
10x04 Brent Cobb (January 17, 2017)
---
Cobb's words shimmer like a tall glass of sweet tea in the late-morning sun. Watch the country singer-songwriter perform four songs from his debut album.
---
10x03 Lila Downs (January 13, 2017)
---
With a voice that borrows heavily from opera, Downs performs the kind of full-throated mariachi singing that would fit right in at Mexico City's Garibaldi Square — ground zero for mariachi.
---
10x02 Donny McCaslin (January 09, 2017)
---
Hear McCaslin, the saxophonist and bandleader whose group backed David Bowie on Blackstar, near the anniversary of that album's release. Selections include an instrumental take on Bowie's "Lazarus."
---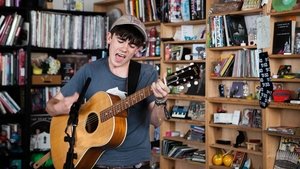 10x01 Declan McKenna (January 03, 2017)
---
Hear the spirited young singer-songwriter take on religion, poverty and politics, armed with just a guitar and some unrelenting hooks.
---