NPR Tiny Desk Concerts
Season 2008
NPR Tiny Desk Concerts
Season 2008
First Air Date: April 22, 2008

| | | |
| --- | --- | --- |
| First Aired on | : | 2008 |
| Episodes | : | 10 episodes |
Episodes
1x10 David Dondero (December 30, 2008)
---
He should be a name everyone knows by now. Instead, troubadour David Dondero returned to NPR having slept the night before in his car. Dondero travels from club to club, singing his well-crafted songs — songs that have his signature lyrics at their core. His lyrics can make you smile with their wit and hurt with their bite, all at the same time.
---
1x09 Shearwater (November 14, 2008)
---
A glorious four-song set that's at once pristine and ramshackle — equal parts clarity and clatter — not to mention one of our best Tiny Desk Concerts yet.
---
1x08 Jim White (November 07, 2008)
---
Jim White is a storyteller first and a musician second. It's a kind of storytelling rooted in his own unusual history: He grew up in Florida in a deeply Pentecostal community and fell in love with the white gospel music he heard. But from there, White took a surprising path to becoming a full-time musician. He was a professional surfer, a boxer, a fashion model in Milan and a cab driver in New York City. White's travels recently took him to Washington, D.C., where he stopped by the offices of NPR Music for this live performance.
---
1x07 Dr. Dog (October 20, 2008)
---
Dr. Dog isn't an obvious choice for one of NPR Music's Tiny Desk Concerts. For one thing, it's a pretty big group, at least for the small space behind Bob Boilen's desk. The band's music can be pretty chaotic — loud and rumbling, with multiple instruments fighting to be heard. And singer Toby Leaman likes to belt out his vocals in a window-rattling, raspy growl.
---
1x06 Lambchop's Kurt Wagner (October 08, 2008)
---
Kurt Wagner writes and sings beautiful songs with Lambchop, a hefty Nashville ensemble with a calm, restrained sound. When Kurt Wagner came by the office to play a Tiny Desk Concert, he came alone, with just an acoustic guitar, a stack of lyrics and his humble, good-natured sense of humor.
---
1x05 Thao Nguyen (September 04, 2008)
---
Thao Nguyen makes captivating music. Her songs are raw and infectious, her voice has a distinctive swagger, and she's a remarkably nimble guitarist.
---
1x04 Sera Cahoone (July 10, 2008)
---
Sera Cahoone got her start playing drums for a few widely adored bands in the Pacific Northwest, most notably Band of Horses and the spell-checker-defying Carissa's Wierd. But her self-titled, self-released 2006 album marked her as a fully formed talent — a warm and inviting singer whose songs convey world-weariness and homespun grace.
---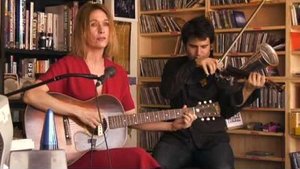 1x03 Sam Phillips (June 25, 2008)
---
The music of Sam Phillips unfolds like perfect, miniature pop dramas. Of all her incarnations as a performer — first as a Christian singer, then as a pop singer — the current Sam Phillips is one of the most alluring. Phillips performs four songs from "Don't Do Anything."
---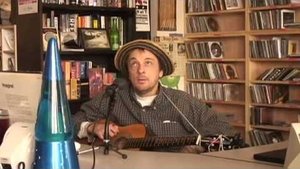 1x02 Vic Chesnutt (June 05, 2008)
---
When Athens, Ga., songwriter Vic Chesnutt was on tour in support of his album, "North Star Deserter," he stopped by NPR to perform live at All Songs Considered host Bob Boilen's desk. Chesnutt played five songs, including two entirely new ones.
---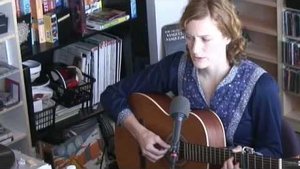 1x01 Laura Gibson (April 22, 2008)
---
Laura Gibson works through a handful of tenderhearted songs: two of them unreleased and two of them from her full-length debut, If You Come to Greet Me.
---