RT Life
2015
RT Life
2015
First Air Date: January 11, 2015

| | | |
| --- | --- | --- |
| First Aired on | : | 2015 |
| Episodes | : | 30 episodes |
Episodes
5x30 Lucasfilm Star Wars Auditions (No Spoilers) (December 17, 2015)
---
In 2013, Lucasfilm held an open casting call and several Rooster Teeth employees actually auditioned for Star Wars: The Force Awakens and filmed it.
---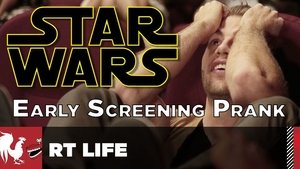 5x29 Star Wars Early Screening Prank (No Spoilers) (December 15, 2015)
---
A Star Wars super-fan gets pranked by his co-workers into believing hes invited to an early VIP screening for The Force Awakens.
---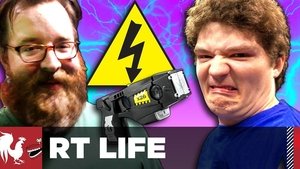 5x28 Michael Gets Tased [Warning: Graphic] (November 12, 2015)
---
[Warning: Graphic] Michael gets tased during the RT Extra Life stream. An event in the making since anyone can remember!
---
5x27 The Amazing Race! (November 11, 2015)
---
Burnie and Ashley make a huge announcement - they're jetting off to parts unknown to compete on the next season of CBS's hit show The Amazing Race! Find out more about the grueling training they both had to endure to make the cut.
---
5x26 Ollie Obstacle Race (October 22, 2015)
---
Join Meg and Blaine as they attempt to find out who is the Ollie Champion!
---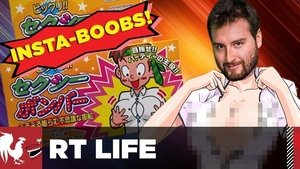 5x25 Insta-Boobs! (October 15, 2015)
---
Miles and the Rooster Teeth animation crew learn how easy it can be to get boobs through the wonders of Japanese technology.
---
5x24 Dodgeball Battle (October 02, 2015)
---
Rooster Teeth goes balls out and challenges Funhaus to a classic dodgeball match! Witness the majesty, the pain, the glory!
---
5x23 The Cutest Animal In The World (September 03, 2015)
---
Quokkas. Quokkas everywhere. Nothing but quokkas.
---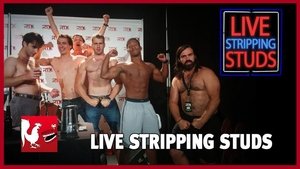 5x22 Live Stripping Studs (August 20, 2015)
---
The guys from Live Action strip down for the RTX crowds. And, of course, make fun of Brandon.
---
5x21 Can Blaine Outrun a Car? (August 17, 2015)
---
Blaine really wants some protein powder. Aaron really wants to drive off without him. Chris just wants to watch.
---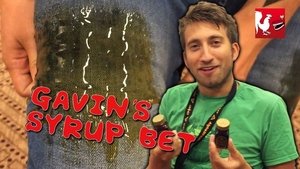 5x20 Gavin's Syrup Bet (August 13, 2015)
---
Gavin bets his RTX Guardian, Charles, $100 to let him pour syrup down his pockets. Its a pretty sweet deal.
---
5x19 Funhaus Sex Box (August 11, 2015)
---
The Funhaus gentlemen unbox a mystery delivery. Disclaimer: The following video contains sexual references and may not be appropriate for all audiences.
---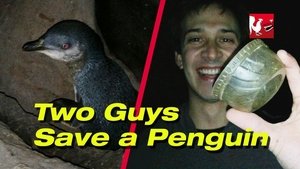 5x18 Two Guys Save a Penguin (July 31, 2015)
---
In a rare scene of heroics, Chris and Josh discover a helpless penguin and quickly swoop in to save the day. PLEASE DON'T LITTER and please do not try to touch or pet wildlife. We only touched them to pull the trash off.
---
5x17 Australia Adventure Part 1 (July 17, 2015)
---
Join Chris and Josh on the first part of their incredible Australian adventure! Its snot what you think. Thats not true. Its exactly what you think.
---
5x16 Fire Wasp (July 10, 2015)
---
On July 4th, Miles and Kerry must go into battle to defend all of mankind. Mankind. That word has new meaning today. They fight for our freedomNot from tyranny, oppression, or persecutionbut from flying insects. Were going to live on! Were going to survive! We are going to smoke our meats! Today, we celebrate our Independence Day!
---
5x15 Jack and Joels Hot Dog Eating Contest! (July 06, 2015)
---
Kerry, Goeff, Michael, Blaine and Tyler face off in the Ultimate Hot Competitive Food Eating Competition!
---
5x14 The Scorpion Prank (June 27, 2015)
---
A Company-wide email sent by Josh: "Did you know that if you put a cup over a scorpion on your desk, they are strong enough to push it to the edge and wiggle out somehow Now we all do! So, the Stephen the Scorpion is free in the office somewhere. Don't freak out -- he's not even remotely dangerous, or particularly fast for that matter. His "venom" is no worse than a bee sting. If you see him, first off, PLEASE don't squash him. He's seriously harmless. Please just come get me and I'll facilitate his safe return. Thanks in advance for sparing him, Josh PS- he HAS been snuggling next to this fake penis Aaron put in his aquarium a few months back, so maybe don't expose yourself in the office tomorrow. Even though it's Friday."
---
5x13 Brandon Stuck in the Rain (June 21, 2015)
---
Brandon devises a brilliant plan to combat the rain but, what he doesn't realize, is that Miles has a plan of his own.
---
5x12 Testosterone Battle (June 13, 2015)
---
Protein and balls abound in this RT Life, Blaine and Aaron wrestle for Alpha male dominance. Unsurprisingly, Chris becomes a not-so-innocent bystander.
---
5x11 Chris Runs Over Children (May 30, 2015)
---
Chris, Aaron, and Josh race around on all fours. DISCLAIMER: All children were harmed during the filming of this video.
---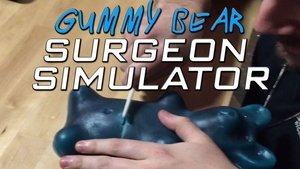 5x10 Gummy Bear Surgeon Simulator (May 16, 2015)
---
The guys try to break apart the world's strongest Gummy Bear
---
5x09 Stupid Scootin (May 02, 2015)
---
Miles revolutionizes the world of Extreme Sports with Stupid Scootin'. Scooters are fun. Two scooters are twice as fun.
---
5x08 Top Down, Shirts Off (April 18, 2015)
---
The guys have a friendly race to get ice cream in the frigid cold.
---
5x07 Facebox - Ray Narvaez Jr. (April 17, 2015)
---
Our animator, Shane Newville, brings you the best of Ray.
---
5x06 Barbara Gets Dressed (April 04, 2015)
---
Barbara is tasked with putting on 45 Rooster Teeth Shirts... for some reason.
---
5x05 The Great Nerf War of 2015 (March 21, 2015)
---
The live action crew faces off against animation in this gruesome battle to the death.
---
5x04 Gavin Free: Knife Thrower (March 07, 2015)
---
Burnie provokes a bet between Gavin and Ryan over Gavin's knife throwing abilities.
---
5x03 Michael's Valentine's Day Snack (February 14, 2015)
---
Gavin feeds Michael some delicious candy for Valentine's Day.
---
5x02 Miles Gets His 'Tein On (January 24, 2015)
---
Miles and Adam decide to workout. Miles and Adam decide to drink protein shakes. Miles decides to try something new, while Adam decides to watch. Which one chose correctly
---
5x01 Everybody Getting Handcuffed (January 11, 2015)
---
The live action guys test out the handcuffs before shooting the Escaped Prisoner Social Disorder.
---