The Glass Mask Year 3 Class D
Season 1
The Glass Mask Year 3 Class D
Season 1
First Air Date: October 03, 2016

| | | |
| --- | --- | --- |
| First Aired on | : | 2016 |
| Episodes | : | 13 episodes |
Episodes
1x13 Make the Final Episode Passionate (December 26, 2016)
---
The final episode reveals a surprising fact and shows that even Chigusa had a misconception about acting...
---
1x12 Make Self-Discovery Passionate (December 19, 2016)
---
In order to discover your true self, you must first kill yourself. Those were the words Chigusa spoke to her students. While Ayumi chose to become "someone else", Maya chose something else...
---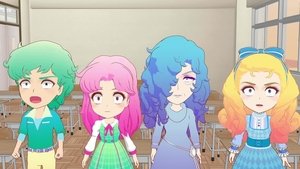 1x11 Let's Make the School Festival Passionate (December 12, 2016)
---
The school festival is coming up and class 3-D has to decide what to do. Maya, Ayumi, and Chigusa put on a show to convince their class that a play is the right choice. But is that enough to reach the passionless classmates of the present time?
---
1x10 Let's Make the Mixer Passionate (December 05, 2016)
---
In order to learn about the modern custom of mixer parties, Maya and the others meet at a restaurant. Somehow, the focus of the party shifts to squid...
---
1x09 Let's Make the Unpopular and Online-centric Person Passionate (November 28, 2016)
---
Today's mission is about making a classmate more popular, but then a phone call derails the group's efforts.
---
1x08 Make Studying for an Exam Passionate (November 21, 2016)
---
Studying for the dreaded exam week is something every student struggles with. If Maya can get her soul into studying, every student can benefit.
---
1x07 Make the Part-Time Job Passionate (November 14, 2016)
---
A classmate is bored with his part time job. Chigusa tasks the two girls to experience what it's like, in order to find a way to make part time jobs fun. However, Masumi Hayami is interfering.
---
1x06 Let's Make the Herbivore Boy Passionate (November 07, 2016)
---
Today's missions is to make an herbivore boy start being interested in girls. Maya tries to get to the bottom of what it means to be a herbivore.
---
1x05 Let's Make the Messages That Were Only Read Passionate (October 31, 2016)
---
Maya and Ayumi are lead to the graveyard of all the messages that were read but not replied to. In order to end their suffering, Ayumi becomes their chat partner.
---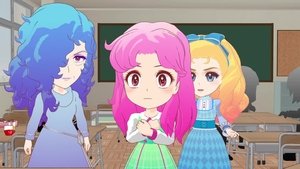 1x04 Let's Make Up Passionately (October 24, 2016)
---
A girl from Ayumi and Maya's class had a terrible fight with her best friend. Now she needs help with making up, but will she actually get help from Ayumi and Maya?
---
1x03 Make the Shut-in Passionate (October 17, 2016)
---
Yuu has become a hikikomori. Does Maya have what it takes to bring him back out?
---
1x02 Make the Seating Change Passionate (October 10, 2016)
---
Today is the day where the seating order changes. Both Ayumi and Maya have to make a choice to face the ultimate terror.
---
1x01 Now, Let's Make the Send Timing Passionate (October 03, 2016)
---
Today's task for Ayumi and Maya is to figure out the perfect timing for hitting "Send" on the love email, but things don't go quite as planned.
---