Bajillion Dollar Propertie$
Season 1
Bajillion Dollar Propertie$
Season 1
First Air Date: February 21, 2016

| | | |
| --- | --- | --- |
| First Aired on | : | 2016 |
| Episodes | : | 9 episodes |
Episodes
1x09 Make Partner 2 (April 28, 2016)
---
With more time added to the clock, the brokers scramble for last minute sales in order to lock down the partnership. Chelsea and Victoria take turns trying to sell the mansion of an old man who wants to continue living there. Amir meets with a concussed linebacker who can't remember his own name while Baxter sells to a guy with a golddigger girlfriend, and Andrew takes a shot at the lottery millionaires.
---
1x08 Make Partner 1 (April 28, 2016)
---
After a frantic race for sales the brokers finally will learn which of them makes partner. The bros deal with a home-intruder-obsessed buyer while Amir tries to sell to a couple looking to cook a very specific recipe. Victoria works with a group of millionaire lottery winners and Chelsea meets Serge & Gio.
---
1x07 Happy Ending (April 21, 2016)
---
The brokers all get massages but receive far from equal treatment, which causes Glenn to take matters into his own hands. Meanwhile, Chelsea tries to sell a mansion to a popular televangelist who's bringing very specific orders from the lord.
---
1x06 Roger Me Rightly (April 14, 2016)
---
Platinum receives a visit from Dean's hard-drinking, salesman friend from the old days. His roughhouse tactics clash with the brokers' style. Amir tries to sell a house to a pair of famous lesbians but Glenn's fandom gets in the way, and we meet Platinum's rival firm.
---
1x05 Brtox (April 07, 2016)
---
Amir, Victoria and Baxter endure humiliation after their monthly beauty regimen goes awry, thanks to Glenn. Andrew has to find a home for an intense actor who insists on staying in character the entire time and Chelsea explores a spooky basement in order to get a house to pass inspection.
---
1x04 Amir Is Glenn's Mentor (March 31, 2016)
---
Amir takes Glenn under his wing to teach him about the real estate business and the results are mentally, physically and financially grueling. The Bros are forced to woo an ancient and not quite coherent seller, while Victoria and Chelsea spend the afternoon with a creepy, sex-obsessed client.
---
1x03 Inside Joke (March 24, 2016)
---
Former foes Victoria and Baxter bond over an inside joke at Chelsea's expense. Their sudden friendship drives Andrew crazy with jealousy. Meanwhile Amir's mysterious new client shows up guns blazing... literally, and Chelsea has to sell a house to a heartbroken man.
---
1x02 Uncle Jerry (March 17, 2016)
---
Dean hires a famous and sleazy photographer, Jerry, to shoot the brokers' promo photos. He tests their limits before getting a taste of his own technique. On the field, Andrew and Baxter catch up with a former college a capella chum who's looking to buy and meet a rich client who wants to sell - just a room in house.
---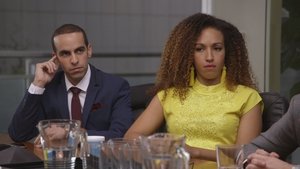 1x01 Meet Platinum (February 21, 2016)
---
The brokers at L.A.'s premier residential brokerage learn one of them will soon be named partner, setting off a ruthless race to the top. Meanwhile, Glenn, the new office manager tries to assert himself, and Andrew and Baxter try to sell the house of a movie star who can only negotiate when he's drunk and stoned.
---