Amanchu!
Amanchu! Advance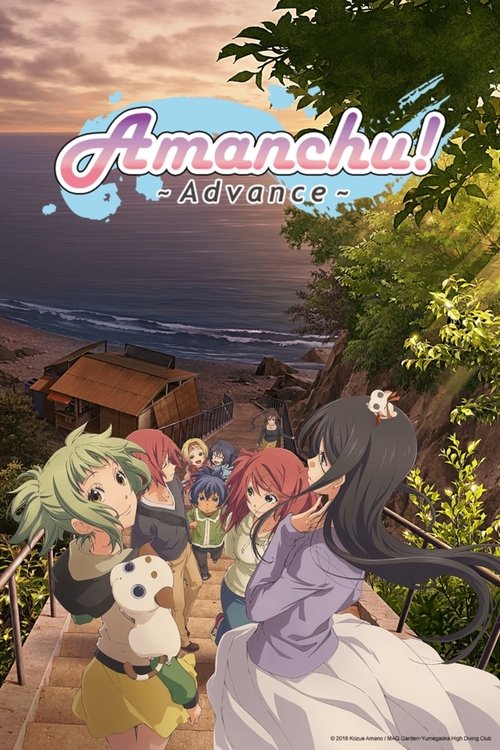 Amanchu!
Amanchu! Advance
First Air Date: April 07, 2018

| | | |
| --- | --- | --- |
| First Aired on | : | 2018 |
| Episodes | : | 12 episodes |
Kohinata Hikari and Ooki Futaba have together found joy in many things through scuba diving and the most everyday of events. Hikari was born and brought up in a small oceanside town on Izu, and Futaba moved there from Tokyo, but the two polar opposites met at Yumegaoka High and instantly hit it off. The always-reserved Futaba found her perfect foil in the cheery and optimistic Hikari, and their friendship gave her the courage to take the first step and experience many of the smaller joys in life. She also took the Open Water Diver exam and passed, and now she has her sights set on the Advanced Open Water Diver certification.
Episodes
2x12 The Story of Future Possibilities (June 23, 2018)
---
It's finally time for Teko's advanced certification test, with a promise of a night-diving celebration if she passes!
---
2x11 The Story of Cold, Flames, and Well Wishes (June 16, 2018)
---
Pikari ends up with a cold on her birthday, so Teko decides to visit her at home. She finds someone on the way, which leads to plans for another fun event once Pikari recovers.
---
2x10 The Story of a New Beginning and New Feelings (June 09, 2018)
---
Teko is invited to bring in the new year at Amanchu-ya, and she finds herself in the company of the whole gang plus a few extras. As they watch the first sunrise, a new kind of emotion takes over her and Pikari.
---
2x09 The Story of Tears and an Endless Dream (June 02, 2018)
---
Ai can't accept how Peter parted with Mato-chan and her, and so she decides to head back to Neverland, only this time she has company.
---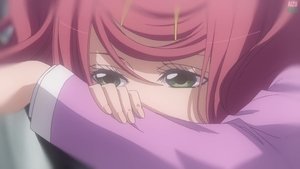 2x08 The Story of Fleeting, Unfulfilled Desires (May 26, 2018)
---
After meeting Peter in an encounter straight out of fantasy, Ai now gets transported to a fantasy world, where she meets someone she never expected to meet.
---
2x07 The Story of the Neverending School Festival (May 19, 2018)
---
The Yumegaoka High Dream Festival arrives, and the night before, the entire student body is busy preparing for opening day. This night would end up becoming a very special one for Ai in particular, as she has a very special encounter.
---
2x06 The Story of a Halloween Night's Dream (May 12, 2018)
---
It's Halloween, and the Diving Club members find themselves in the midst of a special event in an amusement park. Hikari's in danger, and it's up to Futaba to be her knight in shining armor?
---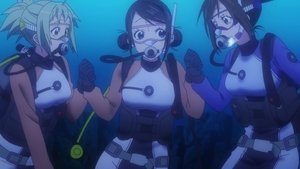 2x05 The Story of the Jet-Black Mermaid and the Solitude of 18m Under (May 05, 2018)
---
Futaba goes diving in a drysuit, as the gang looks to encounter the legendary Jet-Black Mermaid.
---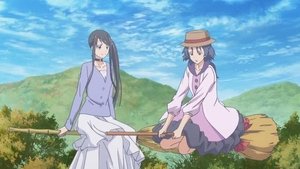 2x04 The Story of Autumn and a Tender Happiness (April 28, 2018)
---
Futaba and Hikari spend an autumn day apart, and they both find autumn wonders of their own.
---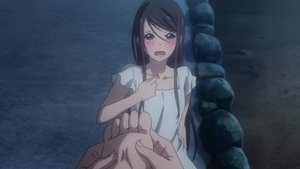 2x03 The Story of the Pro and the Expert of Happiness (April 21, 2018)
---
Futaba takes the underwater navigation tutorial but is brought crashing back to reality by the realization that she may be holding Hikari back - but is able to successfully complete it after she remembers all the lessons she had been taught by her friends. After watching the twins go on a night time dive, Futaba wrestles with the feeling that she may be holding Hikari back.
---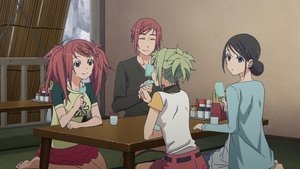 2x02 The Story of Midsummer and the Sparkling Eyes (April 14, 2018)
---
While Futaba is away for a memorial at her country home, Hikari befriends a girl by the sea who is fascinated by a mother octopus guarding her young - Futaba is determined to befriend her. Meanwhile, Futaba works hard as a volunteer helping to set up the local fireworks festival, working hard enough to earn front row seats in the VIP section of the festival for her friends.
---
2x01 The Story of One Summer Night and a Confession (April 07, 2018)
---
After helping out at Kino's beach house during a lunch rush, Futaba decides to return there the next day while Hikari goes scuba diving with the others. While there, Hikari accidentally goes into an outdoor hot spring without her bikini top, putting her at risk of being exposed before the other girls come to save her. Later, after Hikari holds a barbecue party for everyone, Futaba worries about what she'd do if she has to part ways with Hikari, but Hikari encourages her to enjoy every moment they spend together.
---