True Dare Kiss
Season 1
True Dare Kiss
Season 1
First Air Date: June 28, 2007

| | | |
| --- | --- | --- |
| First Aired on | : | 2007 |
| Episodes | : | 6 episodes |
Episodes
1x06 Episode 6 (August 02, 2007)
---
Nash wants to know from Phil what their next move is, but Phil's pre-occupied by the news of Stan's return. Stan, meanwhile, is tormenting Nita. Appearing outside her house, Nita's convinced she's losing the plot. She calls Bryce in desperation. Kaz decides that now's the time to confront Beth about what really happened all those years ago. But sensing what may be coming, Beth bolts before Kaz gets to the truth. Under pressure, Kaz spills his heart to Beth at the stress of not seeing his life, his kids or Man Utd winning the treble. Bryce is about to pull a hypnotized Nita's jeans off when he hears the click of Alice's camera. She calls the cops. Dennis' agoraphobia gets the better of him. He jumps into a JCB that collides with the porch bringing down rubble and water. Nita receives a text from Stan and storms off to Smyrna Grove. Phil, Beth and Alice take off in hot pursuit. While Nash digs in the cellar the lights go out. Stan appears and recriminations fly in all directions. Stan insists on revealing the truth about Evie and storms into the cellar. Evie appears and Stan's appalled that Phil and Beth could believe he had killed their mother. Stan explains that he's only got three months left to live and wanted to bring the family together. All the family gather for Stan's birthday party. Nita steels herself for what seems like the inevitable parting with Nash. Beth finally admits to caving in Kaz's skull and Kaz offers a deal for forgiveness. Nash reveals that he's bought the house. Nita finds out she's won her big contract and Nash has decided to stay with her. More surprisingly, Beth declines a beer. Six months later it's Stan's real funeral. Phil and Nita are both pregnant. Beth meets Dan, Phil's female partner. Beth queries the provenance of Phil's bump. Stan's got his wish, it seems, as the family finally put the past behind them and make new beginnings.
---
1x05 Episode 5 (July 26, 2007)
---
Stan is very much alive, and despite Dennis' pleas to end the charade, he won't be satisfied until Beth and Phil come clean. Dennis summons Phil back to Smyrna Grove for an interrogation. But when Phil and Dennis make up and Dennis reveals Stan's plan, Stan locks his agoraphobic son out of the house. Kaz tells Beth that he knows about her casual sex with Nash. Meanwhile, Phil tests Nash's devotion by invoking an old game they played. She dares him to arouse her envy by sleeping with Nita. Having worked out Bryce is a charlatan, Alice tries to get him to incriminate himself until Bryce insinuates that his recordings of her hallucinations incriminate her family in a heinous crime. Alice tells her sisters. Phil and Beth finally admit that twenty years earlier their mother had turned up at Smyrna Grove demanding half the house. Evie fought with Stan, fell and cracked her head against the fireplace. No one realised Alice saw anything. Stan buried the body and Phil left Smyrna Grove swearing that she would never say a word. Sensing that Nash is about to leave her, Nita indulges in a completely out of character eating binge. Nash is shocked by the sight of his suddenly vulnerable wife. They fall passionately into bed for the first time in eighteen years. Desperate for counselling calls, Nita calls Bryce. Beth, Phil and Alice try to work out what to do. Later, Alice dreams of a blood-splattered Evie, manic laughter echoing over a vision of her in a shallow grave.
---
1x04 Episode 4 (July 16, 2007)
---
The challenge dinner party has been brought forward at a nearly-built shopping centre. Nita manages to put together a team at short notice. Phil tries to make up with Dennis who complains that years of looking after Stan have affected his health. When Dennis reveals there's a buyer with plans for the cellar, Phil puts in an offer. In light of this, Dennis asks Nita to up her bid. Nash meets Phil at their former flat. She suggests they sleep together one last time. Alice has clearer flashbacks revealing a tussle between a man and a woman. She wakes up to find Bryce trying to take advantage of her. Nita's dinner is not going as well as hoped. The nouvelle cuisine is failing to impress and Vinny's wife, Tanya, recognizes Beth as the abusive fan from the Liverpool match. Vinny's appalled at Nita's choice in staff, and belittles her professional abilities. Tempers flare and Vinny ends up with his main course all over him. During the pandemonium, Dennis phones Nita and needles her conscience. Catching sight of an apparition of Stan, Nita has a fit. Sven reassures her that it must have been an intruder. But Alice also saw Stan. Phil and Nita are summoned to Smyrna Grove. Dennis tells them that he's sold the house to someone else who intends to gut the place. A digger starts working in the back garden. But is someone else watching Phil and Nita from the house?
---
1x03 Episode 3 (July 12, 2007)
---
Nita's out jogging and thinks she sees Stan again. But it was just a trick of the light - it's Dennis, but he refuses to talk to her. Later, Sven tells her she's won the contract she was chasing and introduces her to his Managing Director so she can vie for an even bigger job. But there's a test, a challenge meal that Nita will have to put on for the MD. Phil and Beth are both anxious that Dennis is trying to sell Smyrna Grove and that Alice is trying to track down Evie. Something about the house is worrying them both. They also have their own problems to deal with. Nash seems to be pursuing Phil, and Beth has finally had enough with her family and has decided to escape her life and head for London with Phil. Beth's husband Kaz seems to know what Beth's planning and asks Phil for help bringing Beth back into line. When Kaz gets freebies for the Liverpool game, Phil manages to persuade away-game-phobic Beth to go with her. Typically Beth has a whale of a time, she abuses some people, gets into a ruck and finally confesses to Phil that she mistakenly bricked Kaz in 1987, blinding him. During Alice's second session with Bryce her visions of people arguing become clearer but she's surprised on awakening to find Bryce so close to her. Nita returns to Smyrna Grove where Dennis works out that she wants to buy the house. He says he'll think it over but wants her to look at footage that the security cameras filmed the night Stan died. Dennis claims he can't quite make out the identity of the gang member (Beth). Nita is horrified and later on sees a dark figure that she could swear is Stan.
---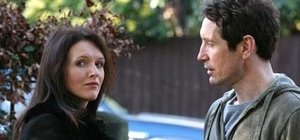 1x02 Episode 2 (July 05, 2007)
---
It's Nita's birthday but she's not having much fun - she suspects something's going on between Nash and Phil. Meanwhile, Nita's most troublesome employee, Beth, has assaulted a Scouse builder in full view of the site management. It's also the day of the will reading. Stan leaves each of his daughters nothing but a stuffed animal. Much to Nita's outrage, the house is left to Dennis and all Stan's wealth to their absent mother Evie. Alice is entrusted with the job of contacting their mother. Only Phil knows where she is and seems reluctant to put Alice in touch with her. Nita tries to save Beth's job and impress Construction Company Director, Sven, by taking him to Old Trafford. After the match in Sven's limo, he angles for some extra personal attention to sweeten the deal, but Nita freezes and has an uncharacteristic panic attack. Nita recovers in time to see Beth emerge from the match alone. Phil has left for a rendezvous with Nash. Nothing suspicious, she says, just a catch up, but what she learns about Nita and Nash's marriage makes it clear that all is not well in paradise. It transpires Nita and Nash haven't had sex for years and that Nash is sleeping with Beth. Alice is pleased with her first transactional dynamics session and Bryce is delighted by the way Alice has opened up to him. On the way back from the game, Nita and Beth pop in at Smyrna Grove. Dennis is thinking about selling. Nita is eager to buy and makes him an offer. But Beth seems agitated and tells Nita to spend more time worrying about her husband. Nita drives home alone troubled by her conscience.
---
1x01 Episode 1 (June 28, 2007)
---
Glamorous businesswoman Nita seemingly has it all - a profitable business, a gorgeous husband and the perfect family. But nothing is ever enough for Nita and she's fixated on buying run-down Smyrna Grove - a sprawling house ripe for redevelopment. As the owner has no intention of selling, Nita resorts to intimidation tactics which get out of hand when she adds her drunken, football-mad sister, Beth, to the mix. When the agitated owner, Stan, sees her shouting abuse and throwing beer bottles, he collapses. Stan's son, Dennis, phones for an ambulance. But it's too late. Events take a twist, as we learn that Stan was Nita's estranged father and Smyrna Grove was the family home. Nita bribes all involved to stay quiet, and resolves to continue with her plans to buy the house, preying on her brothers grief to persuade him to sell. But the funeral brings something Nita hadn't reckoned on. Phil, the sister who disappeared suddenly twenty years ago, is drawn back to the family. Phil hasn't been seen since the terrible night that split the family. This unnerves Nita, who is now married to Nash, the boyfriend Phil left behind. The funeral is an odd affair. Phil's speech leaves more unsaid than spoken. Youngest sister Alice, who hadn't seen Stan for years, is especially disturbed by her dad's death and brings along Bryce, a 'transactional dynamics' therapist for support. Dennis' grief turns to bitterness and he takes great delight in telling everyone that they'll be in for a shock when the will is read. Beth tries to drown her guilt in drink and succeeds in upsetting everyone. The family part, each troubled by their thoughts and memories. Nash, however, cannot let the past lie undisturbed and visits Phil late that night.
---