Flying Witch
Season 1
Flying Witch
Season 1
First Air Date: April 10, 2016

| | | |
| --- | --- | --- |
| First Aired on | : | 2016 |
| Episodes | : | 12 episodes |
Episodes
1x12 A Witch's Robe and Different Ways to Spend the Day (June 26, 2016)
---
Makoto finds her old robe and realizes she's outgrown it, so she decides to make a new one. She also decides to surprise Chinatsu by making her one, too.
---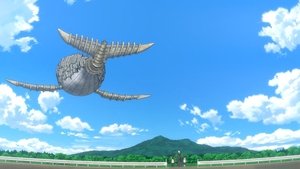 1x11 A Whale in the Sky (June 19, 2016)
---
A whale that flies around the world is flying over the town. Akane, Makoto, and Chinatsu go out on their brooms to watch and ride the whale. Anzu is also there, and they invite her over to have breakfast.
---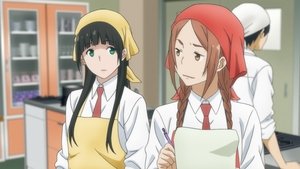 1x10 Bad With Cooking and Bad With Bees (June 12, 2016)
---
There's a cooking class at school, but Nao isn't very confident in her cooking skills. She had a little accident as a child and was traumatized to cook. Later that week, the Kuramotos go out to thin out their apple farm. Makoto may get "lucky" with a bee.
---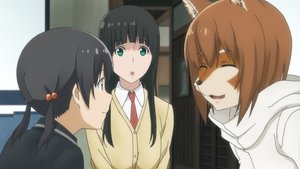 1x09 The Day After Tomorrow Is Today (June 05, 2016)
---
Makoto shows her vegetable farm to Nao and gives away some radishes. Inukai comes over to apologize for the troubles she caused during the Cherry Blossom Festival and reads the fortunes for Makoto, Kei, and Chinatsu.
---
1x08 The Regular Customers (May 29, 2016)
---
Makoto, Kei, and Chinatsu are at Café Concrucio. They introduce themselves to the owner and enjoy a nice relaxing time. They also meet a strange set of regular customers.
---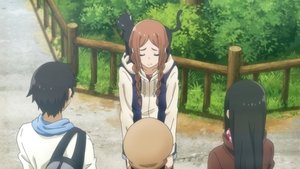 1x07 Café Concrucio (May 22, 2016)
---
Makoto, Kei, Chinatsu, and Nao go herb picking in the mountains. Chinatsu enjoys picking the herbs but not eating them. However, Akane told her that she can't be a good witch if she's picky with food. She makes an effort to eat some herbs, but they are too bitter for her. To help relieve the bitterness, Akane suggests paying a visit to a nearby cafe to grab a slice of cake.
---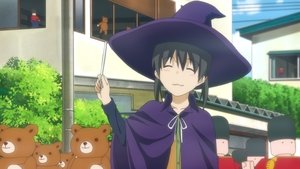 1x06 Trick and Treat (May 15, 2016)
---
Chinatsu grows very fond of Akane and expresses her desires of becoming a witch. What is Akane's response? Later that day, Akane teaches Makoto a spell that turns snacks into something a little bit more.
---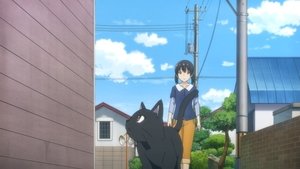 1x05 How to Use Your Familiar (May 08, 2016)
---
Chito goes for a walk, and Chinatsu tails him. Later that day, Makoto goes for a walk with Chito as her guide.
---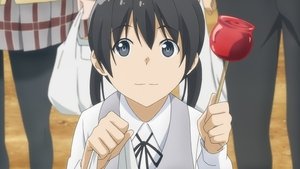 1x04 A Fortune Teller Veiled in Cherry Blossoms (May 01, 2016)
---
Makoto, Kei, and Chinatsu meet a fortune teller at the Cherry Blossom Festival. It turns out, she is a witch named Inukai and knows Akane. A dreadful spell was cast on her by Akane, so Makoto feels obliged to undo the spell and invites her over to their house. Will Makoto successfully undo Akane's spell?
---
1x03 Lessons in Farming and Magic (April 24, 2016)
---
As part of witch training, Makoto borrows some land from the Kuramoto family to farm vegetables. The land hadn't been maintained and was full of weeds, so with Chinatsu and Kei's help, she cultivates the land. One day, a mysterious lady pays a visit. It turns out to be Makoto's sister, Akane, who is traveling around the world. Akane discovers that Makoto isn't using any spells, so she teaches her a simple spell to practice.
---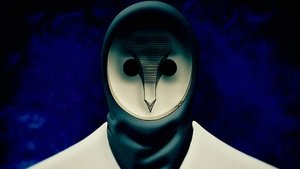 1x02 A Visitor for the Witch (April 17, 2016)
---
A rare visitor comes to the Kuramoto house. He is refer to as the "Harbinger of Spring" among the witches. After completing his job of bringing spring to Aomori, he comes to see Makoto, the new witch in town. Makoto welcomes the harbinger, but Chinatsu... With spring in Aomori, Kei finds bakke on the street. Discovering that Makoto has never had bakke, he takes some home and cooks them for her.
---
1x01 It's Been Six Years (April 10, 2016)
---
The entry-level witch, Makoto Kowata, leaves her parents' house as she begins high school. She moves in with her relatives in Aomori in order to begin her training as a witch. On the day of the move-in, her cousin, Chinatsu, overhears Makoto speaking with her cat and thinks she's a weirdo. Her other cousin, Kei, introduces her to his friend from school, Nao Ishiwatari, but...
---