Aikatsu Stars!
Wing of the Star
Aikatsu Stars!
Wing of the Star
First Air Date: September 07, 2017

| | | |
| --- | --- | --- |
| First Aired on | : | 2017 |
| Episodes | : | 50 episodes |
An idol academy in the form of a luxurious cruise ship suddenly appears, and it's name is the Venus Ark! The one leading the cruise is the perfect idol, Elza Forte!!
Episodes
2x100 To the Unseen Future (March 29, 2018)
---
Yume, Rola, Koharu, Mahiru and Ako decide to spend their final vacation together having fun before Rola leaves for England. The girls spend a night in the country and are joined by Yuzu and Lillie.
---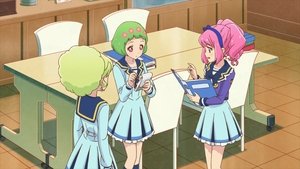 2x99 The Things We Both Forgot (March 22, 2018)
---
As the new school year begins, Rola prepares to leave Four star Academy for England. Koharu, Ako and Mahiru help Rola pack her belongings up when Yume shows up. As they discuss the future, both Yume an Rola feel they are forgetting something.
---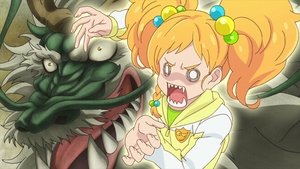 2x98 Yuzu and Lily (March 15, 2018)
---
As another school year draws to a close, everyone prepares for the upcoming S4 selection. However, Rola announces that she won't be participating this year as she is planning on moving to England to join a music producer called Black Star.
---
2x97 Bon Bon Voyage! (March 08, 2018)
---
As Yume gets used to her new world wide fame, Elza is still adamant she will close Venus Ark. However the other idols refuse to leave and after some protesting, Elza realizes what she needs to do next.
---
2x96 Shining Together! (March 01, 2018)
---
With the support of her friends, Yume prepares to take the stage, but before doing so she speaks to Elza. Elza is firm in her belief that a perfect idol can only shine alone, but Yume feels that an idol shines with the power of everyone who supports her and vows to prove it.
---
2x95 The Lonely Sun (February 22, 2018)
---
Elza announces that she will quit being an idol once she wins the Aikatsu! Ranking Tournament. Rei decides she's had enough of Elza's selfishness. Unable to convince her to change her mind, Rei goes to Yume for help.
---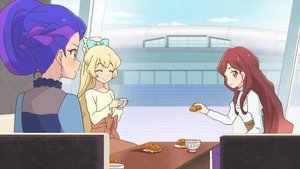 2x94 Mahiru's Radiance (February 15, 2018)
---
Mahiru becomes hesitant about facing Elza in the tournament. Yume and the others manage to convince her that she has her own radiance that she can shine with.
---
2x93 The Sword of Light (February 08, 2018)
---
Rei still tries to convince Elza to reconsider closing Venus Arc but to no avail. All the other idols aboard the Arc begin talking of leaving after the way Elza has treated them but Rei tries to convince them to stay.
---
2x92 Our Episode Solo (February 01, 2018)
---
The top four candidates for the Aikatsu! Ranking are announced. Yume and Mahiru from Four Star Academy, and Elza and Rei from Venus Arc.
---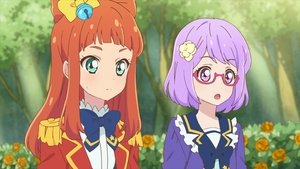 2x91 Hustle Idol Training (January 25, 2018)
---
Kirara suggests to Aria that she should enter an upcoming competition to raise her Aikatsu! Ranking, saying she needs to get serious if she wants to win.
---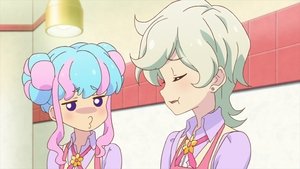 2x90 Venus Crisis! (January 18, 2018)
---
Elza announces that she will be closing Venus Arc after the Aikastsu! Ranking final Tournament, leaving all the idols in distress.
---
2x89 Diary of the Stars (January 11, 2018)
---
Elza, Rei and Kirara talk about the past year and how everyone has grown from their experiences. Yume and Aria hold a concert before everyone gathers at Venus Arc to watch the new year fireworks.
---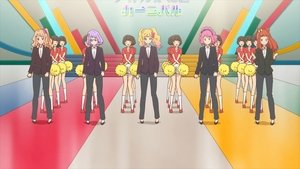 2x88 It's New Year All Members Gathered! (January 04, 2018)
---
S4 realize they have a lot of work to do now that its new year but Yuzu decides to take it on all by herself. After taking on a full day of live program shoots, Yuzu succumbs to the strain and collapses.
---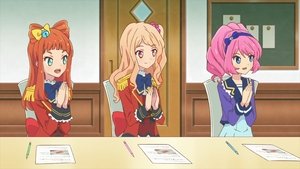 2x87 Thank You♪ Merry Christmas! (December 21, 2017)
---
S4 receive a request to produce this years Christmas festival. Yume and the others come up with ideas for the festival, which include erecting a giant Christmas tree in the town shopping district and performing a show for the shoppers.
---
2x86 Nothing but the Number of Tears (December 14, 2017)
---
In order to move up the Aikatsu! Ranking Rola decides to enter a competition worth a lot of points so that she will have a chance of making the top four.
---
2x85 Passing on the Radiance (December 07, 2017)
---
For the sake of moving up Aikatsu! Ranking, for all the upcoming stages, it will be extremely important to acquire the points from performances.
---
2x84 Dream Together (November 30, 2017)
---
In order to move up on the Aikatsu Ranking, Kirara has decided to enter the unit event that has extremely high points with Ako.
---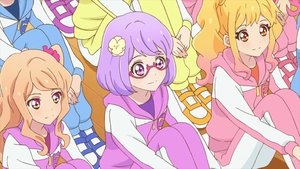 2x83 Lily and the Prince (November 23, 2017)
---
Finally, the school festival has arrived to Four Star Academy, This year, the main focus of Four Star's school festival will be the play starring the members of S4. The chosen play is "Romeo and Juliet", rewritten for the students of Four Star. Venus Ark students Rei Kizaki and Kirara Hanazono appear in order to enjoy their time. Lillie also finds a prince.
---
2x82 Aikatsu in Love♪ (November 16, 2017)
---
Yume is in good spirit to obtain the Sun Premium Dress. Appearing to be resuming her Aikatsu! activities immediately after resting, Yume pushes herself a bit too far and realizes that she no longer has an answer for what her favorite thing about Aikatsu! is. Among these events, she and Aria has been invited to co-star with Hime Shiratori on Hime's program.
---
2x81 Looking For a Great S (November 09, 2017)
---
The students of Yottsuboshi Academy begin the shooting for the television program that they are appearing in. Under a time limit, it was supposed to be a show where one has to find a name card starting with letter "S". An intense punishment game called "Coochy-Coo" awaits those who fail to do so.
---
2x80 Rei Kizaki's Vow! (November 02, 2017)
---
Rei makes a vow to obtain the last set of Star Wings, so that Elza's dream can come true. Putting her confidence and determination forward, she debuts her brand Royal Sword, gaining the final set of star wings, so that the Sun Dress can finally emerge; However, the Sun Dress appears randomly before one of the nine who have obtained star wings.
---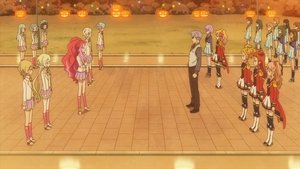 2x79 Halloween Surprise (October 26, 2017)
---
A Halloween night will be held at Four Star Academy, and the idols of Venus Ark will also participate, making it more hectic than usual. Yume and Koharu make a short plan in order to surprise everyone.
---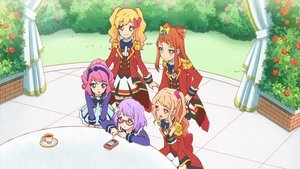 2x78 Welcome Perfect Mother! (October 19, 2017)
---
Elza meets her mother, Yukie Grace Forte. Elza has aspired to be like her since her childhood: she was beautiful, shined as brightly as the sun, the world's top idol.
---
2x77 Put In The Language of Flowers (October 12, 2017)
---
As the Venus Ark returns to Japan, Aria searches around the ship with Yume and Kirara for some surprising Aikatsu.
---
2x76 Fairy Idol Aria Futaba (October 05, 2017)
---
The girls learn that Hime is passing on her My Little Heart brand to Aria Futaba, an idol who is popular in Finland.
---
2x75 Kasumi Family Day Off (September 28, 2017)
---
Learning that her parents are finally getting some time off work, Mahiru returns home with Yozora and Asahi to spend some quality family time together.
---
2x74 Fluffy☆Friends (September 21, 2017)
---
Yume and Koharu are scheduled to appear on a children's animal show hosted by Ako, where Kirara also brings her pet sheep, Caroline.
---
2x73 The Rainbow Dress (September 14, 2017)
---
Noticing something off between Yume and Koharu, the other girls learn that they had gotten into an argument about Koharu's dress designs.
---
2x72 Our Number One Star (September 07, 2017)
---
Koharu wants to help Yume design some dresses for Berry Parfait, but can't find the confidence to ask her.
---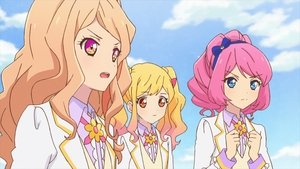 2x71 Farewell, Koharu-chan!? (August 31, 2017)
---
Elza tells Koharu that the Venus Ark will be leaving Japan for a tour. Meanwhile, Yume, Rola, and Mahiru, whose exchange programmes aboard the Venus Ark are scheduled to end as a result, assume that they will end up having to part ways with Koharu once again, becoming worried when they can't find her aboard the ship before it departs.
---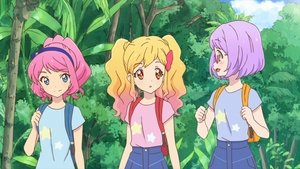 2x70 Jungle Activity! (August 24, 2017)
---
While kayaking in the sea, Yume, Rola, and Koharu get lost in a fog storm and end up on a remote island, where they come across Ichigo Hoshimiya.
---
2x69 Spread out, Aikatsu "WA"! (August 17, 2017)
---
While en route to preparations for the newest Aikatsu Island event, Yume, Rola, and Mahiru come across three idols from Starlight Academy; Akari Ozora, Sumire Hikami, and Hinaki Shinjō.
---
2x68 Venus Ark's Sca~ry Rumors (August 10, 2017)
---
Venus Ark prepares to hold its proficiency tests, with Kirara sharing a rumor of a forbidden room on the ship where those who fail their tests are locked away.
---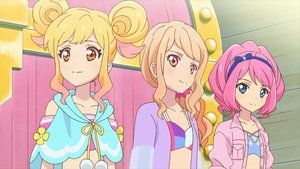 2x67 It's Summer! It's the Pool! Let's Treasure Hunt (August 03, 2017)
---
Yuzu decides to hold a treasure hunt at the pool for her Shiny Smile brand's Premium Rare Dress premiere.
---
2x66 Sending a Yell (July 27, 2017)
---
While preparing for her own performance, Yume comes across a young girl named Saya whose friends keep arguing over which idol is better.
---
2x65 Let's ride Venus Wave (July 20, 2017)
---
As Rola begins her duties as Spice Chord's muse and works on her own Premium Rare Dress, she and Yume are invited to be part of a Venus Wave event to increase their Aikatsu Ranking.
---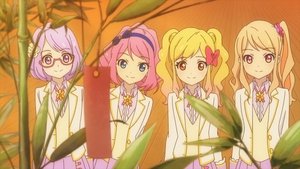 2x64 Wish Upon a Star (July 06, 2017)
---
With Tanabata approaching, Elza has Rei come out of retirement and resume model work as Shooting Star.
---
2x63 The Hot Wind Blown from The Tundra (June 29, 2017)
---
As S4 are each given surprise one-day jobs for their program, Lily decides to becomes a guide for a fan tour to Suzukaze Plateau in leau of resting at her summer retreat.
---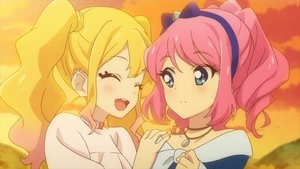 2x62 The One who Inherits the Stars (June 22, 2017)
---
Tsubasa announces her plans to study abroad before informing Rola that she will inherit Spice Chord on the condition that she pass a series of tests.
---
2x61 The Feelings of Love (June 15, 2017)
---
Ako is excited to be starring in a drama alongside Subaru, but struggles to keep her composure in front of him during a confession scene with him.
---
2x60 Stuck To! The World of Elza Forte (June 08, 2017)
---
Yume and the others decide to do a feature on Elza for S4's show, during which they are escorted by a first-year student named Alice Caroll. Just as the feature gets underway, Elza suddenly tells Alice that she is to be expelled at the end of the day due to her declining popularity.
---
2x59 You Can Shine As Well (June 01, 2017)
---
As Yume struggles to come up with a Premium Rare Dress for her brand due to her busy schedule, Koharu decides to hold a fishing contest for a change of pace.
---
2x58 Miracle Audition!! (May 25, 2017)
---
Koukadou holds another audition for a new campaign unit, which Yume, Lily, Elza, and Kirara all receive invitations to.
---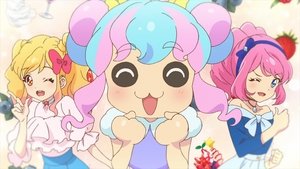 2x57 Sparkling☆Walking Weather (May 18, 2017)
---
Looking to relieve some boredom, Kirara decides to tag along with Yume and Rola as they do a report show on various spots around town.
---
2x56 Kyaa! Warning Ahead (May 11, 2017)
---
While doing modelling work, Mahiru hears about a mysterious model known as Shooting Star who vanished from the public eye one day.
---
2x55 All Aboard ☆ Venus Ark! (May 04, 2017)
---
Upon arriving at Venus Ark, Yume, Rola, and Mahiru are greeted by Koharu, who explains how she was scouted as a designer by Elza during her studies in Italy.
---
2x54 Kirara ☆ The Fluffy Idol (April 27, 2017)
---
Wanting to take back Fuwafuwa Dream from Kirara, Ako sneaks into their headquarters with Yume and competes with Kirara to design the brand's new Premium Rare Dress.
---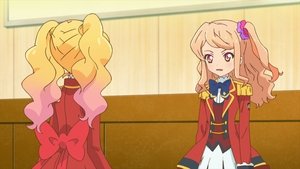 2x53 Open Sesame! Obtain the Star Wings! (April 20, 2017)
---
In trying to come up with a dress idea to rival Elza's Star Wings, Yume is told by her brand owner to think about what she herself would enjoy.
---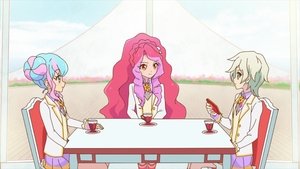 2x52 The Targeted Idol!? (April 13, 2017)
---
As the threat of Venus Ark looms over the school, Yume and Rola decide to put on a show for the first year students.
---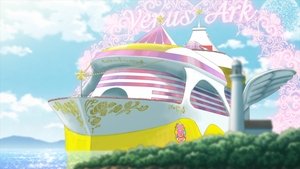 2x51 Perfect Idol Elsa (April 06, 2017)
---
A new school year begins with Yume now a fully-fledged S4 member alongside Ako, Mahiru, and Yuzu. As Yume launches her new brand, Berry Parfait, Ako is shocked to learn that the brand she was hoping to pair up with, Fuwafuwa Dream, has instead announced a contract with Kirara Hanazono, an idol from the ship-based idol school Venus Ark.
---