Zombie House Flipping
Season 4
Zombie House Flipping
Season 4
First Air Date: November 06, 2021

| | | |
| --- | --- | --- |
| First Aired on | : | 2021 |
| Episodes | : | 20 episodes |
Episodes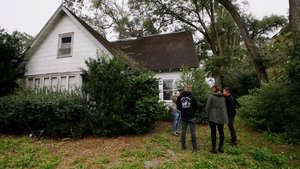 4x20 Raeford (August 27, 2022)
---
Former Zombie team member Duke calls the gang together to flip the most zombified house they've ever seen--a nightmare of rotten wood, collapsed roofing, and even a dead raccoon amongst the junk piles inside. Duke agrees to pay for the house and reno if they can finish it in 90 days. But if they can't, they'll owe $351k in outstanding liens. Can they finish in time, or will this risky flip ruin the Blueprint group?
---
4x19 Lake Mary (August 13, 2022)
---
The Zombie team ventures outside their usual territory to explore a one-of-a-kind property--a medieval-looking retreat on its own island in a lake. Full of strange relics and mysterious construction, this place is too intriguing to passup, and they set out to reimagine the property for modern times. But the unfamiliar building codes and the challenging location upend this project in a way the crew never could have imagined.
---
4x18 San Juan (July 30, 2022)
---
The crew decides that a huge house made of sloppy framework and unstable floors is too crazy even for them. But when a pair of rival flippers nabs the place and asks for the Zombie team's help renovating it, they strike a deal to work together, facing issues like rats in drainpipes and rundown skylights. But their new partners have conflicting views on construction and design that could put this project in jeopardy.
---
4x17 Brown (July 23, 2022)
---
Keith partners up with architectural consultant Alynne on a side project, looking to renovate a home in an Historic Preservation District. But the job gets complicated when they have to follow restrictions set by the Preservation Board, track down unique historic windows, and even correct a dangerous setup of the water heater mounted precariously above the toilet.
---
4x16 Emerywood (July 16, 2022)
---
When the Zombie team's architectural consultant Alynne tells Keith she'd like to become more involved in the business, he agrees to take on a side project they can renovate together. The house they find is an outdated disaster of old rock construction, code-violation windows, and horrible finishes. There's plenty to redesign here, but can these new partners see eye-to-eye on how to fix it?
---
4x15 Bradley (May 14, 2022)
---
A probate house finally becomes available to the Zombie team, and their initial walkthrough reveals the makings of a sweet party pad--including a patio with a bar, and a backyard with a pool, sundeck, and another bar. They plot a quick one-month flip, but their plans for an entertainer's dream layout hit a snag when they tear down a wall that proves to be structural, derailing their open-plan design.
---
4x14 Amherst (May 07, 2022)
---
A large corner lot is home to a DIY nightmare--an ugly house that the previous owners left full of half-baked, shoddy renovations. From a master bath that opens into the hallway, to a bedroom as red as the gates of Hell, this property needs a complete redo. The Zombie team takes on the challenge, but with interest rates set to go up, it's a race to finish before housing prices take a tumble.
---
4x13 Minnesota (April 30, 2022)
---
The team finds a sweet price on a time-capsule house--an old home filled with years of clutter. But it has a surprise bonus: the old "workshop" in the back has been converted into a separate dwelling. They snatch up this two-for-one deal to convert it into an owner-renter property, but when the city splits the dwelling into separate addresses, it creates a nightmare backup of permit and inspection delays.
---
4x12 Hourglass (April 23, 2022)
---
The Zombie flippers uncover a "flag lot" property--a house tucked behind another with a narrow access. There's a property line dispute with the neighbor, but the lakefront location and low price are too tantalizing to pass up. The team sets out to resurrect this ragged two-story, battling flimsy construction and sinking floors, only to learn that the property dispute might rob them of lake access completely.
---
4x11 Bumby (April 02, 2022)
---
A small house carries big potential for the team because of its location--situated on a beautiful lake. They snatch up the 3-bed, 1-bath property before having a reno plan, convinced there's money to be made. But deciding how to change the layout and add a bathroom becomes a struggle, as does cleaning up buried garbage on the shoreline, and keeping the neighbor's pet peacocks at bay.
---
4x10 Florene (March 26, 2022)
---
---
4x09 Fern Creek (March 19, 2022)
---
---
4x08 Orangewood (February 12, 2022)
---
The team leaves their comfort zone with a six-bed-six-bath new construction that was abandoned after framing. It's not a typical zombie, but this flip could earn them several hundred grand! In order to hedge their massive investment, they get a soft commitment from an eager buyer. But his meticulous demands might bleed the team's funds, or even leave them hanging if he gets fed up and bails on the deal.
---
4x07 Ceylon (December 25, 2021)
---
---
4x06 Killian (December 18, 2021)
---
---
4x05 Pepperidge (December 11, 2021)
---
---
4x04 Catalpa (December 04, 2021)
---
---
4x03 Oaks (November 20, 2021)
---
The zombie team takes on a promising flip in a small community, but local permit procedures and HOA regulations soon shut down their work. The group must tackle a mountain of red tape while working around multiple restrictions, trying to finish before their growing schedule leaves them paying thousands more in loan interest.
---
4x02 Pecos (November 13, 2021)
---
A corner lot, a large pool, and tropical landscaping--this zombie has it all, including a thousand things wrong with it that make it an affordable purchase. Can the zombie flippers overcome the bad layout, problematic labor shortages, and even some difficult neighbors to turn this dilapidated mashup of a house back into a tropical paradise
---
4x01 Spruce (November 06, 2021)
---
When the zombie team spots a small, rundown bungalow in a highly sought-after neighborhood, they have visions of a steal of a deal that could earn a big paycheck. But when hidden problems like wood rot and termite infestation start demolishing their budget, it's a battle to finish this zombie before it eats up all their profits
---