Ground Control to Psychoelectric Girl
Season 1
Ground Control to Psychoelectric Girl
Season 1
First Air Date: April 15, 2011

| | | |
| --- | --- | --- |
| First Aired on | : | 2011 |
| Episodes | : | 12 episodes |
Episodes
1x12 0.00000000198 Centimeters Per Second (July 01, 2011)
---
On the day of the baseball match, Maekawa's father runs away due to pressure, leaving the shopping district team short on pitchers. With Meme declaring herself coach, she sends Makoto to search for Maekawa's father while Erio pitches. After returning with Maekawa's father, Makoto is made the pinch hitter. As he makes a powerful hit, a strong wind kicks up, turning it into a home run. As a reward, Meme kisses Makoto on the cheek in front of everyone.
---
1x11 This Summer is about Basketball and Espers and Futons and Astronomical Observations and Festivals and Baseball and Meme and... (July 01, 2011)
---
Maekawa invites Makoto over to her house for lunch, where he spots Yashiro lurking in her garden. The next, Ryuko invites Makoto to watch her basketball match where she meets her friend, Miki, and also runs into Yashiro again. As Ryuko struggles in her match, Yashiro encourages Makoto to cheer for her, giving her the confidence to score some points.
---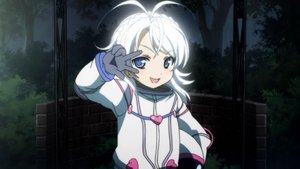 1x10 Overhanging Deck Girl (June 17, 2011)
---
Makoto and Erio continued to be bothered by the spacegirl, who later introduces herself as Yashiro Hoshimiya. Later that night, Ryuko calls Makoto about her upcoming basketball game, asking him to accompany her to the festival if she is able to play in it. The next day, Meme has Makoto take Yashiro back to her place, stopping by a pool along the way.
---
1x09 Region Limited Alien Incident (June 10, 2011)
---
Maekawa invites Makoto to join in a game of baseball with various other people. Later that night, Makoto goes stargazing with Erio. She joins in the match the next day, where they meet a strange person dressed as an astronaut claiming to be an esper.
---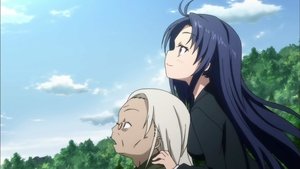 1x08 Tsiolkovsky's Prayer (June 03, 2011)
---
The episode focuses on Meme during the events of the previous weeks. On June 12th, she gets a bottle rocket tested out by the bottle rocketeer, who suddenly asks her to marry him. While avoiding him for a week, Meme recalls 28 years ago when she first met Elliot, the boy who would become Erio's father. Meme later visits the rocketeer to refuse his proposal, later learning he had mistaken Maekawa for Erio while trying to woo Meme with his rockets. Meme then convinces her granny to accompany her for the launching of the bottle rockets at the beach, pitching the whole thing as an attack on aliens, like Elliot told her when they were kids.
---
1x07 A Day Someone Will Remember (May 27, 2011)
---
Maekawa is confused by an anonymous person leaving soft drinks outside of the sweets store she works at, suspecting someone who launches bottle rockets nearby. She later meets with the culprit, who claims to be a fan of hers and commissions her to make more bottle rockets. She accepts the job, asking Makoto, Erio and Ryūko to help out. After they each make some rice bowls for dinner, Erio invites Maekawa and Ryuko to stay for the night, where Ryuko mentions to Makoto about it being her birthday the next day and how she'd take his side if it came down to people picking on Erio. The next day, they go to the beach where they join the bottle rocketeer in launching their bottle rockets.
---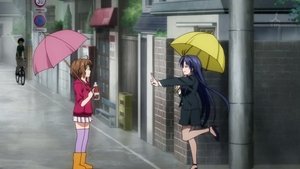 1x06 Ryū'ko'-san's feeling... kinda... glum... (May 20, 2011)
---
Ryūko goes with her friend to the Tamura shop, where she encounters Erio and also spots Makoto. The next day, she decides to visit the place, running into Meme along the way. Afterward, Ryūko talks to Makoto about the bad reputation Erio has at school, mentioning it may cause him troubles if he is seen hanging out with her. Later, Makoto asks the old lady for some advice on the matter. A few days later, Ryūko and Maekawo visit the Tōwa household, where Makoto has trouble keeping Erio under control. As Meme returns and the suggests the girls stay for dinner, she openly hints that Ryūko might be a match for Makoto.
---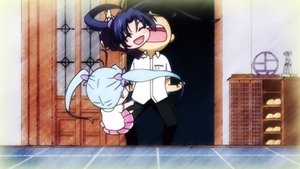 1x05 The Melancholy of Thanksgiving (May 13, 2011)
---
As Meme reaches her 40th birthday, she decides to hold a sort-of-birthday the next day for Erio, who had missed her birthday during her disappearance. After Makoto gets Erio a present as per Maekawa's recommendation, Erio reveals she wants to get a job and try to return to society. Her reputation as a weirdo leads to her fail an interview, however, Meme manages to find her a job at the Tamura shop, run by her grandmother who believes in aliens.
---
1x04 One Month to Mend a Broken Right Arm (May 06, 2011)
---
Following his recent bike trip, Makoto is hospitalized with a broken arm. While in hospital, he is visited by Ryūko and Maekawa who are surprised to hear that he's living with Erio. After two weeks, Makoto is discharged from hospital and returns home, where he finally sees Erio again, who gives her thanks for bringing her back to reality.
---
1x03 A Strange Moment for the Girl Bound to the Ground (April 29, 2011)
---
Makoto goes on a day out with Ryūko, who explains her stance on mysteries. Makoto relays what Meme had told him to Erio, though she seems reluctant to respond. Later, Meme tells Makoto not to get involved with Erio. Though he still wants to help her, Makoto decides to dispel her belief in aliens as the first step. He attempts this by taking her on her old bike and riding off a hill to disprove her ability to fly. The hill turns out to be a bit too steep, and they both go flying into the sea. Erio starts to come to terms with her being a simple Earthling and manages to introduce herself properly to Makoto.
---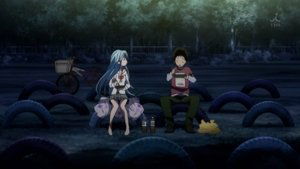 1x02 Reverie of My Disappearing Adolescence (April 22, 2011)
---
Makoto spends the night eating convenience store dinners with Erio. The next day, Makoto rides home from school with his strange classmate, Ryūko Mifune. The following day, he gets acquainted with another classmate, Maekawa, who gets dizzy if she holds her arms above her head for more than 10 seconds. Later that night, Makoto goes with Erio to the beach, where she randomly walks into the sea, claiming she can fly. On their way back, they run into Maekawa, who reveals that Erio was a former student in their school who disappeared for half a year. Meme later reveals that Erio has no memories of the half a year she was gone and had started to believe in aliens. She also mentions Erio broke her leg while trying to fly on her bike, which caused her to start wrapping in her futon.
---
1x01 City of Aliens (April 15, 2011)
---
High school boy Makoto Niwa transfers to a new city, where he is introduced to his aunt, Meme Tōwa. Dreaming of living in a student home by himself, Makoto discovers the house is also inhabited by a girl wrapped up in a futon mattress, who is introduced as Meme's daughter and Makoto's cousin, Erio. After enrolling into his new school, Makoto tries to get to know Erio, who mostly speaks in confusing scientific jargon. While taking her to a supermarket, Makoto is able to undo the mattress, revealing Erio as a beautiful blue haired girl, who claims to be an investigator descended from aliens, and claiming that the Earth is being targeted.
---