M.I. High
Season 3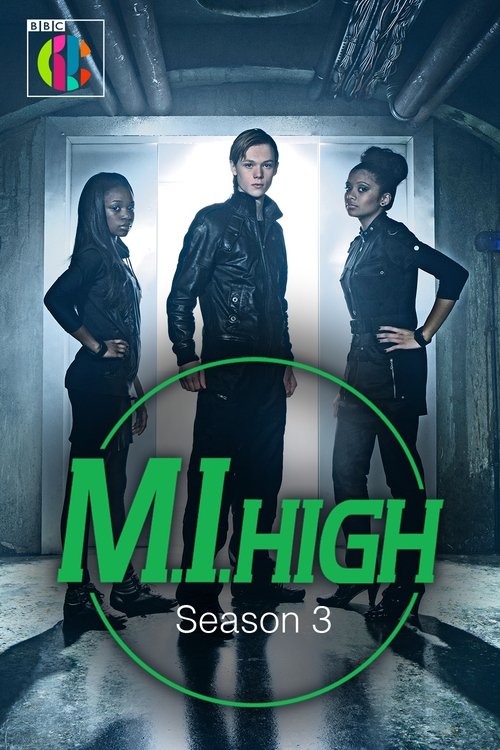 M.I. High
Season 3
First Air Date: January 05, 2009

| | | |
| --- | --- | --- |
| First Aired on | : | 2009 |
| Episodes | : | 13 episodes |
Episodes
3x13 Moontaker (March 30, 2009)
---
A SKUL space probe has landed on the moon. MI9 suspects SKUL are using it to spy on the world. The spies must find out exactly what SKUL are up to and put a stop to it. Oscar goes to talk to astronomer extraordinaire Patrick Houston to see if he knows anything about SKUL's lunar programme.
---
3x12 Operation Flopsy (March 23, 2009)
---
The spies put Flopsy up for ransom in exchange for Oscar's Mum. Surely, the Grand Master won't be able to resist and Oscar will finally be reunited with his mum?
---
3x11 The Visit (March 16, 2009)
---
Carrie is set her most difficult mission yet. She has to exploit her friendship with fellow gymnast Lena Larsson to find out about the cruel regime in Boldovia. Lena is from Boldovia and is coming to St Hope's with her team to compete in an international gymnastics competition
---
3x10 The Glove (March 09, 2009)
---
The country's power is disappearing at a rapid rate. The best brains in the UK convene to decide a plan of action. Britain's only hope is Raymond Stilt, inventor extraordinaire, and his genius invention: The Glove.
---
3x09 Family Trees (March 02, 2009)
---
Katrina Houseman has arrived at MI High. She has been working on a top secret project: N80, a real life Neanderthal! She needs the spies' help. N80 has been broken out of his cage. Katrina thinks that the Uzhmanis stole him. They plan to take N80 and clone him to create an army of fighting Neanderthals. The possibility doesn't bear thinking about.
---
3x08 Think Tank (February 23, 2009)
---
Rose has been selected for the National Academy of Brilliance! This is an opportunity like no other and naturally she's devastated. It means she has to leave MI High for good! Frank issues Oscar and Carrie with a mission. Dr Vince is a genius inventor. His inventions surpass any that MI9 have and this poses a threat to national security.
---
3x07 The New Grand Master (February 16, 2009)
---
MI9 get a chance to catch the Grand Master, but the team's new gadgets are intercepted. But a dangerous gadget gets in to the hands of Scoop Doggy making him turn in to the New Grand Master.
---
3x06 Fit to Wurst (February 09, 2009)
---
The children at St.Hopes are getting fatter and fatter. They are adicted to Wursts. the team must stop the addiction and find out who is behind it all. Jed Black from M.I.9 exercies the kids so they get thin again.
---
3x05 Dark Star (February 02, 2009)
---
An old enemy of Frank's breaks out of jail and with his gang comes to steal Frank's invention, the Dark Star, a device capable of instantly bringing total darkness to a large area.
---
3x04 Mind Machine (January 26, 2009)
---
When students at St. Hope's start turning into Japanese fighting fish, the team suspect that someone is remotely using a mind transfer machine invented by Dr. Wallis, whom they happen to be guarding.
---
3x03 Agent X (January 19, 2009)
---
When Oscar's identity as a spy is revealed on the Internet, Rose and Carrie suspect that he is hiding something. But it may not matter, as the Grand Master has sent the infamous Agent X after him.
---
3x02 The Mole (January 12, 2009)
---
A mysterious thief is tunneling into banks all over England. How can the spies figure out where he will strike next, when the prime suspect is in an MI-9 prison?
---
3x01 Art Attacks (January 05, 2009)
---
A different boss, Frank London, takes over the helm of the MI-9 team. At first, Rose is mistrustful of the two new spies, Oscar Cole and Carrie Stewart. The new team's first case is the defacing of the world's greatest monuments -- The Eiffel Tower, The Taj Mahal and The Great Wall of China -- with graffiti just before the signing of an important world treaty.
---