The Job
Season 2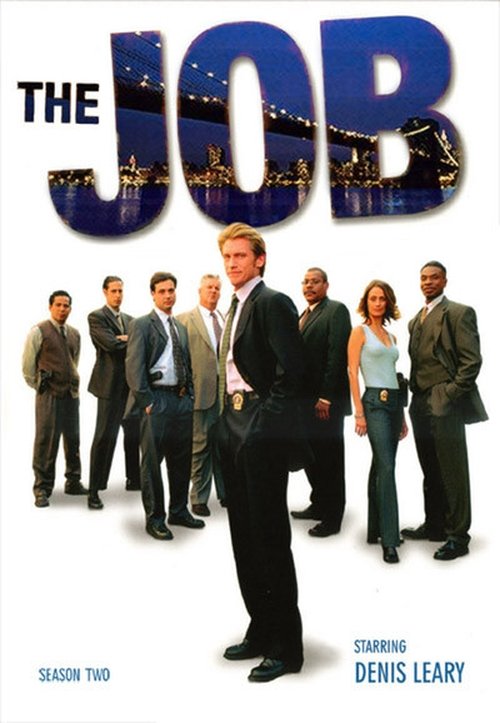 The Job
Season 2
First Air Date: January 16, 2002

| | | |
| --- | --- | --- |
| First Aired on | : | 2002 |
| Episodes | : | 13 episodes |
Episodes
2x13 Dad (April 24, 2002)
---
Frank thinks he has a stalker, and so he does, but the guy turns out to be his long-lost son. Meanwhile, Pip's squad car is stolen, and McNeil leaks Jan's secret to the other detectives.
---
2x12 Vacation (April 17, 2002)
---
After getting into trouble for posing as a firefighter in an unorthodox drug bust, McNeil is forced to take a vacation to Miami. However, he can't relax when he suspects one of his most wanted fugitives is staying at his hotel.
---
2x11 Gay (April 17, 2002)
---
McNeil suspects that Frank is gay and soon the whole precinct is trying to get Frank — and each other — "out of the closet." Meanwhile, Jan and Pip's shopping trip to an electronics store turns into an unexpected bust.
---
2x10 Neighbor (April 10, 2002)
---
When McNeil suspects that Karen's male friend, Ron, is trying to put the moves on his wife, he assigns Ruben and Al to do some surveillance. Meanwhile, Tommy and Frank search for Robert De Niro's missing dog in hopes of finally meeting their longtime idol.
---
2x09 Betrayal (March 20, 2002)
---
McNeil's mistress, Toni, announces that she is going to tell his wife about his ongoing infidelity. Meanwhile the department rallies around Frank, who is hospitalized with chest pains, and Eli Wallach guest stars as an elderly man who may have killed his own wife.
---
2x08 Barbecue (March 13, 2002)
---
Pip and Adinah celebrate their 25th anniversary with a no-smoking, no-drinking barbecue attended by church friends, the squad, McNeil and his wife — and McNeil's mistress. Soon there's an impromptu bar in the backyard and a brawl involving Tommy's belligerent girlfriend.
---
2x07 Parents (March 06, 2002)
---
McNeil's mistress, Toni, blackmails him into meeting her parents over dinner. Meanwhile, Jan dates a cop with a secret and Tommy courts a rage-aholic.
---
2x06 Quitter (February 27, 2002)
---
McNeil promises his wife that he'll quit drinking, just to prove he really doesn't have a problem. But he has trouble finding a substitute vice until he discovers the joys of abusing cold medicine. Meanwhile, the squad has second thoughts about busting a marijuana group's pot party when they meet the users.
---
2x05 Boss (February 13, 2002)
---
McNeil suspects Toni is cheating on him with her boss. Meanwhile, Frank heads to the track with Tommy to place bets using police department money, and Jan and Ruben both vie for a gorgeous apartment left vacant by a murder.
---
2x04 Gina (February 06, 2002)
---
When Ruben moonlights as a security guard for actress Gina Gershon, McNeil scams his way into taking over his assignment — with disastrous and hilarious results. Frank and the rest of the precinct also sign on to the personal security business with clients, including actor Scott Wolf. Meanwhile, Adinah suspects Pip is cheating on her, and Jan discovers Al has a surprising sideline.
---
2x03 Telescope (January 30, 2002)
---
Tommy purloins a telescope from a crime scene, prompting hours of fun for the guys in the precinct, especially when they spy a topless, beautiful yoga practitioner nearby. Jan tries "speed dating" and meets a good prospect, Brad. Meanwhile, Frank repeatedly tries to return a dead body to its rightful precinct.
---
2x02 Soup (January 23, 2002)
---
When McNeil, Pip and Jan are assigned to find a missing ballerina, they discover that the mystery of her whereabouts may be linked to Frank's favorite new soup. Meanwhile, Ruben is touched by a self-proclaimed mystical Indian chief who's disrupting Central Park.
---
2x01 Sacrilege (January 16, 2002)
---
McNeil and Pip are assigned to take the District Attorney's twelve-year-old daughter on a ride-along for her school paper. McNeil is less than thrilled about their assignment, especially when they lose her in the city. Meanwhile, Frank disguises himself as a priest to draw a confession out of a parishioner, and an unconventional "nun" strips down to more than her habit at the precinct.
---