The Supervet: Noel Fitzpatrick
Season 16
The Supervet: Noel Fitzpatrick
Season 16
First Air Date: May 27, 2021

| | | |
| --- | --- | --- |
| First Aired on | : | 2021 |
| Episodes | : | 6 episodes |
Episodes
16x06 Episode 6 (July 01, 2021)
---
Noel encounters a goldendoodle who sustained nerve damage to one of his front legs and a smashed wrist on the other side in a 20-metre fall. After the initial trauma, Angus was in significant pain and faced possible euthanasia. Distraught owner Zoe brings him to Fitzpatrick's in the hope that Noel can give her other alternatives. Also receiving attention is irrepressible springer spaniel Rocky, whose failed elbow operation has left him struggling to walk. His owners seek whatever options there may be for relieving the nine-year-old's pain and returning him to a full life.
---
16x05 Episode 5 (June 24, 2021)
---
Noel treats chocolate Labrador Inca, who has a history of developmental elbow disease and osteoarthritis that has led to her elbow joints becoming worn out. Two-year-old Cavapoo Nala, who has hip dysplasia, and Great Dane Charles, who is unsteady on his feet due to a squashed spinal cord, are also on the patients list. Charles' owner Steve knows only too well that spinal surgery is a hugely serious undertaking, as he himself had multiple surgeries following a bike accident a decade earlier.
---
16x04 Episode 4 (June 17, 2021)
---
A 10-year-old Dobermann is treated for an aggressive bone tumour in its leg. One option is a full limb amputation, but another could potentially save Rolo's leg by cutting out the affected part of the bone and replacing it with a unique implant of Noel's own invention - a scapula-humeral endoprosthesis. Five-year-old labrador Jeff is suffering from developmental elbow disease, which cannot be managed by medication alone. The day of his planned surgery for a full elbow replacement arrives, though bad news places the prospect of such treatment in jeopardy.
---
16x03 Episode 3 (June 10, 2021)
---
Feisty feline Driver has already survived trauma during his seven years of life, when he lost an eye as the result of an accident. His indomitable spirit is about to be severely tested again, as he's rushed into Fitzpatrick's as an emergency, suffering from a hip injury and serious trauma having been hit by a car. Seven-year-old Dobermann Dexter has serious spinal problems, collapsing on his back legs and tumbling on his front legs. His owners meet Noel to discuss options for his treatment.
---
16x02 Episode 2 (June 03, 2021)
---
Noel treats nine-month-old cockapoo Betsy, whose owners Sophie and Dan are concerned about a dragging front paw caused by nerve damage, to see if there are surgical options. But when Betsy develops gangrene, she has to have her paw amputated, and in order to salvage the rest of her limb, Noel must replace her amputated foot with a skeletally-anchored implant called a PerFiTS (Percutaneous Fixation to the Skeleton).
---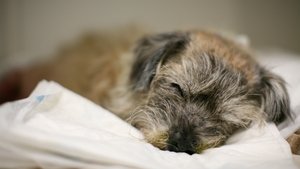 16x01 Episode 1 - Saving My Dog (May 27, 2021)
---
Documentary featuring one of the most emotional and heart-rending stories ever filmed - that of Noel Fitzpatrick's own dog, Keira. In September 2020, Noel's life was turned upside down when the 13-year-old border terrier was hit by a van right outside the practice. Having sustained a ruptured abdominal lining and urinary bladder, a crushed sacrum and pelvis and a dislocated hip, Noel's colleagues worked tirelessly to repair extensive internal damage. Suddenly, the surgeon renowned for finding solutions for even the most challenging injuries, had to steel himself for the most important surgery of his life.
---