Mobile Suit Gundam Thunderbolt
Season 1
Mobile Suit Gundam Thunderbolt
Season 1
First Air Date: December 25, 2015

| | | |
| --- | --- | --- |
| First Aired on | : | 2015 |
| Episodes | : | 4 episodes |
Episodes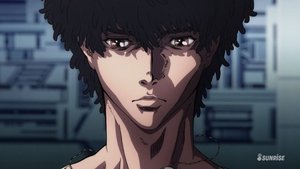 1x04 Chapter 4 (April 22, 2016)
---
With both sides suffering massive casualties, the Full Armor Gundam engages in a final showdown with the Psycho Zaku. Meanwhile, the surviving members of the Moore Brotherhood board the Dried Fish to take it over, but the remaining members of the Living Dead Division refuse to be taken prisoner and plan to self-destruct the vessel along with everyone on board. The Federation survivors manage to neutralize the Zeon crew and seize the Dried Fish, while Io and Daryl's battle results in heavy damage to both of their mobile suits. A Zeon reinforcement fleet then arrives and captures Io and the Federation survivors while rescuing any remaining Living Dead members.
---
1x03 Chapter 3 (March 18, 2016)
---
The Moore Brotherhood receives reinforcements from the Earth Federation, but the new mobile suit pilots are young teenagers, much to Io's chagrin. Feeling the pressure of the war, Claudia resorts to drugs before Io snaps her out of an overdose. Io leads the young cadets to break through the Living Dead Division's final defenses, but the battle becomes a massacre due to the young pilots' inexperience.
---
1x02 Chapter 2 (February 12, 2016)
---
During the Full Armor Gundam's second sortie in the Thunderbolt Sector, Io once again confronts Daryl. Daryl narrowly escapes after throwing a Cracker grenade at the Gundam, but he loses his left hand in the process. As the Living Dead Division is desperate to hasten the Reuse P. Device project to combat the Gundam, Daryl has his right hand amputated so that his body will have full control of the experimental Psycho Zaku.
---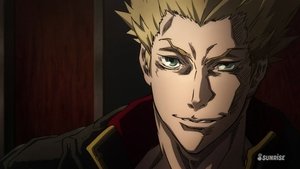 1x01 Chapter 1 (December 25, 2015)
---
The Universal Century began with mankind moving its burgeoning population into outer space. In U.C. 0079, the colonies furthest from the Earth, Side 3, proclaim themselves the Principality of Zeon and declared independence from the Earth Federation government. War was waged. Now, nearly a year has passed since that war broke out. In a debris cluster known as the Thunderbolt sector, the remains of many space colonies and battleships destroyed by the war circle. Here, a violent struggle has played by the Zeon Forces that seized control of the sector and the Federation Forces whose mission is to regain it…
---