Vai Que Cola
Season 2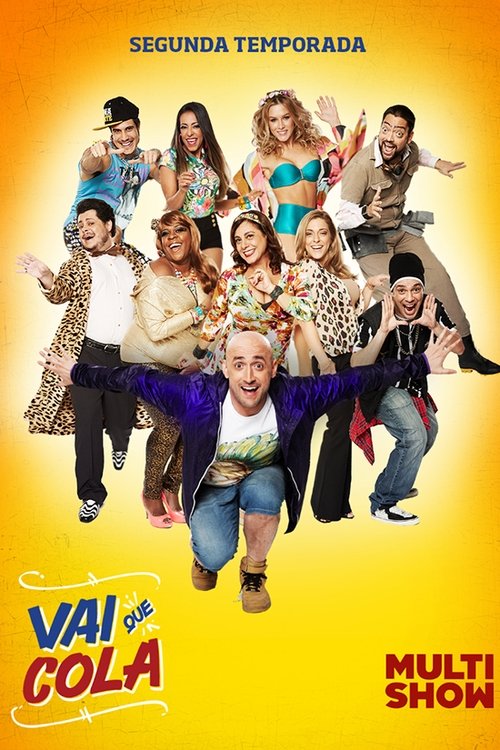 Vai Que Cola
Season 2
First Air Date: August 31, 2014

| | | |
| --- | --- | --- |
| First Aired on | : | 2014 |
| Episodes | : | 40 episodes |
Episodes
2x40 Muscled Leg (October 24, 2014)
---
A friend from Leblon's time, Demian Maia arrives in Meier to be a judge in a competition. Valdo has plans to go to Las Vegas with the MMA fighter. But Maicol disrupts everything.
---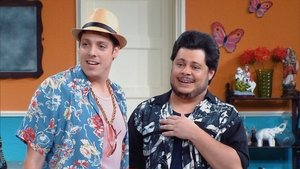 2x39 Hey Niggaz (October 23, 2014)
---
Toninho Tubarão wants to know who said he dressed up as a woman. He threatens to kill everyone and suspicion falls on Terezinha and she decides to disguise herself as a rapper.
---
2x38 Who Touched My Pudding (October 22, 2014)
---
Everyone gets excited when Dona Jô decides to make the pudding. But, the pudding disappears from the refrigerator and Mr. Wilson is responsible for the investigation.
---
2x37 Past Life Therapy (October 21, 2014)
---
Valdo plots another coup with the help of Eloisa invites the magician Roni. He pretends to be a Pai de Santo to deceive the residents of the inn. Velna ends up unraveling the scam.
---
2x36 Nêga Maluca (October 20, 2014)
---
Ivonete appears at the inn saying that she is the real widow of Tiziu and asks for part of the inheritance. Terezinha decides to make her rival disappear with Velna's help.
---
2x35 The favorite (October 17, 2014)
---
The hill is at war, but Terezinha needs to pick up the costume of godmother of drums from Unidos do Cerol. She tries to convince Velna to take up the costume and ends up losing her post.
---
2x34 Take That The Son Is Yours (October 16, 2014)
---
Valdisney arrives at the inn saying he is Valdo's son. Meanwhile, Ferdinando has a psychological pregnancy and Terezinha feels obliged to adopt after a dream about Tiziu.
---
2x33 Divorce (October 15, 2014)
---
Jessica breaks up with Maicol for being together for five days. Angered, he threatens to take as many women as possible. Jessica accepts the challenge and they make a bet.
---
2x32 The clueless (October 14, 2014)
---
Velna overindulges in the drink and is left with a millionaire he doesn't remember. A clueless guy shows up at the inn and tries to convince Velna that he's her prince charming.
---
2x31 The W archive (October 13, 2014)
---
Your Wilson tries to contact extraterrestrials. Tomorrow, he appears without remembering anything. Jessica soon concludes that he was abducted and paranormal phenomena scare the inn.
---
2x30 Optimized inn (October 10, 2014)
---
Lindolfo Tigra promises worlds and funds to the pensioners. He takes an interest in Velna and invites her to make a commercial. But, he's a big lier and wants to make it right on top.
---
2x29 Canta Forte Canta Alto (October 09, 2014)
---
Maicol decides to launch Jaqueline in her musical career. On the opening day, Jaqueline goes hoarse and a resident of the inn introduces herself in her place.
---
2x28 Rainbow Inn (October 08, 2014)
---
Bicha Bichérrima arrives at the pension after taking Ferdinando's place as the star of Quinta Gay. The two unite and have the idea of transforming the inn into an anti-prejudice HQ.
---
2x27 Dotadão of Meier (October 07, 2014)
---
A video of a man well served by nature causes an uproar in Meier. At the pension, because of the strange look and unexpected manners, suspicion falls on Wilson.
---
2x26 Méier Music (October 06, 2014)
---
Dona Jô's pension competes to be the setting for MC Guimê's video. But the singer is disappointed to note that the place has nothing to do with the photos posted on Jessica's blog.
---
2x25 "Sistas" (October 03, 2014)
---
Sanderson takes off modeling work for Velna and Jessica tries to help out with her friend's hair. Valesca Popozuda plays Dr. Valeiévisi, a specialist in the Theory of Shoulder Resistance.
---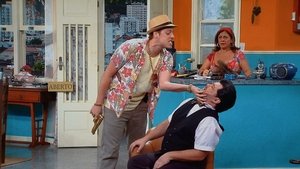 2x24 "Tubaroa" (October 02, 2014)
---
Ferdinando receives mail from Toninho Tubarão, Meier's dangerous moneylender. The pensioners despair and try to help Ferdinando pay off the debt.
---
2x23 When the animal catches (October 01, 2014)
---
Terezinha is invited to be the lady of Morro do Cerol again. However, she doesn't suspect that Raposo has his eye on her inheritance, which would be buried in the pension.
---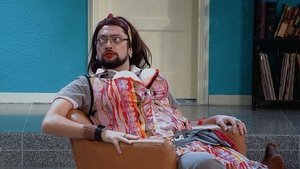 2x22 Blackout (September 30, 2014)
---
About to take the coup from the chest, Velna makes a date with a millionaire. A blackout ends everyone's joy. But Velna's tycoon can solve that problem.
---
2x21 Beggars (September 29, 2014)
---
Guests are impressed when Eloisa tells how a beggar paid the taxi fare. They think that becoming a beggar can be the solution to their financial problems.
---
2x20 Gossip (September 26, 2014)
---
Pathy dos Reis is a gossip blogger and appears at the pension behind Valdo. Eager to discover the residents' secrets and release her verb on the hammock, she causes discomfort in the house.
---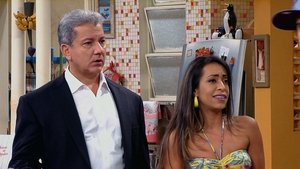 2x19 It's Time! (September 25, 2014)
---
Lacraia reappears at the pension, but he is now a graffiti artist and wanted by the police. Bruce Buffer arrives at the inn looking for the fighters Valdo said he was going to get.
---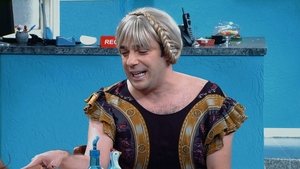 2x18 It seems but it is not (September 24, 2014)
---
Terezinha and Velna spread the rumor that Sanderson is gay and was seen with Miltinho. But it's not Miltinho that Sanderson is going out with.
---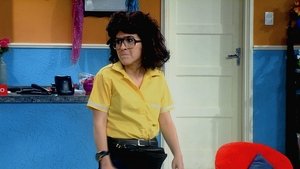 2x17 Wooden (September 23, 2014)
---
Valdo sets up a plan to earn money from a businessman who is going to lunch at the pension. He gets everyone's help, he just doesn't imagine that the tycoon doesn't have any more money.
---
2x16 Astral hell (September 22, 2014)
---
A birthday party is organized to celebrate Terezinha's birthday. But Sanderson prepares the big surprise and invites Thiaguinho to do a show.
---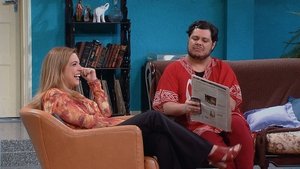 2x15 Lgbtxyz (September 19, 2014)
---
After a year of searching, Jaqueline arrives at the pension looking for Valdo, who is traveling. Ferdinando discovers that Jaqueline has changed teams and after revelations, Wilson declares himself a lesbian.
---
2x14 Bad habits (September 18, 2014)
---
Dona Jô waits for a special visit and asks everyone to behave. As it could not be different, the guests do not obey and get ready with the arrival of Father Eusébio.
---
2x13 Call the manager (September 17, 2014)
---
Tired of working so much, Dona Jô opens a vacancy for the manager of the pension. All residents decide to apply and the dispute becomes chaos.
---
2x12 Ugly woman (September 16, 2014)
---
Marli, the neighbor muambeira, appears at the pension with a lot of paraphernalia. Ferdinando baptizes his new guest as the cat with the seven veils, but she is a bitch.
---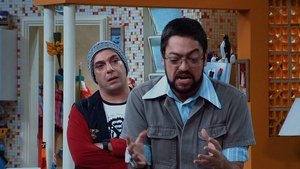 2x11 Are traveling (September 15, 2014)
---
Valdo wants to travel, but Dona Jô remembers that he is not allowed to leave Meier. Sanderson embarks on Valdo's trip and says he wants to return to São Paulo.
---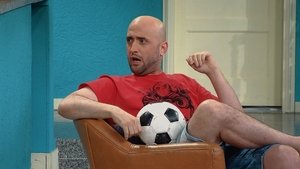 2x10 Ball on the foot (September 12, 2014)
---
Maicol is frustrated for not having fulfilled his dream of being a soccer player. Valdomiro has the idea of introducing Máicol to coach Joel Santana, who becomes his manager.
---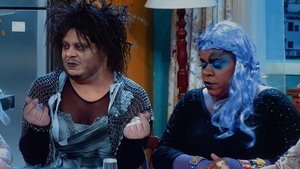 2x09 Halloween (September 11, 2014)
---
Sanderson sets up a coup as everyone goes to the Halloween party. Wilson arrives in costume and notices the setup. After a cup game, strange things happen in the pension.
---
2x08 Powerful (September 10, 2014)
---
Valdo decides to manage a show at the Imperator, the most famous house in Méier and invites Máicol to be the singer Anita's bodyguard. Eloísa taxi driver will take the singer. Jessica doesn't like this at all and goes out of her way to find out who Maicol is working for.
---
2x07 Bubullying (September 09, 2014)
---
The motorcycle courier Sanderson stutters when he is screwed by Dona Jô. With a hip hop contest close at hand, everyone tries to get him to talk like he used to.
---
2x06 Nonsense in the Pension (September 08, 2014)
---
Tired of debts and guests, Dona Jô ends the perks and thinks about selling the pension. She gets an interested lady, but she doesn't realize how absurd the visit can be.
---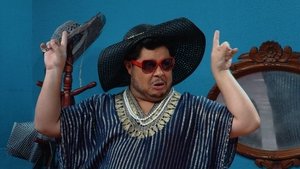 2x05 Water park (September 05, 2014)
---
To cool off the infernal heat, Wilson buys a plastic swimming pool. But beyond that, the spree leaves Dona Jô's pension without water.
---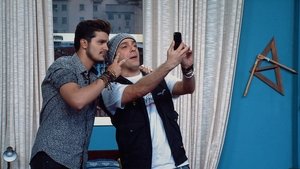 2x04 Marry me (September 04, 2014)
---
Ferdinalva, Ferdinando's cousin, shows up at the pension, gets them all ready, and still takes Luan Santana! Wilson takes advantage of the romantic atmosphere of the singer's presence and declares himself to be Dona Jô.
---
2x03 Magic Boy (September 03, 2014)
---
With no money to travel, Jessica enters Máicol in the Boy Magia do Méier contest. Terezinha registers Sanderson. After a surprise, they refuse to participate in the contest.
---
2x02 Fast and furious (September 02, 2014)
---
With problems in the delivery of the warm ones, Dona Jô makes an agreement with a distant cousin, the motorcycle courier Sanderson. The taxi driver Eloisa arrives and is willing to help the owner of the pension.
---
2x01 Brazilian way (September 01, 2014)
---
After a year, Dona Jô decides to work on the pension. But, the money runs out and the masons rebel. The police resume investigation and discover that Valdomiro is in Meier.
---