My Family
Specials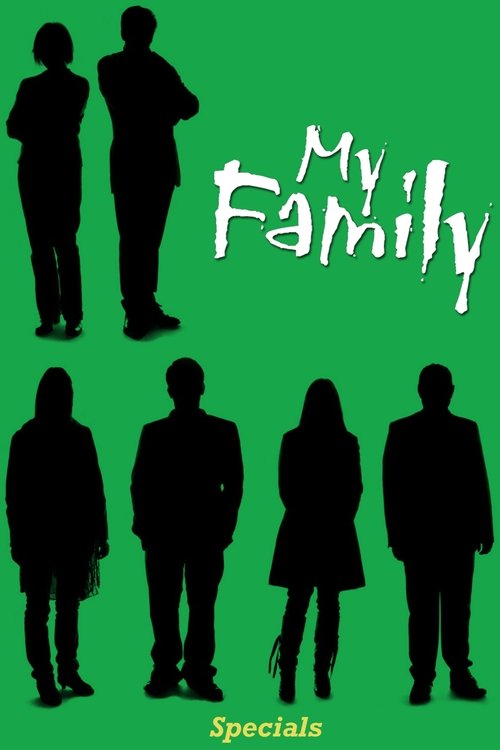 My Family
Specials
First Air Date: December 25, 2002

| | | |
| --- | --- | --- |
| First Aired on | : | 2002 |
| Episodes | : | 11 episodes |
Episodes
0x11 Mary Christmas (December 24, 2010)
---
Merry Christmas and a happy New Year from the Harpers - except that Christmas does not look like being very merry for one little girl. And, whilst it may be a new year, Ben sees a chance to renew an old battle with his next-door neighbour.
---
0x10 2039: A Christmas Oddity (December 24, 2009)
---
It is December 2039, and the Harpers are gathering together to celebrate Christmas. With a "greed gift exchange", a rival cousin and a Nativity play battle, there may not be too much room for peace and goodwill.
---
0x09 Have a Unhappy Christmas (December 24, 2008)
---
Ben's efforts to buy Susan's Christmas present get him into trouble, and Susan's letter from The Palace means a change of holiday plans for everyone.
---
0x08 Ho Ho No (December 26, 2007)
---
Susan's scheme to lure Ben to a country house for a Christmas for two and then 'surprise' him with the family on Christmas Day is doomed. Only the turkey is left unscathed.
---
0x07 The Heart of Christmas (December 25, 2006)
---
Ben would do anything to get out of Christmas at home. Michael and Alfie make the most of an empty house and Janey learns that it's tough being a mum.
---
0x06 ...And I'll Cry if I Want To (December 25, 2005)
---
The Harpers' family Christmas looks like being even more fearsome than usual for Ben, as Susan is giving grandson Kenzo a third birthday party to remember - but one which Ben will prefer to forget.
---
0x05 The Erroneous Storm (March 11, 2005)
---
There is a thunderstorm going on, and after being scared, Michael and Janey join Ben and Susan in their bedroom. They are soon joined by Nick who, thanks to now being a party reviewer, brings with him Adam Hart-Davis, Anthony Head, Myleene Klass, Nell McAndrew, Dermot Murnaghan, Clive Russell and Jamie Theakston.
---
0x04 Glad Tidings We Bring (December 24, 2004)
---
Christmas in the Harper household means something special to everyone. For Susan it's the ultimate control opportunity; for Ben, the ultimate nightmare. Nick is having a typically unusual Christmas, Michael's girlfriend is getting much too serious, and Janey comes home with something unexpected which nobody actually wants.
---
0x03 Reloaded (March 12, 2004)
---
Ben and Susan look back at the last few years of family conundrums and troubles after Ben breaks Susan's leg.
---
0x02 Sixty Feet Under (December 25, 2003)
---
After doing some Christmas shopping, the Harpers find themselves stuck in an underground train that has broken down. Susan tries to help everyone escape, Nick sells 12 bottles of mineral water to people and Michael gets a girlfriend called Claire.
---
0x01 Ding Dong Merrily (December 25, 2002)
---
It's Christmas in the Harper household, and as expected, chaos ensues: Janey has some shocking news, Nick is up to his usual antics, and Susan is trying out a new Christmas recipe.
---