Code Black
Season 1
Code Black
Season 1
First Air Date: September 30, 2015

| | | |
| --- | --- | --- |
| First Aired on | : | 2015 |
| Episodes | : | 18 episodes |
Episodes
1x18 Blood Sport (February 24, 2016)
---
Mario confronts Angus about his Adderall abuse and Christa is surprised to learn how romantically involved Neal and Grace were before she left for Haiti. Also, Dr. Mark Taylor returns to help Leanne find the money in their budget to keep Jesse and the nurses from walking out.
---
1x17 Love Hurts (February 17, 2016)
---
Christa has to try and ignore her personal feelings as she and Grace attempt to help a patient who says he was abused at a camp for troubled teenagers.
---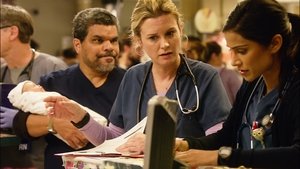 1x16 Hail Mary (February 10, 2016)
---
Christa is feeling insecure after Neal's former girlfriend makes a return to the hospital after a year of volunteering in Haiti.
---
1x15 Diagnosis of Exclusion (February 03, 2016)
---
After a violent incident inside the hospital results with some grave injuries, the doctors are questioned. Christa and Neal admit their relationship to human resources.
---
1x14 The Fifth Stage (January 27, 2016)
---
Leanne visits a prison to finally confront the drunk driver who killed her family. Meanwhile, Malaya begins to feel uncomfortable around her patient.
---
1x13 First Date (January 20, 2016)
---
Angus' older brother, an "all-star" ER doctor, tries to secure a position at Angels Memorial. Meanwhile, Christa's romantic feelings towards Neal begin to grow; and Malaya deals with a patient who is obsessed with her.
---
1x12 The Fog of War (January 13, 2016)
---
As the doctors treat patients from the chaotic multi-vehicle accident, a love triangle begins to build between Mario, Angus and Heather. Also, when Malaya learns that Carla is at the hospital, she goes against Carla's wishes and stays by her side during the delivery of her baby. Shiri Appleby guest stars.
---
1x11 Black Tag (December 09, 2015)
---
Heavy fog at the scene of a massive multi-vehicle accident puts the doctors in danger; Jesse's confidence has taken a hit; Carla's condition turns critical.
---
1x10 Cardiac Support (December 02, 2015)
---
Leanne becomes rattled at the thought of losing Jesse, as he fights for his life after suffering a massive heart attack. Meanwhile, Mario asks the residents to cover for him so he can search the city for a patient's son, which goes against Neal's direct order not to leave the hospital
---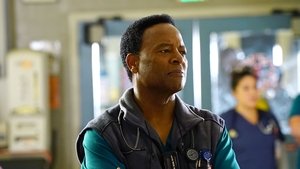 1x09 The Son Rises (November 25, 2015)
---
When the lead actor of the musical "The Lion King" tour arrives at Angels Memorial with a throat infection, Leanne gives him a diagnosis that puts both his career and life in jeopardy. Also, the doctors and the cast of "The Lion King" help a 17-year-old boy deal with the difficult decision of taking his father off life support,
---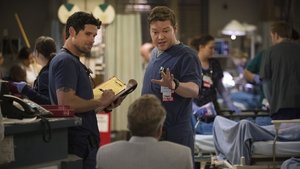 1x08 You Are the Heart (November 18, 2015)
---
Christa must handle all emergencies at Angels Memorial that happen outside the emergency room; Malaya arranges a bone marrow drive for Carla; Leanne turns down a date.
---
1x07 Buen Arbol (November 11, 2015)
---
Angus utilizes his background in psychology when a woman cannot remember how she injured herself and others; Christa bonds with the mother of a patient with cystic fibrosis.
---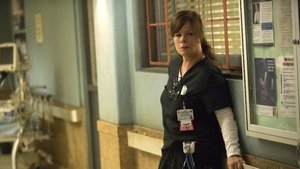 1x06 In Extremis (November 04, 2015)
---
Leanne must deal with the difficult decision of whether to save Tom Moreno (Michael Trucco), the police officer who helped her during her family's accident, or his shooter, who has more serious injuries. Also, when Malaya's pregnant ex-girlfriend, Carla Niven (Shiri Appleby), arrives at the hospital with pain in her arm, Malaya is shocked by her MRI results.
---
1x05 Doctors with Borders (October 28, 2015)
---
Neal clashes with his neurosurgeon father over how to treat his gravely ill mother, whose mysterious symptoms force Angels Memorial to quarantine Trauma One.
---
1x04 Sometimes It's a Zebra (October 21, 2015)
---
A new surgical attending Cole Guthrie joins Angels Memorial with the help of his estranged father and clashes with Leanne over their contrasting approaches to medicine. Christa has a crisis of confidence in the middle of a procedure on her first infant since the loss of her son.
---
1x03 Pre-Existing Conditions (October 14, 2015)
---
The doctors work 36 consecutive hours in code black and must deal with a distraught mother of two sons who were in a devastating car accident. Meanwhile, Mario bullies Angus into performing an unnecessary operation and lets Angus take the blame when Leanne finds out.
---
1x02 We Plug Holes (October 07, 2015)
---
Christa saves a woman's life and then pleads with Neal to perform a surgery that will save the patient's reproductive future. Meanwhile, Mario gets into a fight with a patient after he delivers a diagnosis that could end the man's hockey career.
---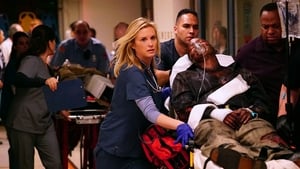 1x01 Pilot (September 30, 2015)
---
Four new first-year residents are immediately put to work by the ER's tough-minded residency director Dr. Leanne Rorish.
---