Supermansion
Season 2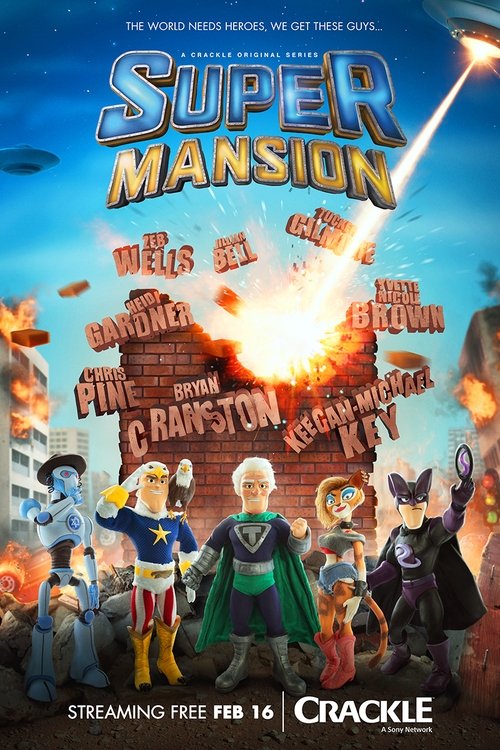 Supermansion
Season 2
First Air Date: February 16, 2017

| | | |
| --- | --- | --- |
| First Aired on | : | 2017 |
| Episodes | : | 10 episodes |
Episodes
2x10 Titanium Lex (April 20, 2017)
---
With the Suptopian army enslaving Earth, the League and the supervillains find themselves in a peculiar quandary.
---
2x09 Logs Day Journey Into Night (April 13, 2017)
---
To protect the League, Rex has gone into hiding, working as a lumberjack far from civilization. While Rex tries to cope with his new identity as a regular joe, Robobot attempts to get a downtrodden League of Freedom back together to take on a dire threat to Storm City.
---
2x08 We Need to Talk about Liplor (April 06, 2017)
---
After years of searching, Rex's brother, Titanium Dax, becomes the second Subtopian ever to breach Earth's surface. He and his rock monster slave, Liplor, are thrilled to find Rex alive, but their reunion is soured when Dax threatens to reveal a secret about Rex's origins.
---
2x07 The Gurman Files (March 30, 2017)
---
After Black Saturn resigns from the League, he takes on his first solo case: a string of kidnappings, all women who used to model for a famed '70s photographer. As Saturn tries to track down the photog, Titanium Rex's old secret identity comes back to haunt him.
---
2x06 Blazarmageddon (March 23, 2017)
---
The League is called upon to stop an enormous space alien from obliterating planet Earth. With the help of NASA, the League embarks on their mission, but Rex and team prove dangerously ill-suited for the stresses of space travel.
---
2x05 Black to the Future (March 16, 2017)
---
A Black Saturn from the future travels to Storm City in hopes of stopping an event that will trigger the apocalypse.
---
2x04 I Didn't Even Have to Use My J.K. (March 09, 2017)
---
J.K. Simmons follows Titanium Rex around in hopes of playing him in a movie about the League. Meanwhile, the recently-escaped villains form their own group, the Injustice Club.
---
2x03 The League of Cheesedom (March 02, 2017)
---
Portia Jones makes plans to open a pizzeria and arcade based on the League in hopes of restoring their reputation. Meanwhile, Jewbot learns about his past and undergoes an existential crisis.
---
2x02 School Me Once (February 23, 2017)
---
Titanium Rex tries to persuade an old friend into joining the League in hopes of restoring their tarnished reputation. Meanwhile, Black Saturn introduces Jewbot to fraternity life; and the rest of the League experience college for themselves.
---
2x01 Virtual Reality Bites (February 16, 2017)
---
In the Season 2 premiere, the League of Freedom is still reeling following the destruction of the SuperMansion, as all the villains roam freely throughout Storm City. Meanwhile, American Ranger helps Cooch cope with Brad's death; and Titanium Rex and Jewbot team up to prevent a cult from leaking sensitive intel.
---