GetBackers
Season 1
GetBackers
Season 1
First Air Date: October 05, 2002

| | | |
| --- | --- | --- |
| First Aired on | : | 2002 |
| Episodes | : | 25 episodes |
Episodes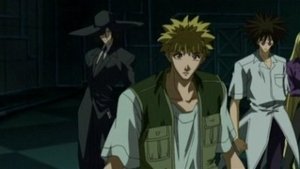 1x25 Get Back the Limitless Future! (April 05, 2003)
---
With the intruder interception program active, none of GetBackers there can stop Makubex. Makubex says that he was aware why Ginji left the Limitless Fortress in the first place. He mentions that he hacked into the Babylon City database and found an information storehouse called the Archive, a prophecy foretelling the future of the Limitless Fortress. Makubex wanted the IL to serve as a way to break the bonds from Babylon City, and to create a "new" Limitless Fortress. As the team try to stop him, Makubex finds himself in an illusive world. Mabukex witnesses the result of his profound utopia, as well as the absence of The VOLTS. He then sees a reflection of himself announcing he will the return of the world to nothingness and detonating the IL, consequently resulting in the ruins of the Limitless Fortress, as Makubex turns into ashes. However, Ban reveals using Jagan on Makubex. Ban destroys the detonator, and Makubex evades the team, locking them in the computer system room. Ginji uses his lightning to break open the door. As he leaves, Emishi tells him that Makubex turned into a hardhearted person for the sake of The VOLTS disbanded. Makubex attempts to commit suicide, to find out whether he himself is real or fake. As he falls, Ginji breaks through a window, and saves him. Ginji tells Makubex that his death would surely affect those around him, saying that there are many who love and cherish him. Makubex cries tears of joy as he reunites with everyone, changing him back to his warmhearted self. He vows to protect those he loves and to see the error of his ways, announcing the new formation of The VOLTS. He gives the IL, mentioned as a file stored in a floppy disk, back to The GetBackers. The GetBackers return the IL to the masked men, who are killed by Akabane when they try to kill them. The team part ways, and Ban and Ginji return to the Honky Tonk cafe.
---
1x24 The Final Fight! Ginji vs. Makubex (March 22, 2003)
---
Ginji pleads with Makubex to give back the IL to the GetBackers, but to no avail. After confrontation with Makubex fails, Ginji volunteering to fight him face-to-face. Ginji attempts to attack him head-on, but Makubex deflects his attack, electrocuting the other six. Then Makubex "transforms" the room into the inside of his body, which appears to be an illusion. He proves the illusion as reality, which confuses them. Ginji deducts that Makubex is suffering, and then asks him to fight in order to help him. As Ginji and Makubex continue their battle, the others realize that these two are evenly matched in strength and ability. Ban wonders if the Limitless Fortress is in itself a virtual reality, as they have witnessed injuries healing rapidly and strength increasing immensely. Through a flashback, it is revealed that Ban suggested Ginji to join up with him, due to Ginji uncertainty of remaining with the VOLTS due to his growth in powers as the Lightning Lord. As Ginji delivers the final blow toward Makubex, it seems that Makubex and the inside of his body was all just an illusion, as he used this illusion to buy time in order to install the IL completely into the mainframe of the computer system.
---
1x23 Attack! Virtual Corps (March 15, 2003)
---
Fudou attacks Ban head-on, but Shido manages to come just in time to save him. All of a sudden, multiple clones of Fudou appear out of nowhere in front of Shido, and multiple clones of Akabane appear out of nowhere in front of Ginji and Akabane. As the Fudou clones begin to attack, Kazuki and Emishi step in, as they figure out that the intruder interception programs creates clones based on collected data. As Akabane fights off the Akabane clones, Ginji meets up with Ban and Hevn, and the four of them proceed to stop Makubex. Sakura wakes up only to find herself in the pharmacy. Himiko tells her that she was the one who brought her there. Juubei, blinded by his black needles, tells Sakura that Makubex made a mistake in his calculations. Sakura tells Gen that Makubex obtained his data by hacking into the mainframe of Babylon City, as well as for the virtual reality technology. Gen reveals that he was the one who raised Makubex. Juubei wants to leave with Sakura to help stop Makubex, while Himiko tags along as well. Meanwhile, after Shido, Kazuki, and Emishi finish off the Fudou clones, clones of themselves appear. Elsewhere, Ban, Ginji, Akabane, and Hevn encounter Kagami. Shido, Kazuki, and Emishi manages to catch up with the other four. Kagami lets the seven of them pass to see Makubex, who happens to be expecting them.
---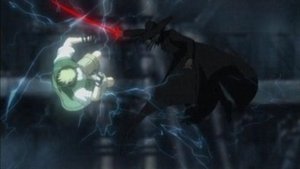 1x22 Awakening! The Advent of the Lightning Emperor (March 08, 2003)
---
It is revealed that Teshimine was an illusion to Ginji, as the real Teshimine is still in the Honky Tonk cafe. Ginji finds Sakura, and then injures her with his lightning. As Akabane enters, Ginji is caught off guard. As Ginji uses his lightning to attack, Akabane evades each attack with his supersonic speed. A power outage occurs in Lower Town, and Kazuki and Emishi are forced to leave Gen and Ren in the pharmacy. As the two participate in hand-to-hand combat, Ban steps in, disrupting the battle and seeming has been killed. However, Ban tells he used the Evil Eye on Ginji to fake his death, surprising Ginji and changing him back to normal. At the Honky Tonk cafe, Teshimine prepares to leave, with Paul and Natsumi asking him to come back anytime. Makubex attempts to install the IL, but the computer system has been jammed by Gen's doing. Gen reveals to Ren that he was responsible for teaching Makubex the basics of computer programming, as he was able to learn very quickly. Makubex download an intruder interception program to supposedly attempt to reinstall the IL without fail. Nonetheless, this will slow down his operation. Akabane admits that he transported the box of plutonium to Makubex, making Ban and Ginji feel betrayed. As Akabane takes Ginji with him to recover the IL, it is revealed Ban faked his Evil Eye and encounters a seemingly revived Fudou.
---
1x21 Blades of Revenge • Ban vs. Fudou (March 01, 2003)
---
Fudou says that he wants Ban to feels limitless pain and suffering as a way to avenge the loss of his real arm. The battlefield where hey will be face off is in the Roman Coliseum. As Gen and the others witness this battle, Kazuki comes in the pharmacy carrying Juubei. Ginji finds himself in the ruins of the Limitless Fortress and sees Shuu, who was supposedly killed before. Suddenly, all the children turn into zombies, frightening Ginji to the point of killing them. Then he encounters Takeru Teshimine, the informant who visited the Honky Tonk cafe. Teshimine recalls to when Ginji first made friends when he was younger, seemingly abandoning Teshimine. He then says that Ginji witnessed all his friends be slaughtered, blaming Ginji for this. A enraged Ginji begins transforming into the Lightning Emperor once more. Teshimine reminisces to when Ginji first transformed into the Lightning Emperor, and then he admits that he wanted to raise Ginji to gain his immense power to rule over the Limitless Fortress. Teshimine causes Ginji to unleash huge amounts of lightning, affecting the Limitless Fortress entirely. At the pharmacy, Shido prepares to depart with Hevn in order to stop Ginji's reckless behavior. Fudou seems to have gained the upper hand, as Ban is losing his strength and speed. Ginji's lightning causes the illusion of the Roman Coliseum to disappear. As Ban yet again recites an incantation, he uses his grip to destroy Fudou's metallic arm, attempting to find and stop Ginji.
---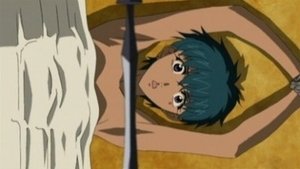 1x20 The Man From Babylon City (February 22, 2003)
---
Akabane reveals his transporting assignment to give Makubex a box of plutonium. And he then says that he still has a recovery assignment to retrieve the IL, keeping the promise to both clients. Watching from the pharmacy, Hevn and Shido see that Himiko is up against Kagami, having faith in her victory. It is then seen that Himiko and Kagami will fight in the Mayan Temple as their battlefield. As he reveals himself, he outsmarts her with his mirror fragments, to gain the upper hand. The sacrificial ritual begins, as Himiko lies at the altar of the temple. Suddenly, Himiko and Kagami switch places, causing him to be "sacrificed". However, Ban reveals himself, as he has used Evil Eye on Kagami before Himiko was sacrificed. Himiko and Kagami resume their battle, as Ban watches. Himiko uses her poisonous perfume to increase her speed, catching Kagami off guard. Ban joins in the fight and the two use their supersonic speed to attack Kagami. Kagami later retreats as the objective is to protect the IL. Himiko becomes exhausted from using the poisonous perfume, as it begins to drain her energy. Ban helps her recover, then leaves her in the virtual reality room. Ban goes to another virtual reality room to face off against Fudou.
---
1x19 Oh, My Friend... Kazuki vs. Juubei (February 15, 2003)
---
At the Honky Tonk cafe, an informant asks about the whereabouts of Ginji. Paul and Natsumi says that he is with the GetBackers in the Limitless Fortress. Meanwhile at the Grand Canyon, Juubei presents the black needles, which is a forbidden technique. Kazuki get stung by them, and then he figures out that the black needles are magnetic, controlled by a black ore stone. However, using the black needle will gradually drain the energy of Juubei. Juubei attacks at full force, but Kazuki manages to defend, causing a whirlwind of threads and needles. In a flashblack, it shows when Juubei first met Kazuki as the former's clan has been protecting the latter's. After the West Fuchouin-School was burned down, Kazuki and Juubei were told to go to the Limitless Fortress to live. Juubei remembered that Makubex believes that everything that is happening in the Limitless Fortress is caused by the people of Babylon City. Hevn and Shido arrive at the pharmacy, noticing that Gen is witnessing the battles. Kazuki and Juubei continue their fight, white threads against black needles. Juubei is caught is one of Kazuki attacks, urging him to give up. He then stabs himself using the black needles, causing Kazuki to wail. Kazuki carries Juubei out of the virtual reality room.
---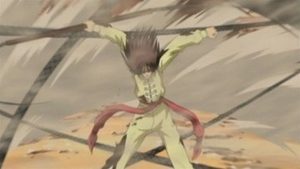 1x18 Crash! Shido vs. Emishi (February 08, 2003)
---
It is revealed that the four will fight on the Grand Canyon as their battlefield. After one hit from his whip, Shido begins to seriously focus on the match with Emishi. Emishi admits that he would loses against Shido in a match, but he truly wants to fight Shido regardless, as Makubex is protecting his clan. Emishi creates an explosion of flames, yet Shido is able to save him at the last second. Shido tells Kazuki that he will take Emishi to see Gen and Ren. It is revealed that the Grand Canyon battlefield is a virtual reality room, exposing its illusion. Kazuki starts out strong using his thread technique abilities, but Juubei struggles as he fights back with his flying needles technique abilities.
---
1x17 Gathering, Retrieval Team! (February 01, 2003)
---
As Makubex plans out the next move, Fudou becomes impatient with him, longing to have another battle with Ban; kazuki, Himiko, and Hevn face children under the wire doll system. Reluctantly, Ginji and Akabane are able to stop the children. The five of them come a circular room, where Ban and Shido also arrive calming Fudou. Once they reunite, it is revealed that Gen and Ren witness the room where the seven of them are in. It is also revealed that Gen is the architect of Babylon City. In the circular room, there are six numbered doors. Ginji finds a die and gives the idea that everyone, except Hevn, take turns rolling the die, and each person would go to their numbered doors, based on the number rolled. Akabane faces off against Makubex. Meanwhile, it first appears that Kazuki and Emishi are to battle, but Shido and Juubei come to their respective support.
---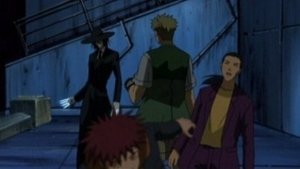 1x16 Explosion! The Lightning Emperor Angry (January 25, 2003)
---
Ginji and Akabane battle against several men, but Ginji disagrees with Akabane ruthless attacks. Kagami sets out to look for Ginji and Akabane, while Juubei follows him. Makubex reveals how the Limitless Fortress is divided into three sections: Lower Town, The Beltline, and Babylon City. His objective therefore is to obtain absolute power from Lower Town. Juubei and Kagami encounter Ginji and Akabane, but Ginji is enraged when Juubei tells him he killed Kazuki. Ginji unleashes a huge amount of lightning, which both exhausts them as well as separates them. Akabane and Kagami also engage in battle, with Akabane forcing Kagami to escape. Juubei raises doubts about Makubex, but Kagami advises him to continue the path he chose. Ban and Shido manage to find the garbage disposal facility. Meanwhile, as Hevn and Himiko are harassed by two men, Kazuki saves them.
---
1x15 The Loulan Dance Whip That Whirls in the Night (January 18, 2003)
---
Emishi takes Ban and Shido to his safe house where Ban gets acquainted with many girls residing there. Later, Emishi attacks Shido with his Loulan Death Whip, making him unconscious. Inside, Emishi undoubtedly uses his whip to attack Ban, but Emishi hallucinates. Ban reveals to Shido that he used Evil Eye right when Emishi first appeared, realizing he was a soldier from Makubex due to Fudou's sudden escape. Afterward, Ban and Emishi engage in battle, as Shido join in as well, but Emishi then escape. Ban and Shido, as well as Kazuki, Gen, and Ren find out that the IL is an implosion lens, used as an atomic bomb. Ban and Shido unwillingly fights off more men controlled by the wire doll system. As Kazuki departs from the pharmacy, it is revealed that Gen is working for Makubex as well. Meanwhile, Ginji tries to escape from Akabane, but is he caught up, Akabane finds out that the IL is located in the garbage disposal facility.
---
1x14 The New Four Kings (January 11, 2003)
---
Ginji sees an image of himself when he was younger, and goes berserk when Akabane kills it. Akabane then sees multiple copies of Ginji, later revealed as projections, and he easily defeats them, as the real one calms down. Ren Radou, a pharmacist, takes Kazuki to a pharmacy. Gen Radou, Ren's grandfather, also checks up on Kazuki. As Kazuki leaves the pharmacy, Gen tells him that Makubex wants to live in a world of suspicion, where people will fear betrayal. Hevn and Himiko are imprisoned in chains in a jail cell. Two men, jeering at them, walk in to harass them. Himiko sprays poisonous perfume, to control the minds of the two men, telling them to unshackle the chains. Hevn and Himiko look for the rest of the team. Kazuki, Gen, Ren try to figure out where Makubex is hidden. Smelling Himiko's perfume, Ban deducts that Makubex and supposedly the IL are in the garbage disposal facility. Once they've figure that out, they are attacked by several men, controlled by Makubex's wire doll system. Fudou shows up and engages Ban in battle, seeking to kill him. Haruki Emishi, a former member of The VOLTS, makes a surprise entrance, which results in Fudou escaping.
---
1x13 Explosion! Fuchouin-School Thread Technique (December 28, 2002)
---
As Makubex spyes the recovery team with cameras, Himiko and Kazuki are fighting off several men. Kazuki reveals himself to Himiko to be the traitor in the team, as he wraps her up in threads. However, the real Kazuki shows up to announce that the other "Kazuki" is an impostor. The impostor removes his mask, revealing himself to be Kogenta Akame, a student of the West Fuchouin-School. Kazuki and Akame then engage in a thread technique battle. Kazuki defeats Akame and saves Himiko. However, Himiko becomes unknowingly controlled by Makubex, by a wire from his computer to Himiko's body. As Kazuki figures this out, he attempts to cut the wire, but is stopped by Juubei Kakei, an assistant of Makubex, who throws him needles. Juubei chases him, but Kazuki causes an explosion and escapes. Makubex commands Juubei to bring Himiko, now unconscious, to him. Makubex then plans out his next move, as Takuma Fudou brings him the kidnapped Hevn, which he might use her as a hostage.
---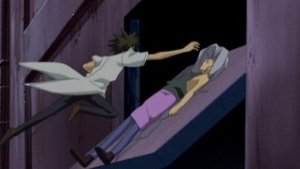 1x12 The Unknown Boy, Makubex (December 21, 2002)
---
Akabane waits for Ginji to wake up after being unconscious from the effects of Horii's poisonous gas. Akabane tells Ginji that the rest of the team went out to search for the IL, which upsets Ginji. Meanwhile, Ban and Shido are in another route in the Limitless Fortress, as Ryouma Magami and Ayame Magami, two former members of The VOLTS, show up to face off against them. Ban and Shido notice that Ryouma and Ayame modify their body as their weapon source. Ayame leads Ban into a trap door. The lights are turned on to revealed that the basement is really an abandoned laboratory. He reveals that he has imprisoned innocent women, who he plans to modify as well. Ban chants an incantation, increase his strength and gripping power, releasing himself from the trap. He then goes berserk on Ayame, destroying his modified body. He frees the women and finds a way out from the laboratory. Meanwhile, Shido defeats Ryouma. Ban meets up with Shido, frustrated to know about body modification on innocent people. After discussing, Ban and Shido believe that Makubex, the youngest Four King who was born in the Fortress, is responsible.
---
1x11 Breach the Limitless Fortress • Operation: Recover IL (December 14, 2002)
---
Hevn hires Ban, Ginji, Shido, Kazuki, Akabane, and Himiko to work as a team. They are brought to an abandoned building near the Limitless Fortress, a place familiar to Ginji, Shido, and Kazuki. As they enter, Hevn then introduces the team to a group of masked men in suits. The leader of the masked men informs the team to retrieve something from inside the Limitless Fortress, dubbed the name IL. The building then suddenly self-destructs, as the team departs. They decide to begin the assignment the next day. In the morning, the team heads to the Limitless Fortress. The team part ways with Hevn, but she is soon kidnapped. Meanwhile, the team fights off more modified men, and they then get acquainted with Shuu, a former member of The VOLTS. Kumon Horii then instantly kills Shuu, and sprays a poisonous gas around the team. This causes Ginji to be enraged, however becomes affected by the poisonous gas. As Horii attempts to kill Ginji, Akabane steps in and kills Horii instead.
---
1x10 Get Back the Phantom Sunflowers! (Part Two) (December 07, 2002)
---
The GetBackers are taken to Clayman's art gallery, displaying many masterpieces. Clayman offers to be a "replacement" client for The GetBackers, since Ban and Ginji were in awe of all the masterpieces displayed. Clayman explains that she became an art thief to protect the masterpieces from the so-called "con artists". Hachisu and the SWAT team make a sudden appearance, as Hachisu notes that he used The GetBackers to locate Clayman's art gallery. He further admits that the thirteenth painting of Sunflowers was indeed a fake. Ban uses his Evil Eye on Hachisu, causing him to dream of unexpectedly burning all the paintings to ashes. Hachisu and Abukawa attend a business meeting the next day. Ban and Ginji arrive and recover the thirteenth painting of Sunflowers, confusing Hachisu. It has been revealed that Clayman, identified as a woman, used clay to disguise herself as Abukawa to return all the paintings, but is caught. After Ban and Ginji did the favor as to help return the paintings to Clayman's art gallery, she explains that all her masterpieces were painted after the death of the famous artists including Van Gogh. As Ban and Ginji arrive at the Honky Tonk cafe, Kazuki explains them that Clayman's mother is a renowned medium, and that she used her body to paint the masterpieces, which are displayed in Clayman's art gallery.
---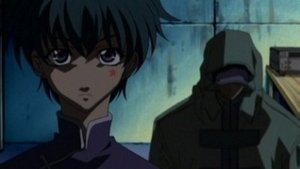 1x09 Get Back the Phantom Sunflowers! (Part One) (November 30, 2002)
---
Hachisu, an art dealer, and Abukawa, the museum curator, ask the GetBackers to from a peculiar thirteen painting of Sunflowers by Van Gogh. Ban and Ginji decide to accept the case, and later in the evening, Ban and Ginji set out to surveil the whereabouts of Clayman. Working for Clayman, Himiko starts leading the GetBackers to Clayman, using people who take her appearance. Himiko and Clayman grin at the situation, as the GetBackers follow closely behind them. Ban gets sprayed by Himiko's poisonous perfume, being controlled like a puppet. He chokes Ginji with his grip, but suggests Ginji to use his lightning to break free of the control. Himiko and Clayman take Ban and Ginji to their hideout, having them tied up. They easily break free Clayman reveals the thirteen painting of Sunflowers to Ban and Ginji, questioning whether they think it is a fake or not.
---
1x08 Timbre of Life, Resound! (November 23, 2002)
---
Ginji electrifies himself, shocking Hishiki until leaving him unconscious. Ginji apologizes to Ban for causing Shido to attack the group, as he blames himself for abandoning Shido. As Ban and Ginji try to find Shido, Hevn and Madoka help out as well. Ginji tries to help Shido who asks him to fight alone. After defeating Kurobe, Shibo discreetly commands Mozart to steal the Stradivarius violin and return it to the estate. Madoka, in turn, says that she will allow herself to play a regular violin during her performance in the evening. Later on, Shido returns the Stradivarius to Madoka. In return, Madoka offers to perform for Shido in the streets in the afternoon, attracting Visconti, Madoka's violin teacher. Visconti later compliments her performance with the others, jokingly noticing that Madoka is in love with Shido. Later in the evening, before a performance, Ban uses the Evil Eye on Akutsu, thereby ruining the performance. The next day, Shido hangs out with Madoka in her backyard as both start getting closer.
---
1x07 The Animal Transformation of the Beast Master (November 16, 2002)
---
Just when Ban attempts to kill Shido with his grip, Kazuki arrives to aid Shido. Ban escapes as Ginji, Hevn, and Madoka go encounter a Protector, named Ryuudou Hishiki. Ginji then creates a power outage in the estate. Ban runs into Paul and Natsumi, and Ginji, Hevn, and Madoka finds Akutsu and the Stradivarius. Akutsu gives her back the Stradivarius, but after they leave, Akutsu commands Kazuma Kurobe, one of his men, to bury Madoka with her violin at the estate. Ginji's group meet up with Ban's group, and escape from the estate, and Sugahara, Madoka's guardian, arrives just in time. He drops off Ban and Ginji on the highway, revealing himself to be Tsujima Kurobe, the younger brother of Kazuma Kurobe. Back at the estate, Kurobe tells Shido of his plans to kill Madoka, and the two engage in battle. Meanwhile, Sugahara tries to kill Madoka, but he realizes he was trapped in Ban's Evil Eye, having realized he was traitor, and having faked a third Evil Eye on Shido. Then Kurobe returns to face Shido off again, only to witness the animal transformation of Shido head-on. Hishiki returns as well to face Ginji off again. Ban and Sugahara battle it out as well, which ends up as a defeat for Sugahara.
---
1x06 Get Back the Divine Melody! (November 09, 2002)
---
A blind and prodigious violinist, named Madoka Otowa, and her guide dog, named Mozart, are bullied by a group of street thugs. Ginji arrives to save Madoka and Mozart, but they all encounter Kazuki Fuchouin, a former member of the VOLTS led by Ginji. Ginji and Madoka head to the Honky Tonk cafe, where the GetBackers are asked to retrieve a Stradivarius violin from Shunsuke Akutsu, a world-renowned violinist. They must obtain this violin no later than Madoka's performance the following evening The GetBackers, including Paul, Hevn, and Natsumi, arrive disguised as musicians at Akutsu's estate. Shido Fuyuki, another former member of The VOLTS now working for Akutsu, is ordered to take down the GetBackers. They plan out their next move, only to fall into Akutsu's trap. Meanwhile, as Madoka searches the estate for her Stradivarius violin among many violins, meeting Shido who spares her. While the GetBackers are caged by Akutsu, a lion is placed inside the cage as well. Ban uses Evil Eye on the lion, to cause a diversion and escape. After splitting, Ban, Paul and Natsumi are surrounded by Shido's army of animals. Ban uses the Evil Eye on the animals, reaching his limit, but tells Shido to continue fighting outside.
---
1x05 Death Match at Sunrise: The Lightning Emperor vs. Doctor Jackal (November 02, 2002)
---
The Transporters face off with The GetBackers in an abandoned shrine. Ginji and Akabane battle while Himiko and Ban fight. Ban surprises Himiko with his grip, defeating her, before he almost tells her of Yamato's death. Akabane presents the extent of his glowing knives, however Ginji manipulates them with magnetic electricity, defeating him. Ban and Ginji leave the shrine to resume their retrieval. The next morning, Himiko wants to find the GetBackers, but Akabane claims that he has had more than enough fun with them for the time being. As Akabane leaves the shrine on his own, Himiko and driver Maguruma find The GetBackers. As Maguruma prepares to ram The GetBackers head-on, Ban uses Evil Eye on a nearby crow, causing it to dream of many crows attacking the semi-trailer truck, which then results in Maguruma crashing into a pole. They then find out from Ohtaki that inside the box has nothing but a "platinum" watermelon, as they receive one tenth of the watermelon as their reward.
---
1x04 Recovery Service vs. Transport Service (October 26, 2002)
---
As the GetBackers prepare to battle The Transporters, Ginji plans to fight Akabane, while Ban plans to retrieve the box. Not long after, the GetBackers are in a bind when Akabane attempts to slice Ginji apart. Ban surrenders and Ginji is captured by the Transporters. In the semi-trailer truck, Ginji and Himiko converse about Ban. Himiko reminisces about her time with Ban and her older brother, Yamato, as a former recovery service. However, Himiko regrets having ever met Ban, since he was responsible for Yamato's death, but Ginji states he believes in Ban. Ban catches up with The Transporters to rescue Ginji. Using the Evil Eye, Ban rescues Ginji and retrieves the box. The Transporters then plan out their next attack on GetBackers with Himiko explaining to Akabane that the Evil Eye can only be used three times on a person in a single day, and that he can't do it again on the same person.
---
1x03 Operation: Recover the Platinum! (October 19, 2002)
---
Hevn, a negotiator, tells The GetBackers of an job. They meet Haruo Ohtaki, who informs them to reclaim the box from a group called The Transporters. They, in turn, ask to have a portion of what is inside the box in order to accept the case, which was later assumed to be platinum. The GetBackers prepare to stop The Transporters, but soon engage in a high-speed pursuit. As they attempt to close in on the semi-trailer truck, Himiko Kudo, sprays a poisonous perfume on Ginji, giving him the mind of an ape for a short while. This, in turn, causes Ban to lose control, sending them off a cliff. As The GetBackers search for The Transporters, Ban recalls to Ginji about Himiko and how she got the nickname "Lady Poison". The Transporters are then blocked by an interceptor and his gang. However, Kuroudo Akabane, kills the interceptor and his gang single-handedly. As The GetBackers catch up with The Transporters, both groups halt their vehicles in order to prepare to fight.
---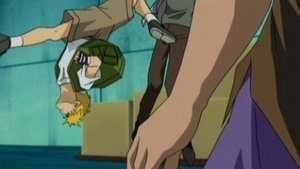 1x02 Get Back the Rusted Bonds! (October 12, 2002)
---
Ban and Ginji are out of jobs and are starving to death. However, a homeless man, named Yamamura, gives them food as well as shelter. He later reveals that he used to be a factory owner, but his daughter, Rika Yamamura, was kidnapped, due to continuous recessions and pressure from the yakuza henchmen. Yamamura then asks Ban and Ginji to retrieve Rika from the yakuza henchmen. After the GetBackers infiltrate the mansion to save her, Rika betrays them, admitting that she has every thing she needs from the yakuza henchmen. However, the yakuza henchmen admit that they planned on taking her as well as forcing her father to sell her. Using Evil Eye, Ban causes Rika to dream of the yakuza henchmen leader killing both Ban and Ginji, but then witnesses the yakuza henchmen being burned alive. Once she wakes up, Ginji try to convince Rika to return to her father, much to their chagrin. Yamamura later suffers a fatal heart attack, which causes Ban to give him a dream in which Rika comes back for him.
---
1x01 The Initials are G & B (October 05, 2002)
---
A schoolgirl named Natsumi Mizuki loses a kitty key chain from her mother when a cop thinks she took a picture of him giving information to the yakuza henchmen. Paul Wan, owner of the Honky Tonk cafe and friends of the GetBackers, lectures Ban and Ginji to accept the case. After many failed plans, The GetBackers finally retrieve the stolen object, but Natsumi has been captured by the cop and yakuza henchmen. The GetBackers rush to the scene, Ginji summons lightning from his body, resembling that of an electric eel. Afterward, Ban whips out a two hundred kilogram-force grip. An illusion from Ban's Evil Eye causes the cop to dream of killing both Ban and Ginji, and then being shot to death by policemen. After the Evil Eye ends, Natsumi is given back her key chain. Later, Natsumi obtains a part time job at the Honky Tonk cafe where The GetBackers usually hang out.
---