Tiny House Nation
Season 5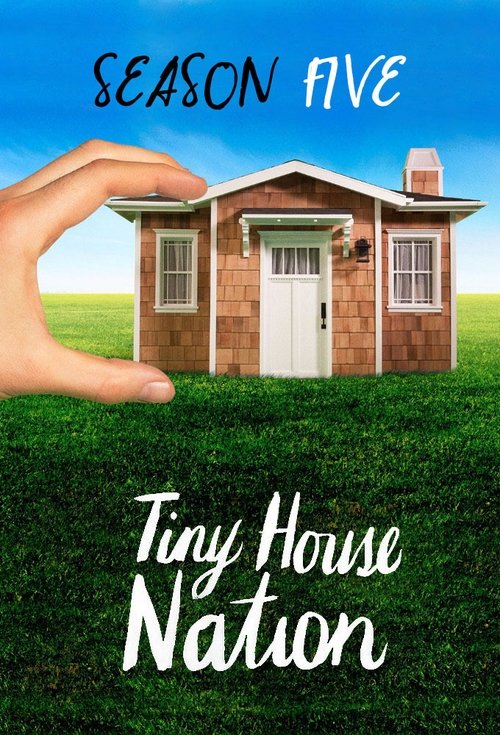 Tiny House Nation
Season 5
First Air Date: March 13, 2019

| | | |
| --- | --- | --- |
| First Aired on | : | 2019 |
| Episodes | : | 14 episodes |
Episodes
5x14 Tiny Times Two (September 28, 2019)
---
John and Zack head to Texas to help a family rebuild after losing their dream home in a fire. But Deanna and her sons are used to living large, so she wants to build two tiny homes: one for herself and her nine year old, and another for her teenage son.
---
5x13 Tiny Digs for Racing Pigs (September 21, 2019)
---
John and Zack head to Arkansas farm country to help a couple who have been living on the road turn a school bus into a tiny home where they can settle down.
---
5x12 Dad's Tiny Homecoming (September 14, 2019)
---
John and Zack head to in Jacksonville, Florida, to help Jack, a veteran working two full-time jobs to support his family. 80-hour workweeks mean Jack is always away while his kids are quickly growing up, and he's hoping that going tiny will lower their bills so he can work less and spend more time with his children. But even though they're going tiny, the family's wish list is huge–including a swimming pool–so John and Zack take on the challenge of creating a tiny dream house that will exceed their wildest dreams.
---
5x11 A Texas-Sized Tiny (September 07, 2019)
---
John and Zack head to Texas to help Ashley and Angel, a couple who are giving up their large house to turn it into a women's recovery center; but first, they want to move into a tiny house in their backyard. Everything's bigger in Texas, including homeowners-Angel is 6-foot-6, Ashley's nearly as tall, and building a tiny house where they can stretch out and get comfortable pushes Zack's ingenuity to new heights. Can John and Zack build a tiny house where not-so-tiny people can feel at home?
---
5x10 A Firefighter Rebuilds (August 31, 2019)
---
John and Zack head west to Sonoma County, CA to help volunteer firefighter, Scott and his wife Xanthie build a home to replace the one they lost in the Northern California wildfires of 2017. The stakes are high as John and Zack try and complete a dream tiny house that will keep our homeowners in the community they cherish.
---
5x09 Tiny House Hits the Road (August 24, 2019)
---
John and Zack head to Florida to help a couple give up their huge condo so they can hit the road. Tony's a travel nurse with plans to take the tiny home across the country as he pitches in at understaffed hospitals. He also works nights and sleeps during the day–and when John and Zack learn that his wife Lori does the opposite, they have to get creative. Can John and Zack build a tiny house where this nocturnal nurse and his sun-loving bride can coexist?
---
5x08 Going Tiny in Music City (May 08, 2019)
---
John and Zack head to Tennessee to help an aspiring musician and his growing family as they relocate and downsize into a tiny home at the same time.
---
5x07 Building Mini in Mississippi (May 08, 2019)
---
In this episode the boys head to Mississippi to help a couple of high school sweet hearts go tiny. Tommy and Tierra are both nurses, and they're looking forward to simplifying their lives in a tiny house so they can unwind after a stressful workday. Tierra's a self-described "roadside junker" while Tommy is an avid hunter with lots of gear so the pair have packed their house to the rafters with accumulated stuff. Can Zack build a tiny home that will let this overworked couple recharge -- and John help them to leave their clutter behind?
---
5x06 Two Turntables and a Tiny House (April 17, 2019)
---
Zack and John go to cowboy country to help a family of four who are preparing to move out of their large house near Dallas and into a tiny house. First-time homeowners Tony and Lori have two young sons, so John and Zack set out to maximize every square centimeter of space. However, when they learn that the kids are home schooled, and Tony has a sentimental record collection he just can't part with, they'll have to find new ways to make this house fit for this fun-loving family.
---
5x05 Empty Nest, Full House (April 10, 2019)
---
Empty nesters Phil and Karen are being forced out of their beloved rental home, and going tiny is their only chance at home ownership. John and Zack are confident that they can build a tiny house with the country charm that Phil and Karen crave until they learn that the couple wants room for their kids and grandkids to visit when they're on the road.
---
5x04 No Fall Zone (April 03, 2019)
---
John and Zack head north to Coeur d'Alene, Idaho where army veteran Newt, and his wife, Brooke, are building a tiny home on wheels with plans to travel the country after Newt completes his sixth and final deployment. John and Zack have their hands full with an ambitious, untested design - and when Brooke's mother Jan arrives in town to throw shade on the entire project, they're challenged to keep things on track and make Jan a believer.
---
5x03 Tiny House Builders Can't Jump (March 27, 2019)
---
John and Zack travel to sunny Orlando, Florida where high school basketball coach Dave and his wife Mickie, are going tiny so they'll have more money to pay their daughter's college tuition. With their lease ending in only 5 days and a home that's far from complete, can John and Zack make this tiny house a home for the soon-to-be empty nesters
---
5x02 Going Tiny To Make Things Right (March 20, 2019)
---
John and Zack head to Indiana to help a contractor, Jim, repair a broken relationship with his daughter Stephanie by giving her the tiny house of her dreams. Stephanie insists she wants to go tiny, but her large shoe collection and shopaholic ways tell a different story. John and Zack take on the challenge of helping Jim build a high-end mini home so this estranged family can reconnect.
---
5x01 Tiny Forever After (March 13, 2019)
---
John and Zack take on a rescue mission in Atlanta, Georgia for Peter and Elizabeth, a couple that is attempting to build their own tiny house. Not only is the couple struggling to finish construction, they are about to get married, change jobs and move to Maine all in a month's time. John and Zack have their work cut out for them–having to complete the home and teach Peter and Elizabeth how to live in tiny harmony before they say, "I do."
---