Tiny House Nation
Season 2
Tiny House Nation
Season 2
First Air Date: December 22, 2014

| | | |
| --- | --- | --- |
| First Aired on | : | 2014 |
| Episodes | : | 18 episodes |
Episodes
2x18 340 Sq. Ft. Pioneer House (August 29, 2015)
---
The Graham's are gearing up to make a major move across the country and begin their next adventure as a family. They're looking for a craftsman style tiny house that's going to hold up against the brutal winters they will soon face and that packs enough functionality for the whole family. Zack and John's biggest challenge will be fitting it all, and the family in less than 350 square feet!
---
2x17 350 Sq. Ft. Outdoor Adventure House (August 22, 2015)
---
The Setliff's are looking to escape the fast pace of their city life, leave all their electronic devices behind, and build a tiny house that can serve as their weekend getaway. Zack and John's biggest challenge will be packing enough into the house to keep the two young boys entertained.
---
2x16 300 Sq. Ft. Crash Pad (August 05, 2015)
---
Matt and Emma love throwing parties and having friends over. Now that Emma is heading back to school they've decided to turn their garage into a tiny house and rent out their big house to make up for the loss of one-income. The challenge is they still want to make sure there's room for all their friends to crash. John and Zack will have to figure out a way to make room for the couple, their numerous friends, and their new puppy.
---
2x15 180 Sq. Ft. Backpack House (July 29, 2015)
---
Justin and Melissa are teachers who hope to give inner city kids a chance to learn about nature through their business InspireOut. They want a home that can connect them with the outdoors and serve as a base for the business.
---
2x14 180 Sq. Ft. Tiny Lighthouse (July 22, 2015)
---
Together since 17 and married in 2013, Lauren and Liam want their already small life to become even smaller by building a nautically inspired tiny house. After a long stressful day teaching students via the family owned business, Grand Prix Driving School, the couple prioritizes space and downtime. With Liam's extensive movie collection and Lauren's overflowing bookcase, the two want to be able to enjoy their private time, separately. Our challenge is to create a dual-purpose "nook" that works as a library for Lauren and a movie theater for Liam. An additional challenge would be to make the design of the ultra tiny home inspired by Cape Cod Lighthouses by including a small version of one. Being that this is the first tiny home on "the cape" Lauren and Liam look forward to being a novelty while still blending into their surroundings.
---
2x13 300 Sq. Ft. His n' Hers House (July 13, 2015)
---
Kelsey and Matt have been friends and roommates for several years now. Recently, the two broke the cardinal rule: don't date your housemate. With all going well so far, they've decided to take the next big step in their relationship--building a tiny house. However, just because the quarters are about to get closer doesn't mean Kelsey and Matt are ready to share a room. Our challenge is to build a tiny house that still provides ample privacy for these two techy best friends turned lovebirds as their romance evolves. Other challenges include a separate sink and vanity areas, a video picture wall to showcase the couple's adventures, and ports for iPads and other devices throughout the house.
---
2x12 400 Sq. Ft. Vacation House (May 25, 2015)
---
This close-knit family is looking for a tiny home to do some extended stay vacationing in. They've asked John and Zack to build them a high-tech tiny home that they can monitor from afar to check weather conditions in the long winter months. Zack's challenge will be building a tiny space that meets all their high tech needs, stores some of their winter gear, and brings the family closer together.
---
2x11 480 Sq. Ft. Gothic Castle House (May 18, 2015)
---
The musical Rempis family wants a gothic tiny house but while Cally and Steve love horror films and gothic style, daughter Miura loves pastels and pearls. John and Zack must build a tiny house that fits their differing tastes.
---
2x10 400 Sq. Ft. Wine Tasting House (May 04, 2015)
---
Aaron and Meredith and their two dogs just packed up everything and moved to Austin, TX in hopes of expanding their winery business. They're looking for a tiny house that fits right in with the unique appeal of the local scene and keeps them close to the business. Zack's challenge is going to be creating a bohemian space that not only impresses our homeowners but transforms to accommodate for the clientele they plan to host.
---
2x09 340 Sq. Ft. Steampunk Adventure Home (April 27, 2015)
---
Michele and her son are ready for their next adventure--in a tiny house! Since they plan to drive this tiny house across the country, John coaches Michele through House Driving 101. Zack and the team design a steampunk themed home full of metal gadgets and gears.
---
2x08 340 Sq. Ft. Solar Powered Studio (April 20, 2015)
---
Phillise and her boys are committed to living off grid; the house is passively designed to take advantage of the California sun.
---
2x07 576 Sq. Ft. Mississippi Memory Home (April 13, 2015)
---
A family rebuilds their home after it was destroyed by Hurricane Katrina. While they are excited to return to their community, permit issues threaten to shut the whole build down. Plus this family wants an open floor plan with a full dining table to host large family dinners. Zack rises to the challenge with one of his most innovative furniture pieces to date.
---
2x06 192 Sq. Ft. Bird House (February 02, 2015)
---
Bird trainers Simon and Lindsey need a tiny house with enough space to train their nine birds. Plus they've been gathering windows, wood, and metal to build their own tiny nest. John and Zack must re-purpose all of their materials into a house that takes advantage of every bit of space but won't leave Simon and Lindsey feeling caged in.
---
2x05 224 Sq. Ft. Entertaining Abode (January 26, 2015)
---
Josh and Shelley are a young couple in Northern California who own a moving and hauling business. They love to entertain friends and serve their famous specialty cocktails at home. They don't want the party to end in the tiny house. They bring in John and Zack to build them a transformative tiny house with an indoor/outdoor entertaining space that the couple can use all year long.
---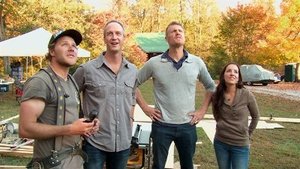 2x04 275 Sq. Ft. Nomad's Nest (January 19, 2015)
---
Jeremy and Lindsay have traveled the world and they are finally ready to settle down--in a tiny house! Lindsay is a fantastic baker who needs functional kitchen space. Jeremy is 6'5", will he even fit in a tiny house? Plus they have a collection of sentimental travel mementos they aren't willing to part with. With a limited budget and the goal of fitting a king sized bed into the bedroom, John and Zack have a big challenge ahead of them.
---
2x03 204 Sq. Ft. Climbing Gym (January 05, 2015)
---
Vince and Sam work hard and play harder. They love to rock climb and go hiking with their dog; they want a tiny house that fits their fun-loving lifestyle. But Sam is a medical student so she needs her own quiet study space too.
---
2x02 192 Sq. Ft. Launch Pad (December 29, 2014)
---
Brian is a thrill seeker and wants a tiny house on the ground so he can continue to pursue his passions in the air.
---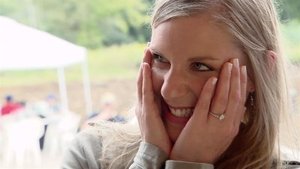 2x01 264 Sq. Ft. Honeymoon Suite (December 22, 2014)
---
A Little Rock couple builds a 264 sq. foot mobile honeymoon pad as they prepare to get married and hit the road as traveling nurses.
---