Ever After High
Chapter 1
Ever After High
Chapter 1
First Air Date: June 18, 2013

| | | |
| --- | --- | --- |
| First Aired on | : | 2013 |
| Episodes | : | 15 episodes |
Episodes
1x15 Episode 15 (January 14, 2014)
---
---
1x14 Episode 14 (January 07, 2014)
---
---
1x13 Episode 13 (December 31, 2013)
---
---
1x12 Episode 12 (December 24, 2013)
---
---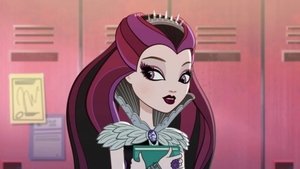 1x11 Replacing Raven (December 17, 2013)
---
With the help of Maddie, Raven decides to go off script to find a new storybook nemesis for Apple. Her search is shorter than expected when an evil classmate steps up to blow the house down. Dun, dun, dun!
---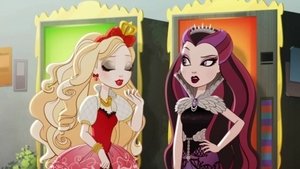 1x10 The Day Ever After (December 10, 2013)
---
Legacy Day may have come and gone, but Raven's decision to choose her own destiny has throne the Royals for a wicked loop. Will the two groups ever see crown to crown?
---
1x09 Catching Raven (October 29, 2013)
---
C.A. Cupid's heart may be for Dexter Charming, but she happily offers guidance when he needs help asking out Raven Queen to Briar's party. Can this shy prince find the courage to charm her?
---
1x08 Cedar Wood Would Love to Lie (September 25, 2013)
---
When Professor Jack B. Nimble gives the class an assignment to create their own tall tales, Cedar Wood knows her curse of never being able to tell a lie could get in her way. Unfortunately for Huntlynn, Cedar comes across a secret picnic and finds the perfect story to tell her class.
---
1x07 The Cat Who Cried Wolf (September 10, 2013)
---
Cerise Hood has successfully kept her family secret hidden under lock and key. But when Kitty Ceshire catches her up to some unusual activity in the woods, she tries to unravel her secret like a ball of yarn in front of the school.
---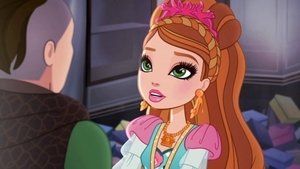 1x06 The Shoe Must Go On (August 27, 2013)
---
With less than an hour to set up the display for her new shoes in the Glass Slipper Shoe Store, Ashlynn Ella turns to her friends 'til THE END for help. But with Blondie trying to make everything 'just right', and Briar falling asleep, this display may turn out to be a total fairy fail.
---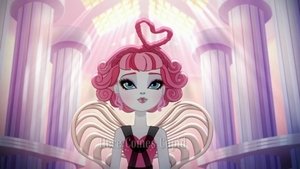 1x05 Here Comes Cupid (August 13, 2013)
---
She may be the new girl at Ever After High, but C.A. Cupid could teach a class in helping people find love. Lucky for Hopper, she may have arrived just in time to help him find his Happily Ever After.
---
1x04 Briar's Study Party (July 30, 2013)
---
Professor Rumplestilskin's plan of failing all the students may have worked in the past, but he may have met his match with Briar Beauty. She HAS been studying Forever After, you know. Now, if she can only keep her eyes open long enough to help the other students...
---
1x03 Maddie-in-Chief (July 16, 2013)
---
Madeline Hatter decides to go off script and run against Apple White™ in the Royal Student Council Election. Will Maddie's riddlish-filled debate win over the other students, or is she putting the cup before the kettle?
---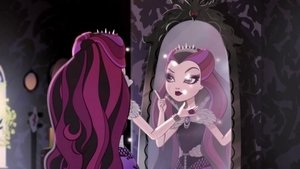 1x02 True Reflections (July 02, 2013)
---
Mirror, mirror tell me true -- can Apple and Raven find another mirror like you? While Apple usually knows her mirror's answers, she's throne for a loop after Raven's magical aim interferes with her reflection.
---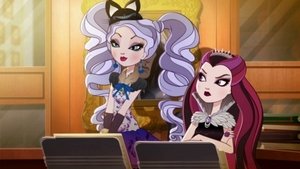 1x01 Stark Raven Mad (June 18, 2013)
---
Apple White is royally ready for Legacy Day! But her world -- and the entire world of Ever After High - will be flipped on its crown if Raven Queen questions her destiny instead of pledging it. Can Apple save her Happily Ever After from becoming a Happily NEVER After?
---