Galavant
Season 1
Galavant
Season 1
First Air Date: January 04, 2015

| | | |
| --- | --- | --- |
| First Aired on | : | 2015 |
| Episodes | : | 8 episodes |
The first season centers on handsome knight Galavant and his quest for revenge over the King who stole his one true love.
Episodes
1x08 It's All in the Executions (January 25, 2015)
---
Galavant enlists King Richard in a plot to kill Kingsley before the duel… but ends with a drunken whimper. Will Gareth kill King Richard in the duel? Will Galavant rescue everyone? Will Madalena find a new "boy toy?" The answers are very different from what you expect.
---
1x07 My Cousin Izzy (January 25, 2015)
---
Thinking about being in a relationship, Isabella wants Galavant to try to impress her parents with attentive small talk, but he's confident that breaking everyone out of prison will impress them and save them from certain death. Galavant gets his opportunity for a hero moment when King Richard challenges his brother to a duel and needs a champion to fight for him.
---
1x06 Dungeons and Dragon Lady (January 18, 2015)
---
While Galavant struggles with the realization about his true love, King Richard goes on a voyage of self-discovery, thanks to a potion from the magician, Xanax. As Galavant draws closer to the woman he really loves, an emboldened King Richard starts to assert himself, just as his meaner, elder brother returns—Kingsley.
---
1x05 Completely Mad... Alena (January 18, 2015)
---
As our heroic trio finally approaches Valencia, they find shelter and doo-wop among local monks who have taken a vow of singing, led by Confessional Monk. Madalena, frustrated with King Richard, decides to take matters into her own hands with her own devious plot involving the besotted Chef and her winsome handmaiden, Gwynne.
---
1x04 Comedy Gold (January 11, 2015)
---
An encounter with land-bound pirates forces Galavant, Isabella and Sid to learn how to get over their petty squabbles and work together. Meanwhile, King Richard tries a new tact to win Madalena's love.
---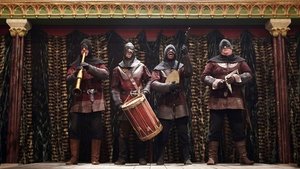 1x03 Two Balls (January 11, 2015)
---
A visit to Sid's hometown reveals he has not been truthful about his career path. While Galavant and Isabella back up Sid's stories, King Richard decides to throw a ball to cheer up the people of Valencia.
---
1x02 Joust Friends (January 04, 2015)
---
Galavant enters a jousting tournament against a boastful rival, Sir Jean Hamm, to test his return to heroic form (and win some much-needed traveling money and a really nice rooster). But it quickly becomes clear that Galavant is a long shot to win. Meanwhile, King Richard asks Gareth to help him become a bit more macho so that Madalena won't despise him quite so much.
---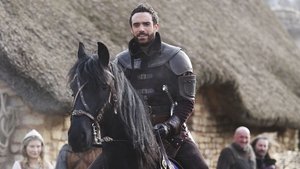 1x01 Pilot (January 04, 2015)
---
When heroic, charming and handsome Sir Galavant loses his true love, the beautiful Madalena, to evil King Richard's wealth and power, he falls into a deep and drunken despair. Just as our hero hits rock bottom, Princess Isabella shows up with a quest to save her kingdom, defeat the despicable King Richard, and provide an opportunity for Galavant to reclaim Madalena. Galavant is off to become a hero again and strike a blow for true love…but first, Galavant has to fit into his old hero pants.
---