Divorce
Season 1
Divorce
Season 1
First Air Date: December 16, 2012

| | | |
| --- | --- | --- |
| First Aired on | : | 2012 |
| Episodes | : | 13 episodes |
Episodes
1x13 All or Nothing (March 10, 2013)
---
Joris cheerfully accepts Joyce's graduation gift and a celebratory dinner, only to be 'treated' to the news that she secretly expects his twins. The inevitable death of the worn-out family dog brings Boudewijn close enough to Sophie, so he dumps Leonore. David allows his boys to go on Candian holiday with their mother and aunt, so he can concentrate on wining nd dining his cardiologist, but his ridiculously expensive steak gets lost.
---
1x12 Jealous Exes (March 03, 2013)
---
Joris has exam anxiety. David fights with Tamar on her planned six weeks holiday with the kids. Sophie finds out about Boudewijn's relations with Leona and demands he breaks up with her.
---
1x11 In Love Again (February 24, 2013)
---
Joris is now confident enough about his reading lessons to accept, caught, some tutoring from Daid's obviously smitten daughter Naomi, who finds an enemy in parasite Joyce. Boudewijn's sex date with the allergic boy's mother frustratingly is canceled last-minute due to the queasy knave missing football practice. David gets jealous of 'romantic rival' Boudewijn, even wants to throw him out of the house, only to find his mate unwittingly 'dates' his cardiologist merely for her family estate sale.
---
1x10 Love of Your Life (February 17, 2013)
---
David has bought the villa, so the trio can stay. Boudewijn, eager to impress a mother at his boys' school, volunteers to chaperon a them park visit. Even after commandeering his house-mate's help, it proves a tall order, especially due to that woman's gluten-intolerant son. Meanwhile Joyce practically invites herself after a robbery and tries to take over the household. David's daughter Naomi also invites herself after a row with Tamar.
---
1x09 Close Consequences (February 10, 2013)
---
Boudewijn is confronting by his son with his separation. David joins forces with a tough lawyer. Joris goes back to school. Aart found potential buyers for the villa.
---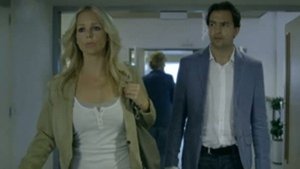 1x08 Three Times No Desire (February 03, 2013)
---
Sophie asks Boudewijn to help her for finding the perpetrator who hit Emiel. Joris is dating with a girl and is falling in love. David and Tamar end up in a messy divorce.
---
1x07 Unpleasant Surprises (January 27, 2013)
---
Boudewijn has trouble with the new friend of Sophie. David has an intimate encounter with Tamar. Joyce comes back from rehab and appears to be pregnant.
---
1x06 Secrets Are Cheating (January 20, 2013)
---
Boudewijn is hopeful when Sophie are request a service. David goes into therapy with Tamar. Joris wants to hide his secret for Boudewijn and David.
---
1x05 The First Date (January 13, 2013)
---
The three men decide to start dating again, but Joris and David both have no experience in it. David's heart beats faster in the presence of his cardiologist.
---
1x04 Fresh and Fruity (January 06, 2013)
---
When the children come to stay over, the three men should clean the entire house. They get some help of Trudy, the mother of Joris. Joris become desperate when Kevin disappears.
---
1x03 High Tension (December 30, 2012)
---
Boudewijn is turning into forty, but rather he let his birthday pass. David comes under such high tension, that he literally collapses.
---
1x02 Broken Broken (December 23, 2012)
---
Boudewijn, David en Joris decide to live together in a luxury villa. Joyce can't handle the separation with Joris and take a dramatic decision.
---
1x01 Our house (December 16, 2012)
---
We meet Bouwdewijn, David and Joris. Three different men from three different worlds. But there is one thing that binds them, they all have marriage problems.
---