Gatchaman Crowds
Gatchaman Crowds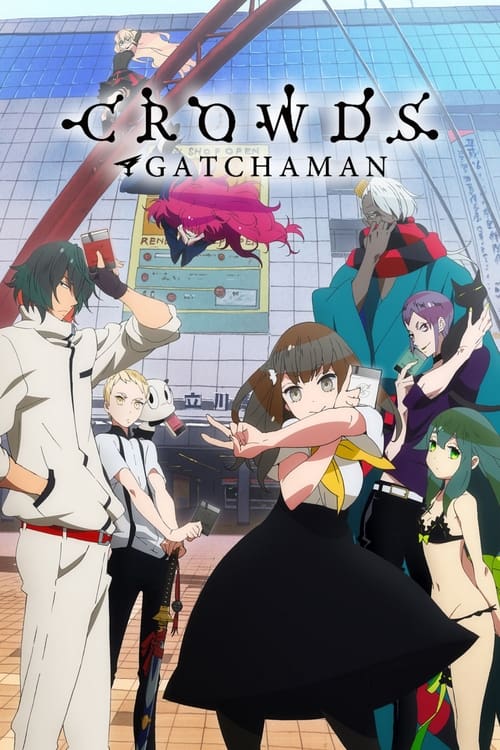 Gatchaman Crowds
Gatchaman Crowds
First Air Date: July 13, 2013

| | | |
| --- | --- | --- |
| First Aired on | : | 2013 |
| Episodes | : | 12 episodes |
As the energetic and cheerful Hajime Ichinose joins the mysterious and secretive Gatchaman team, a new collaborative social network called GALAX is having enormous impacts on society. But when GALAX, and the power of Crowds, falls into the wrong hands, Tachikawa may need a kind of hero they've never known before.
Episodes
1x12 Collage (September 28, 2013)
---
As more citizens use Crowds and fight against each other, chaos breaks out. O.D. risks everything to retrieve Rui's NOTE from Katze. Hajime sends her mother a cryptic message, then leaves for a final showdown with Katze.
---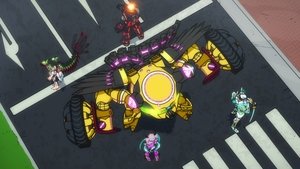 1x11 Gamification (September 21, 2013)
---
Rui regains control of X, and uses the GALAX network to help the Gatchaman team in the crisis. Hajime convinces the Prime Minister to broadcast a message on the Gatchannel, asking everyone to join the GALAX network and band together. But Katze takes the form of the Prime Minister, once again urging people to use Crowds.
---
1x10 Crowds (September 14, 2013)
---
After taunting Hajime on GALAX, Katze sets the Neo-Hundred after the Prime Minister. The Gatchaman team are forced to protect him while trying to find a way to stop the Crowds without harming the users.
---
1x09 Forgery (September 07, 2013)
---
Katze continues to distort Rui's vision, giving Crowds to people Rui had decided were too dangerous to have it, and staging attacks on government targets. Hajime sets up a 'Gatchannel' live stream, where Rui publicly apologies over the usage of Crowds and urges those that have it to not use it, and Hajime explains that the Gatchaman will confront Katze even if she is still unsure they can win. Hajime's determination inspires Sugane to confront J.J..
---
1x08 Genuine (August 31, 2013)
---
Katze takes on Rui's form to steal control of GALAX and form a new "Hundred". Hajime suggests the best way to fight is for the Gatchaman team and Rui to reveal themselves and go public. Rui learns a troubling fact about the side effects of Crowds.
---
1x07 Abjection (August 24, 2013)
---
Rui decides to stand against Katze using the might of Crowds, but Katze uses the power of Gatchaman to overwhelm them. The Gatchaman team rushes to Rui's rescue, but find themselves outmatched.
---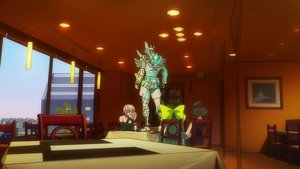 1x06 Originality (August 17, 2013)
---
Utsu-tsu risks her life to heal the wounded, and Hajime's identity is revealed to the world. Rui helps Hajime and Utsu-tsu evade the press, but then demands they give up being Gatchaman, because GALAX makes Gatchaman unnecessary.
---
1x05 Collaboration (August 10, 2013)
---
While Hajime clashes with Sugane and Paiman about why the Gatchaman are so secretive, Rui is faced with a dissenter in one of the "Hundred", who believes that Crowds should be used to kill evil politicians.
---
1x04 Kitsch (August 03, 2013)
---
The mysterious "Crowds" are revealed to be strange beings controlled by the GALAX users. Meanwhile, Joe fights against the strange alien known as Berg Katze, but is beaten back when Katze uses a NOTE of their own.
---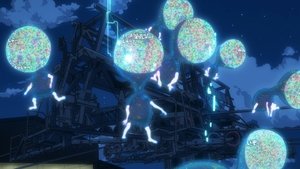 1x03 Futurism (July 27, 2013)
---
Hajime befriends the MESS, which she nicknames Messy, and the abduction cases involving the MESS stop. The other Gatchaman begin to wonder whether they were hostile at all. The next day, GALAX users at Hajime and Sugane's school receive word that some spoiled milk has been sent to their school, and they act together to warn the other students.
---
1x02 Asymmetry (July 20, 2013)
---
Hajime annoys Sugane when she allows the MESS to escape. Later, she teaches Sugane about a popular social app called GALAX, which allows users in the vicinity to help each other, and decides to take him to an offline meet-up.
---
1x01 Avant-Garde (July 13, 2013)
---
Hajime Ichinose is a rather eccentric schoolgirl who is obsessed with notebooks. One day, she is approached by a mysterious man named J.J. who pulls out a journal called a NOTE from her body, declaring her to be the new member of the elusive Gatchaman team.
---